Hello again! 2020 has well and truly started. Maybe it is 'officially' too late for New Year's wishes, but, really, can it ever be too late for good wishes? So, I wish you a very happy, healthy and fulfilling New Year!
In my last blog post of 2019, I asked myself some questions. I would have liked to start this year with some answers, but I haven't organized my thoughts enough for that. And I am not ready to write about the things I have been knitting either, so I thought I'd ease into the New Year with an impression of our visit to the Dutch Open Air Museum during the Christmas Holiday (focusing on knitting and other fibre-related things, of course).
Houses, farms and other buildings from different periods and from all over the country have been moved to the museum over the past 108 (!) years. The first building we entered was this blue farmhouse from the east of the Netherlands: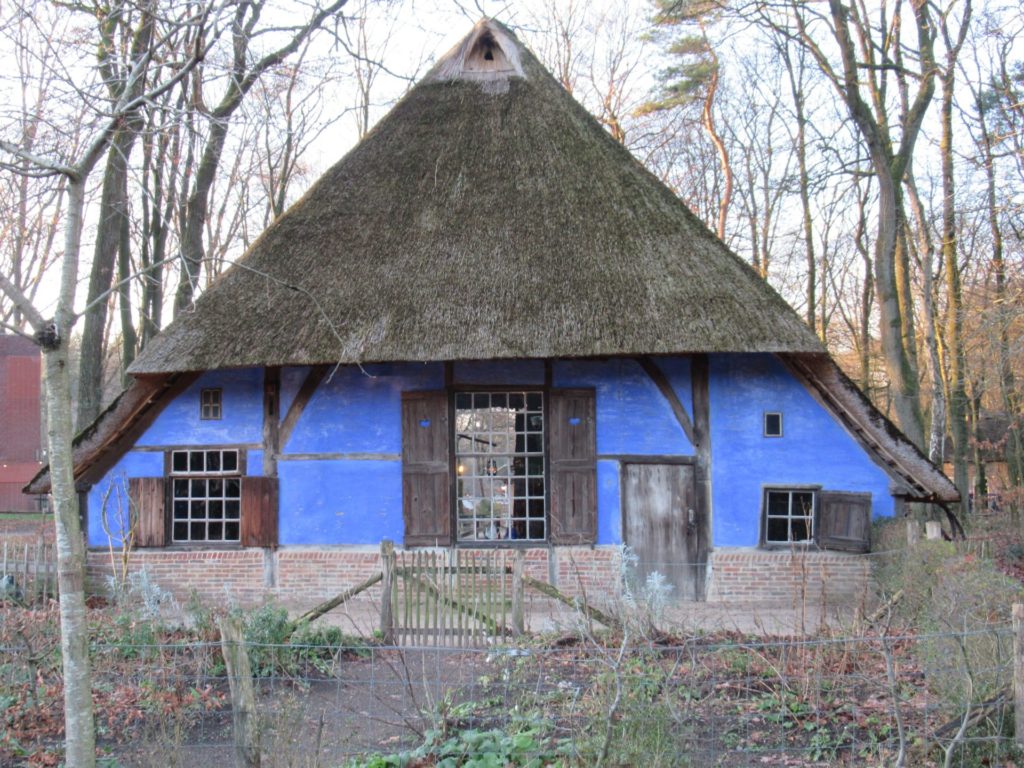 The museum's theme at this time of year was 'Winter Jobs'. When there wasn't a lot of work to do outside in winter, people did all kinds of other jobs. In this particular farmhouse the focus was on spinning (wool and flax) and knitting. There was a display of flax in different stages…
…from unspun fibres in different qualities to woven linen, from coarse and brown (right) to very fine and bleached (left).
One of the volunteers, dressed in period costume, was spinning flax on a traditional spinning wheel.
She showed us how long flax fibres are – much longer than any wool fibres.
Before flax can be spun and woven into linen cloth, it goes through many stages. The last stage before spinning is hackling. With a hackle like this one…
… the short fibres are removed from the long ones.
All this preparation before flax can even be spun! And then hours and hours of spinning and weaving. No wonder a woman's linen cupboard was her pride and joy.
I could have spent an entire afternoon in this farmhouse alone, and if the museum wasn't so far from where we live, I'd love to work here as a volunteer. But there was more to see, so on we went.
We saw several iconic Dutch windmills, of course, like the thatched one at the top of this post, used for pumping water, in order to drain wet low-lying areas, and this wood-sawing mill:
One of the parts of the museum I remember best from when I visited here as a child is this collection of green wooden houses from the Northwest of the country.
We were not the only ones who had this great idea of visiting the museum. In fact, it was one of the busiest days of the year.
I was dismayed when I saw the crowds at the entrance, but the park is so big that it could easily absorb us all.
The weaving shed was closed, but I peeked in through the window…
… and later bought two of the weavers' lovely checked tea towels in the shop. This is one of them with some of the wafers I always bake on New Year's Eve:
They are called 'knieperties' and are very thin, slightly sweet and have a hint of cinnamon.
Uh-oh, this is becoming quite a long blog post. I intended to make them shorter this year, but somehow there is always so much to tell. I hope you have a few minutes more.
Let's hurry on to the cottage dedicated to knitting in World War I. On one wall there was a display of newspaper cuttings with articles urging women and girls to knit for our soldiers.
They were asked to knit scarves, mittens, socks (preferably dark grey) and balaclavas. The photograph on the left shows a group of soldiers wearing knitted balaclavas. And here is one in progress:
At the end of the afternoon we walked back to the blue farmhouse. The volunteer who sat there spinning earlier, was now knitting. She was knitting a sock in exactly the same way my mother and grandmother did and how I was taught to knit them.
Nowadays, I use a set of five short lightweight sock needles, with the stitches distributed over four and knitting with the fifth. But here you can see how it used to be done. Only four needles (long steel ones) are used, with the stitches on three needles and the knitting done with the fourth.
At this time of the day it was much quieter in the farmhouse and the volunteer had time for a nice chat about spinning and knitting. (It's always so nice to chat with kindred spirits!)
She also showed me something I had never seen in action before – a knitting sheath. It's a wooden stick with a hole in it, tucked into the knitter's waistband. It was rather dark inside the house, so I hope you can see it:
The knitting sheath supports the working needle, carries the weight of the knitting, protects the knitter's clothes from the sharp needle point and speeds up the knitting. Very interesting. I'd like to try that someday.
Well, that's all for today. I hope to be back with a post about my own knitting soon.
For more information about the Dutch Open Air Museum, please visit their website. There is much, much more to see than I've shown you here.