Hello! It's good to see you here. I hope your life is not too frantic in the run-up to Christmas.
There's quite a bit of pre-holiday preparation going on here. And some knitting, too. And some mulling, not just of wine, but also in the sense of pondering. But before I get to that, I'd like to take you on a mini-trip to the castle in the picture at the top of this post – Middachten Castle. It's a private property that only opens on special occasions. The Christmas opening is one of these occasions and we visited it last weekend.
Although the castle has medieval roots, the current building dates from the 17th Century. There's a moat all around it and a bridge leading to the front door. Or, rather doors. The two glossy dark green doors were decorated with beautiful wreaths flanked by other greenery.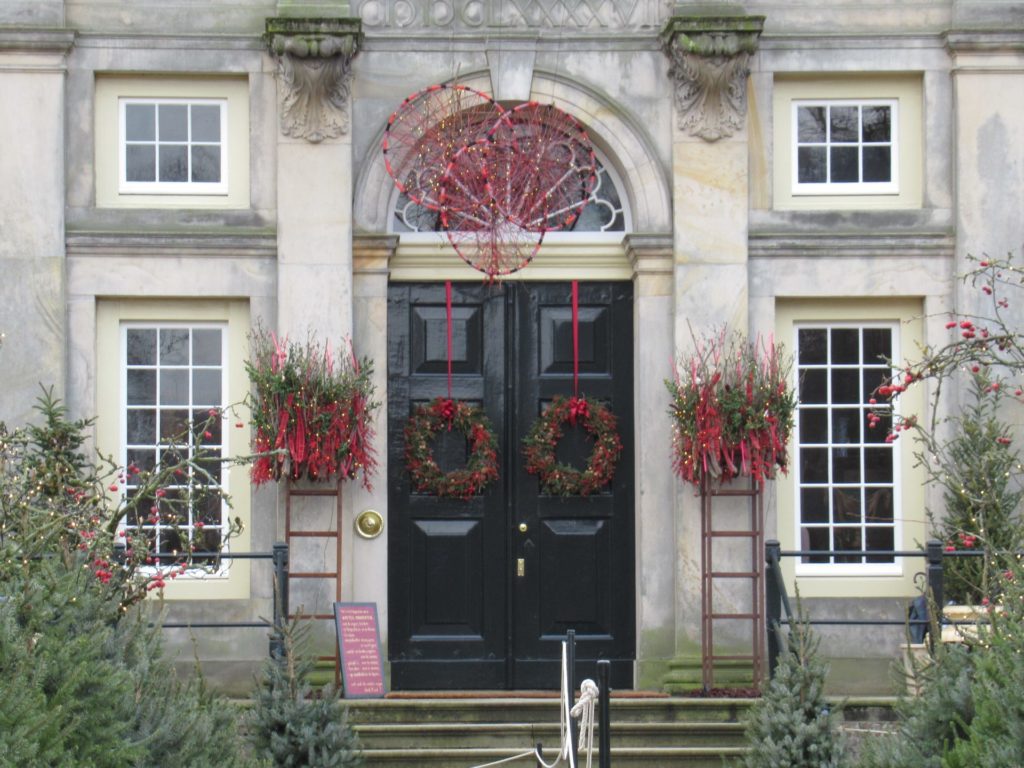 Unfortunately photography wasn't allowed inside, so you'll have to take my word for it that the Christmas trees and flower arrangements were amazing. There was at least one Christmas tree in every room and the decorations were themed to the rooms. There were bunches of cigars in the tree in the smoking room, orchids sprouting from books and Christmas ornaments made from printed pages in the library and so on.
There was a Christmas market outside and in the outbuildings…
… but looking through my photographs, I see that I was more drawn to the quiet corners…
… and architectural elements.
We ended our lovely visit with a shared bowl of barbecued mushrooms and tiny potatoes and some piping hot mulled wine.
Our preparations here, at our own modest abode, are far less elaborate than those at the castle, I'm glad to say.
Taking the Christmas tree decorations out of their box is always a special moment. I put on some music first, to get into the mood. This time it was A Christmas Together, starring John Denver and the Muppets, with The Christmas Wish as one of my favourites. It always really moves me when Kermit sings in his funny voice:
I don't know if you believe in Christmas,
or if you have presents underneath the Christmas tree.
But if you believe in love, that will be more than enough
for you to come and celebrate with me.
Well, back to decorating, here's one of my oldest ornaments:
With a little more time on my hands than in the past few years, I also did some baking. I looked up an old recipe for Basler Leckerlis, a kind of gingerbread from Switzerland made with honey, candied and fresh citrus peel, ground almonds, spices and Kirsch liqueur.
After baking, the leckerlis are iced with a mixture of icing sugar and more Kirsch. The heavenly warm, spicy aroma alone is worth the effort. Here they are cooling on a wire rack.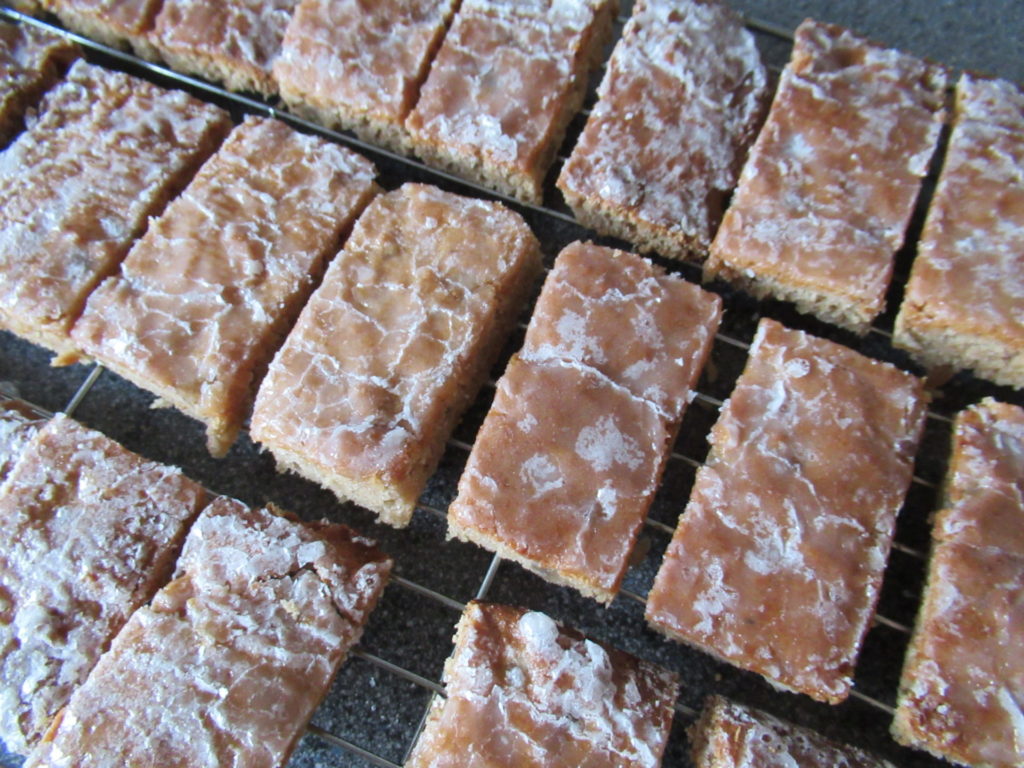 A while ago, someone said that my blog exudes a feeling of contentment – that I must be a very contented person. Scrolling through the blog posts I've written in the past year, I can see why people might get that impression. But contented is far from how I feel. I do feel grateful. But also worried.
With everything that's going on in the world around us, I sometimes feel like pulling up the drawbridge, closing the shutters, and withdrawing into my castle, figuratively speaking. But then again, I don't think that is the answer to anything.
While I'm knitting, I'm mulling over better answers. Pondering on how to make this world a better place. And on the place of knitting, and blogging about knitting, in it. So far, I've mainly come up with question marks. Where am I going with my knitting and my blog? Should I be going anywhere with my knitting and my blog? Shouldn't I be doing something more important or useful? Should I go into politics? Answer to the last one: No, I'd be totally useless as a politician. I'll ponder on the rest for a little longer.
Meanwhile, I just keep knitting.
I'm knitting a pair of fingerless mittens for a gift. They have a lovely little cable with tiny nupps (an Estonian term for delicate bobbles).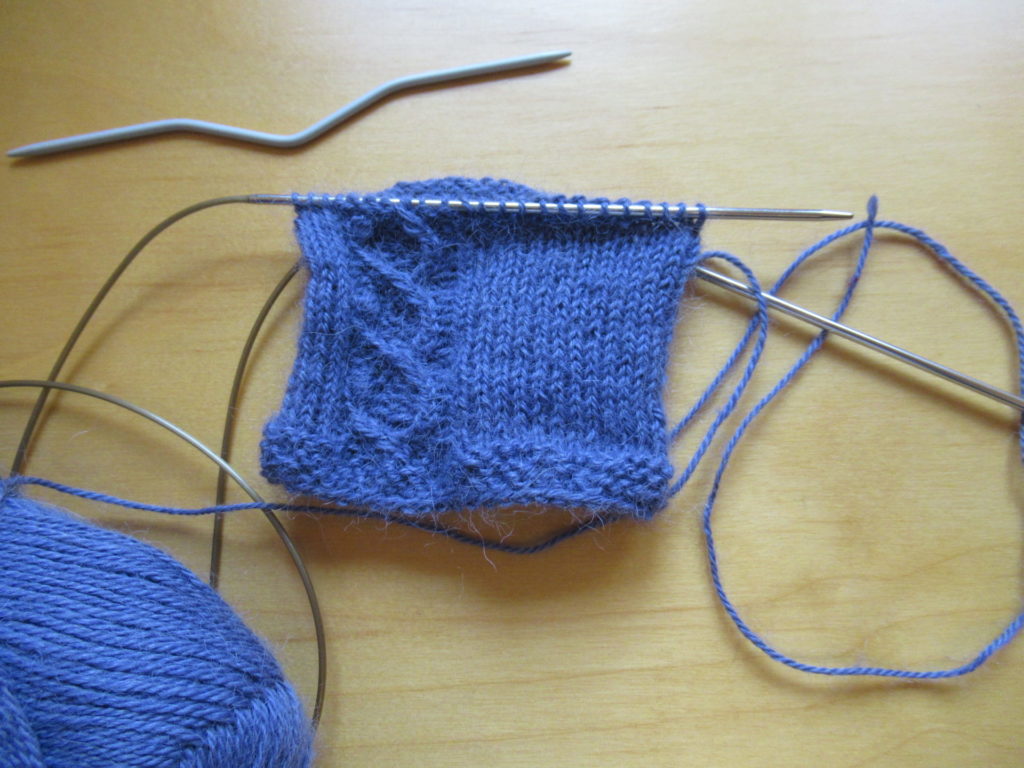 I can show them here because the recipient already knows that I'm making them. She chose the yarn and the pattern herself, in fact.
I'm also still knitting the blue cardigan I've been working on for quite a while. I had almost finished the second sleeve when I realized that I wouldn't have enough yarn for the neck band and the pocket tops. Pinning the parts together to find out what could be done, I saw that the sleeves were on the long side and unravelled them to a few centimetres below the sleeve cap (not much fun with this sticky yarn, I can tell you). The one on the left is now re-knit, and I'll soon be able to finish the rest.
When I'm stuck on a knitting project, like with the sleeves above, I get out what I call my in-between-projects-project – a large stole.
I add a few rows or even an entire stripe to it when I have no inspiration for other things. But now I'm stuck on that too, because I'm not entirely happy with the last two colours I've added. I think I may rip them out and substitute them for different colours, but I'm not sure yet.
In between all this knitting and baking, I also made some beeswax candles. I'll come back to those when I've experimented more and can find the time to write up a post about them.
These at least literally make life a little lighter.
And finally, I'm knitting some swatches for a new design idea I have. If it works out the way I envision it, I'll show you more sometime in the New Year.
Well, this is my last blog post for 2019. I'm taking some time off to eat, drink and be merry first. And then some time to knit, read, take naps and go for walks, so it may be a while before I'm back.
I wish you a lovely Christmas and hope to see you here again in 2020!