Washing line upon washing line filled with colourful handknit socks greeted me as soon as I opened the door. A cheering sight on a dismal day. We're back at the same exhibition at the Textile Research Centre in Leiden where I saw the stockings I wrote about last week.
Today I'm focusing on the huge variety of socks on display. Old socks, new socks, simple socks and intricate socks. There were socks with separate toes:
Fun, but apart from the toes, fairly simple.
On the other end of the spectrum there was a very, very elaborate pair from Tajikistan (below). The baby booties next to them give an indication of their size. They're huge! And they don't even look much like socks at all.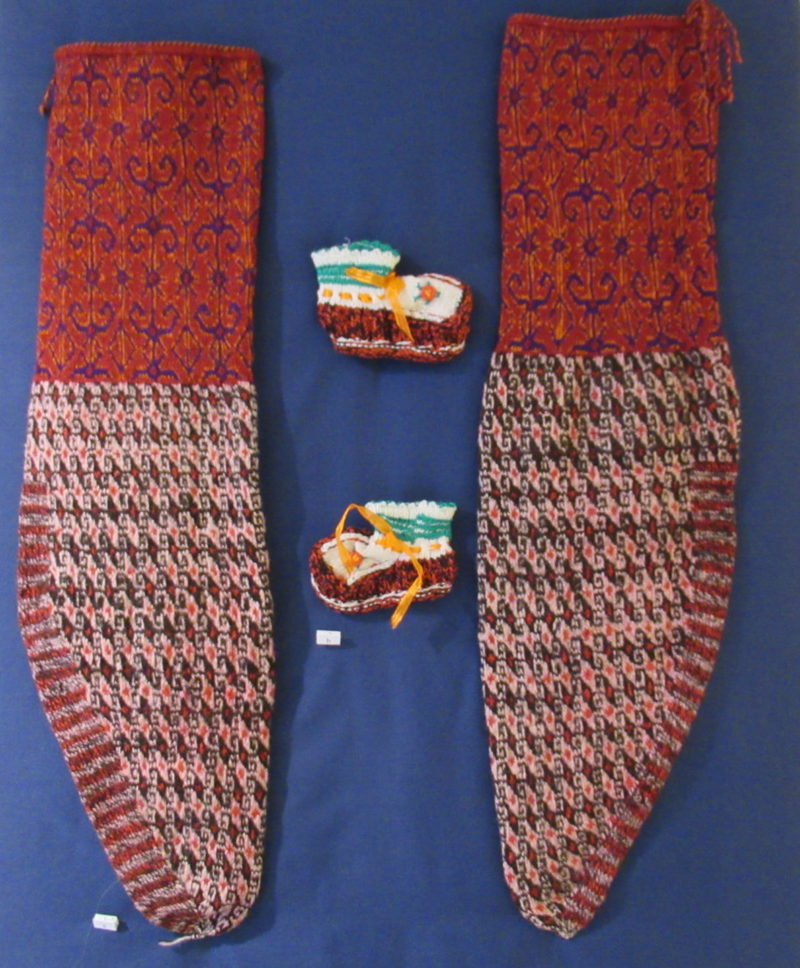 The information sheet says that these kind of socks 'sometimes reached halfway up the thigh' and 'were held in place by tying them at  knee height with a woollen cord or belt, or by pulling on the knitted threads at the top.'
The sheet also gives us information about the way the yarn was dyed, the names of some of the motifs and the knitting techniques used.
For a knitter, the wonderful thing about this exhibition is the wealth of information provided about materials, patterns and techniques.
Speaking about techniques, there was a board with examples of over 20 different ways to knit sock heels.
And as for patterns, just look at this cascade of stockings from Norway: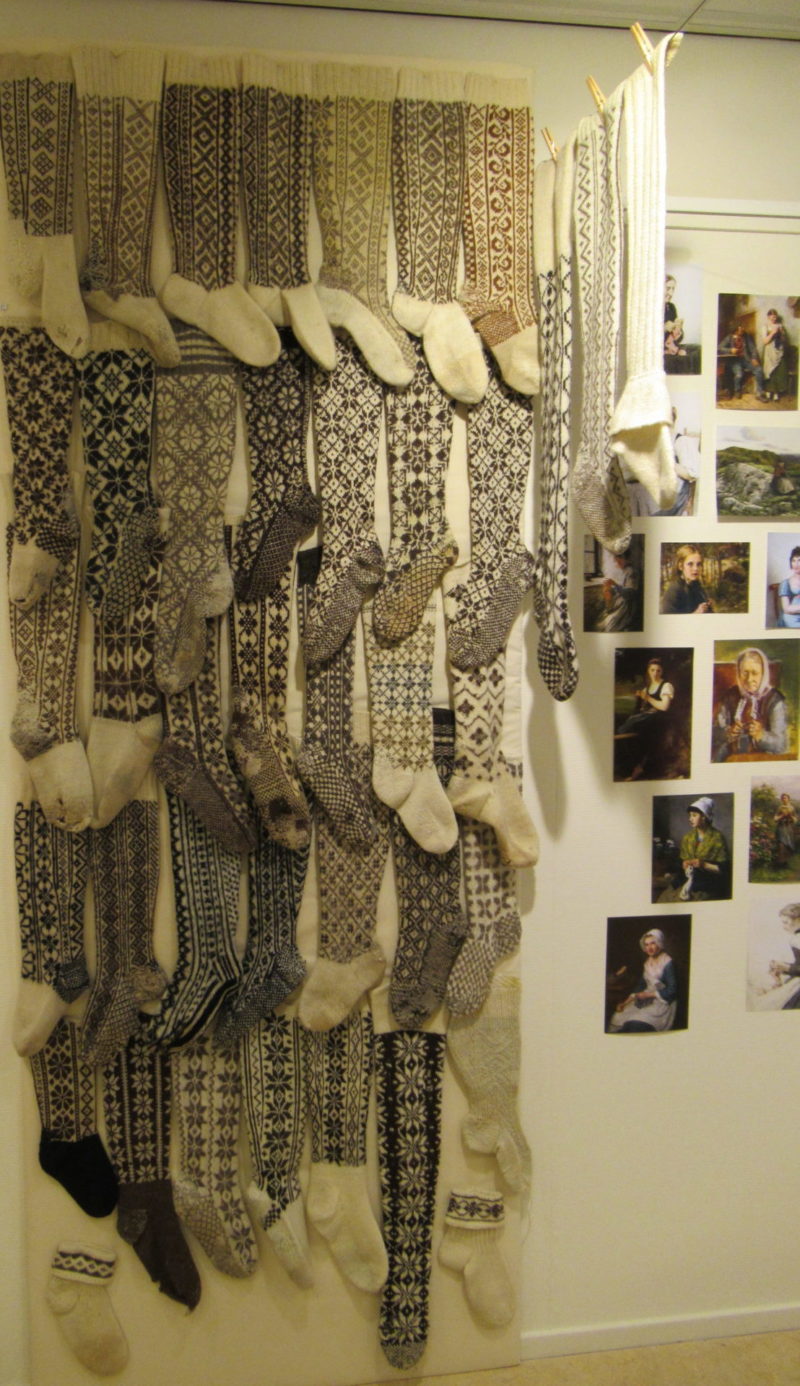 From floor to ceiling, they're all knit in neutral, natural colours. Still, they are all different because of the patterns used. Many of them (or perhaps even all of them?) have variations of a pattern called 'åttabladsrosa' or eight-pointed star.
Some are covered entirely in a pattern, including the foot. And some of them have a plain, unpatterned foot. Why knit a complicated pattern when it is hidden inside a shoe anyway? Or perhaps the foot was re-knit in a single colour because it was worn out?
These stockings are just a small part of Annemor Sundbø's collection, or her 'rag pile', as she calls it. If you'd like to hear more, she is giving a lecture at the TRC on December 18th 2019. There's more information here (please remember to register beforehand).
Looking closely at these stockings, you can see that they are well worn and that some of them have been mended…
… which brings us to the mending corner.
What I loved about this exhibition was its friendly, open accessibility. There are several signs telling us not to touch things, but nothing is behind glass and everything can be studied in detail from close up.
I zoomed in on the bit of blue mending you can see below. I learnt the weaving technique in the middle of the two rectangles at the top from my Mum. But the technique around it and in the two rectangles below, picking up alternately the left and right leg of the knit stitch, is new to me.
Apart from new things to learn, there was also a lot of inspiration to be found. There were many motifs and other elements that I could use in my own knitting. Take for instance the pattern on the foot of a pair of socks from Iran:
The black shapes filled with bright colours could easily be multiplied into an all-over pattern for a larger surface.
And one or more of the bands on the cuff would make a lovely border for all kinds of projects.
For more inspiration, there were three colourful samplers with many beautiful patterns:
Very, very inspiring. And humbling too. We tend to think that we're always making progress, knowing more, doing things better and more efficiently. We can certainly produce socks more efficiently. But for the rest, we're fortunate to have museums and other centres to preserve the knowledge and expertise about making things by hand for us.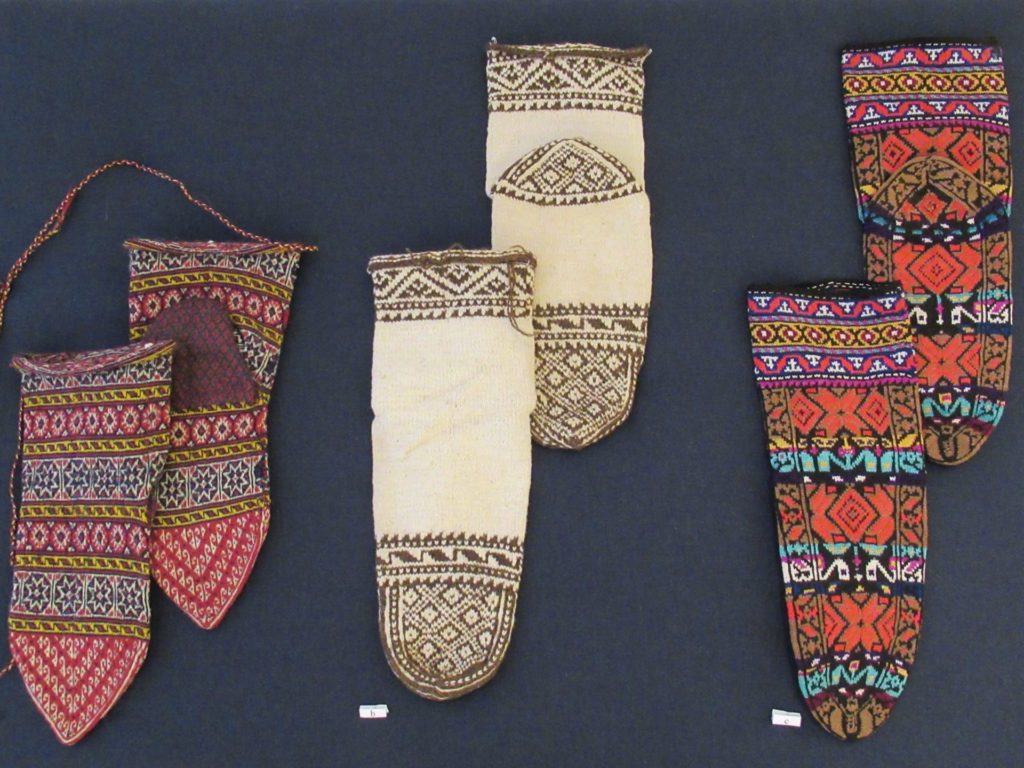 I've only given you a taster of the exhibition here. You can still visit to see more if you don't wait too long – it's open until the 19th of December. And if you are unable to go, because you can't find the time in the busy month of December, have the flu or live too far away, there's always the TRC website. Their online collection catalogue can be viewed at any time or place.
My day in Leiden has given me much inspiration and food for thought. In addition to visiting the sock exhibition, I also took a needle binding workshop on the same day. I need to digest everything I learnt there before I can write about it, but you'll probably hear more about that later.