Hello! Usually my writings are about woolly things, but today it's all about flax and linen. My husband and I followed flax trail Follow the Blue Line last Saturday, and I thought you might like to follow it with us.
The 30-kilometre-long trail covers everything from growing flax to processing it, and spinning and weaving it into linen. Let's follow it in the order we did, and we'll see everything along the way. So, where are we? Well, we're in the northernmost part of Friesland, with its open agricultural landscape.
Before we moved to where we are now, we lived in this area for 15 years and it still feels very much like home. We're starting in the village of Blije, at textile hand-printing studio Kleine Lijn. Nynke prints all kinds of designs on cotton, silk and linen. My eye is immediately drawn to her plant prints. The top of this post shows a print of flax stalks with seedheads on linen. Here is some more of her work:
We've been following the trail for at least 30 minutes now, so high time for some refreshments in the adjacent tea garden, with its lovely mix of vintage furniture…
Ready to continue the trail?
Before Nynke can print onto it, the linen she uses has a long way to go. It starts out as flax, a traditional crop in this region that is now making a come-back.
What I learnt on Saturday is that there are two kinds of flax: linen flax and oil flax. Linen flax has longer stalks to make longer fibres for spinning and weaving. And oil flax has shorter stems with more seed heads that produce more seeds for making linseed oil. There are several flax fields along the way and this is one of them:
In this field, most of the flax has finished flowering. But there are still a few of its lovely blue flowers to be seen.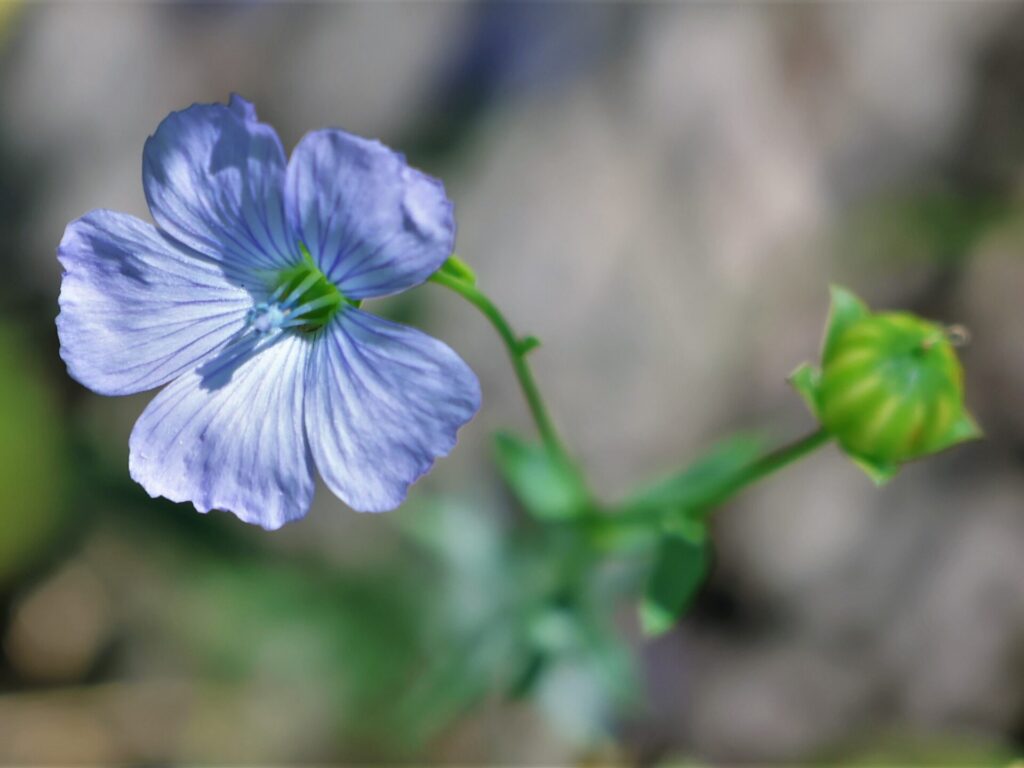 Next stop: a potato farm with a high-tech farm shop. In addition to potatoes, fruit, veg and local tipples, it also has an unexpected product in its vending machine. More about that later in a separate post.
Now, let's continue on to Mitselwier. Ah, the cool interior of the church makes a very nice change from the heat outside. There is a weaving exhibition inside, with demonstrations of weaving and flax spinning. Unlike wool, flax isn't held on the spinner's lap, but on a distaff. In the picture below, it is held in place with red ribbon.
The flax is pulled down from the distaff and spun into a thin linen thread.
The spinner frequently moistens her fingers with water while she is spinning. She tells me that after spinning, the thread is too sticky to be used for weaving straightaway. It needs to be bleached first – a process that involves covering the hanks of thread with hay, sprinkling that with wood ashes and then pouring boiling water over everything. Repeat that six times and the yarn is bleached. Phew, so much work!
Below from bottom to top: unspun flax fiber, spun linen thread and bleached linen thread.
Before we continue on to our final destination, it's time for some cool, cool drinks and flax biscuits (with linseed).
A narrow lane brings us to flax museum It Braakhok in the village of Ie – on the right, where the Dutch flag is waving.
Here volunteers demonstrate how flax is processed to spinnable fibre.
I'm impressed by the number of steps and the amount of work it takes to make linen from flax.
Finally, we visit an exhibition about yet a different aspect of linen – its use for painting canvases. The exhibition tells us about a research project looking at the linen used by 17th -Century Dutch masters like Vermeer and Rembrandt.
It's fascinating what linen can tell us about paintings and the artists who made them when it is examined and reconstructed using a 17th-Century weaving loom, X-rays and microscopes.
Flax trail Follow the Blue Line can be followed through early August. The exhibition Ontrafeld Bewijs (about the painters' linen canvases) can be visited to September 30th. Admission to everything along the trail is free!
Next week, I hope to tell you about a yarn shop just a couple of kilometres outside the flax trail. I couldn't very well pass that by when we were so close to it, could I? Hope to see you again then. Bye!