'There are two questions you should ask yourself if you're thinking of taking up knitting as a hobby,' writer and comedian Paulien Cornelisse said. 'One: Do I love maths? And two: Do I love frustration? If your answer is yes to both, go for it.'
Paulien said this as a guest in a tv-show where she talks about knitting, Ravelry and the hand-knit sweater with the 'bla bla bla' yoke she is wearing – her young son's design idea.
She also tells us how in the mirror 'bla bla bla' is reflected back at her as 'old old old'. She really cracks me up! (Video here on YouTube.)
Paulien and her two questions repeatedly popped up in my mind when I was knitting a cardigan for our grandson. The pattern is from the Rico Design Baby Merino 01 booklet, and the yarn I used is the same Baby Merino used for all of the patterns in it.
I love the sweet 1950s style sweaters, jackets and socks in the booklet. But knitted shorts and bare legs with all those warm woollies? Hmm, not entirely sure…
So, what's with the maths and frustration? Let's start with the frustration. The yarn comes in 25 gram skeins and is a really nice and soft fingering weight wool. Only, several of the skeins had multiple sections like this, split and frayed: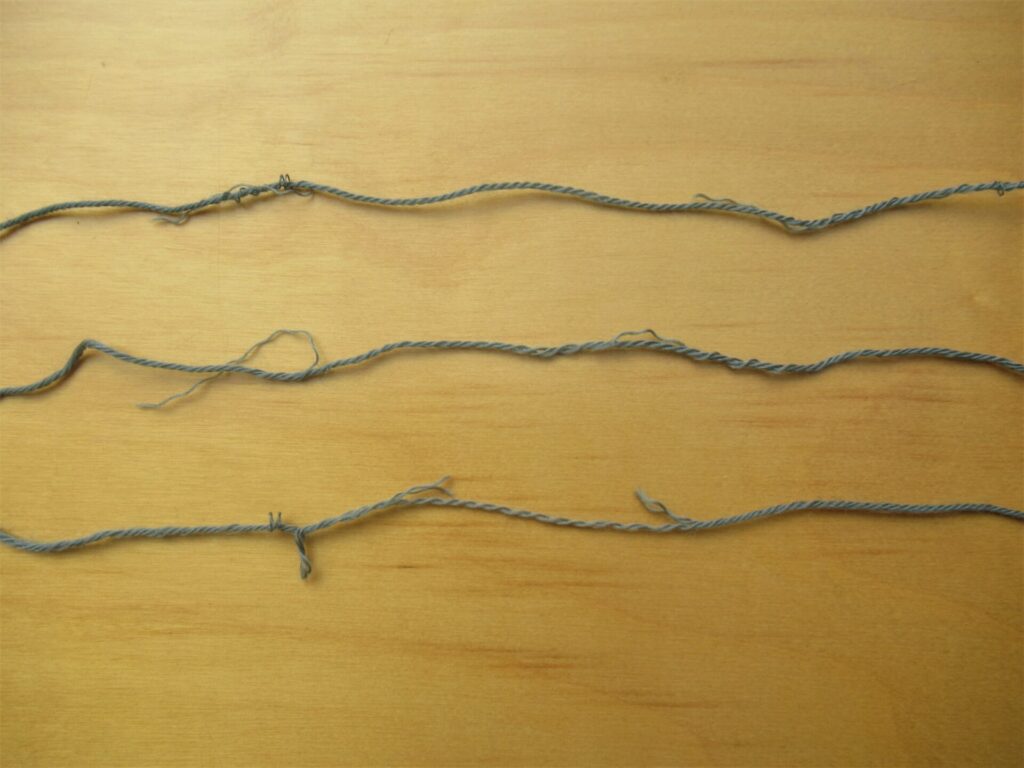 Very frustrating to have to cut the yarn in inconvenient places and have all those extra ends to weave in. The other skeins were fine, though, and I hope this was just an unlucky Monday morning batch.
Next, the maths. On the whole the pattern is okay, although it could have been a little more precise. It's mainly the sleeves I had problems with. Here the pattern says: Cast on 49 sts, after the ribbing decrease 3 sts evenly, continue straight with the resulting 80 sts and bind off.
Huh? 49 – 3 = 80?!?
Nothing about increases, and nothing about sleeve length either. Fortunately I love maths (not). And fortunately on one of my granny days, I also happened to have drawn a diagram of the machine-knit sweater our grandson was wearing.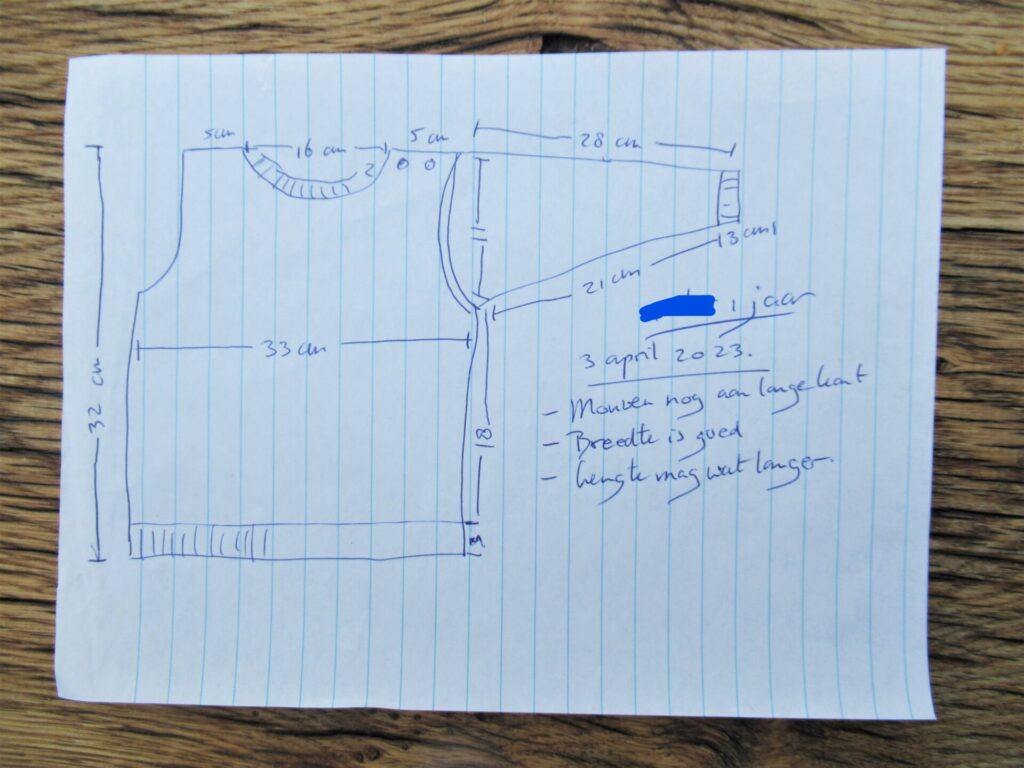 So, I started counting rows and calculating increases. If you'd been there, I swear you would have heard my old brain cogs creaking and clicking. But they proved to still be up to some maths and I'm very happy and proud about the way the sleeves turned out. Ridiculous, perhaps, to be euphoric about underarm seams, but don't they look nice?
I'm not entirely happy with the way the bottom of the button band pulls up – I should have picked up a few more stitches for that.
In spite of the maths and frustration, I enjoyed knitting the lightweight cable fabric and I'm pleased with how the cardigan turned out. It is filled with love and I hope our grandson will feel cosy and cared-for wearing it.
The colour I used is called 'ivy', but that it certainly isn't. It's a little closer to sage, but with more blue added in. It's hard to capture in a photograph, but this'll give you some idea.
Finally, I asked myself two questions. One: Would I use this yarn again? And two: Would I knit more items from this pattern booklet? My answer is yes to both, because I love maths and frustration the softness and dusty colours of the yarn and the style of the designs.
Wishing you a lovely and frustration-free weekend! Bye xxx