Hello! I hope this finds you all well. It's been chaos and bedlam here. We were having some work done to our house, and everyone who'd promised to be here 'in spring', 'sometime during the summer', and 'in September at the earliest' descended on us in the same week. I'm glad the work is done, the dust has been dusted away, the paint is dry, everything is back in its place and we have uninterrupted electricity again.
So, back to life as usual, back to blogging and fortunately also back to more normal temperatures and some rain. It's only June and we already have a very hot and dry month behind us. On one hot day, I saw a blackbird panting with outspread wings.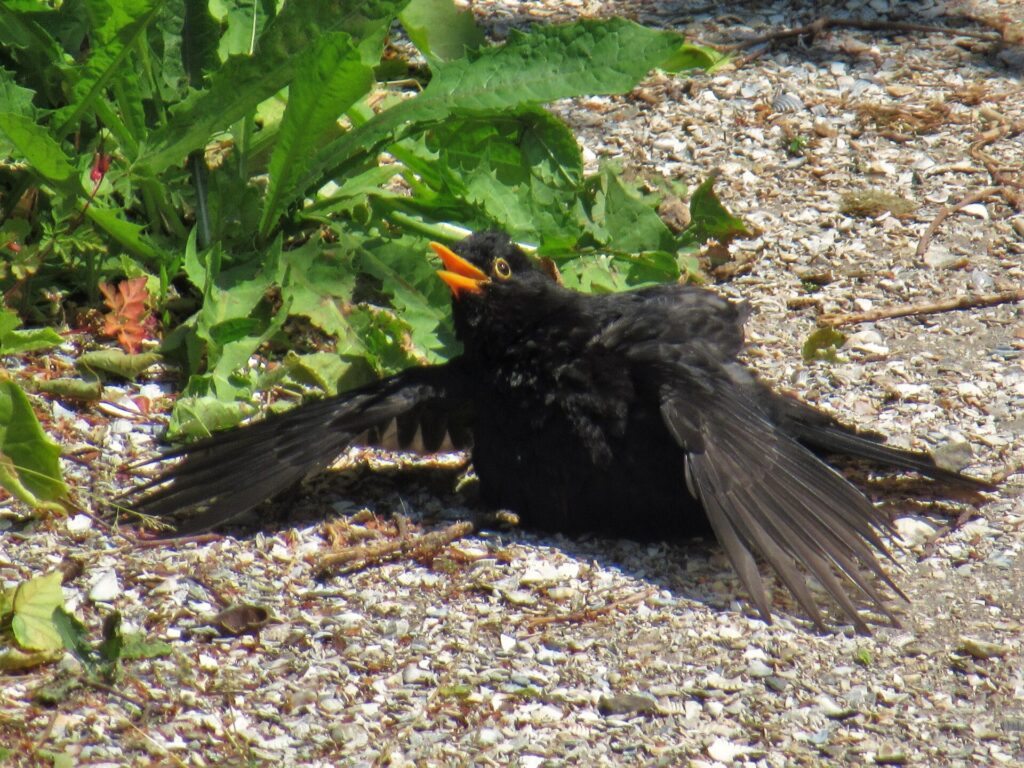 It seemed to be in distress, but hopped away cheerfully when I approached. I found out that they 'sweat' through their open beaks, and sunbathe to get rid of parasites.
I'm extremely worried about our increasingly hot summers and the worldwide problem they're a symptom of. I'm trying to do what I can on an individual level, but it's depressingly little. Getting depressed about it all isn't getting us anywhere, though, so I'm doing my utmost to stay positive.
Some of the best ways for me to do that are outdoor exercise and knitting. And as for the latter, I've made A Plan! As it's often too hot to have a large woolly project on my lap, I'm going to focus on small things during the summer months. There's always a pair of simple socks on my needles.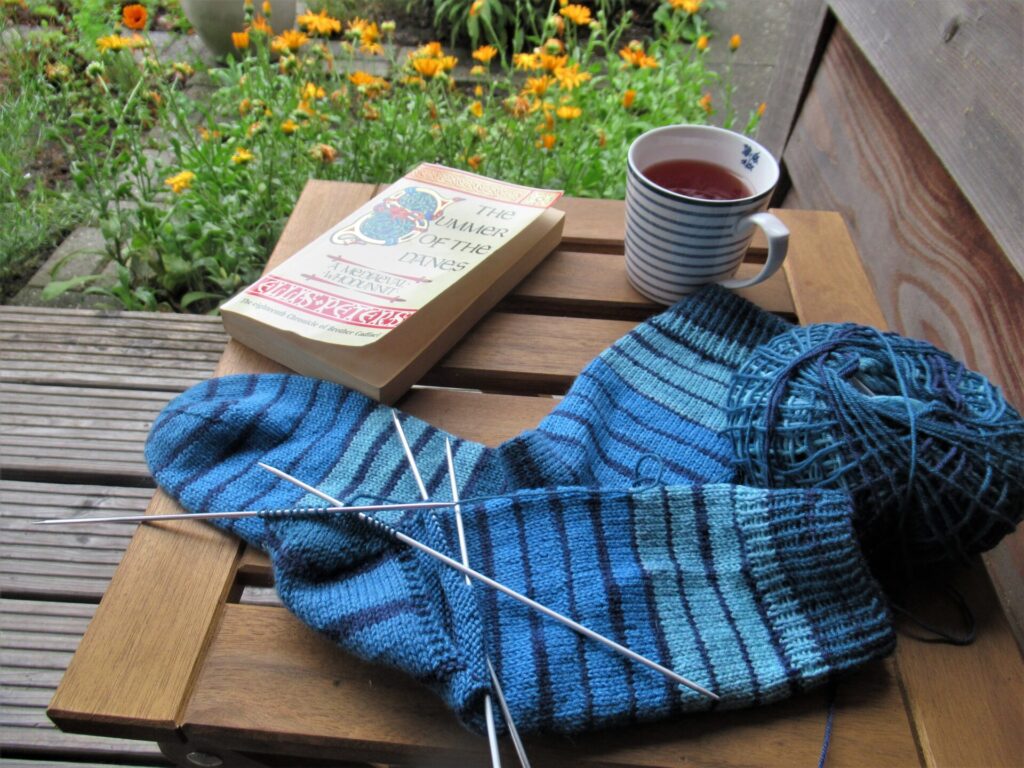 Very nice, but I'd also like something more challenging. But what? Looking at my Knitting Wish List for 2023 for guidance, these are some of the things I wanted to do more of:
Norwegian knitting
Make things for our grandson
Knit more challenging socks
Socks are small anyway, and I'm certainly making one or two pairs of those.
When I think of Norwegian knitting, I first of all think of sweaters. But mittens are great small alternative. I found a few skeins of yarn brought back from Norway in one of my yarn boxes.
Things for our grandson are never huge, but can be even smaller than sweaters and cardigans.
So these are my plans for summer knitting. It feels good to have the decisions made and to have the materials and patterns at hand – things to look forward to.
My spinning wheel is also back in use.
And I've put my name down as a volunteer for and interesting woolly project. I'll tell you more about that when there is something to tell. I hope I haven't bitten off more than I can chew, but it's something I'm really, really looking forward to being a part of.
We won't be going anywhere until later in the year. If you're staying at home, too, or if you're holidaying somewhere and have some time on your hands, I hope you have some plans for things to make lined up, too. I'd love it if you'd drop in from time to time to keep me company. I'll be blogging about my progress with the above and also hope to take you along on a few outings.
Whether your plans are big or small, enjoy your summer!