Hello!
'On some day of late January, when the honey-coloured west is full of soft grey cloud, when one lone minstrel thrush is chanting to the dying light, what is the thrill that shakes us?' This is how Mary Webb starts The Spring of Joy (first published in 1917), a lovely collection of essays about the healing power of nature. This 'thrill that shakes us', she writes, is a sense of 'oneness with all beauty, seen and unseen'.
It is early February now, and unlike the south of the country we haven't had any snow so far. Over the past month the sky has often been 'full of soft grey cloud'. Or a uniform dull grey. Or pouring with rain. How can we experience a sense of oneness with all beauty on days like that?
Well, there are subtler things than stunning sunsets and spectacular snowscapes. Webb writes about the beauty to be found in the movements, sounds and scents of nature. Or in shadow or shape. In the presence of an old oak tree…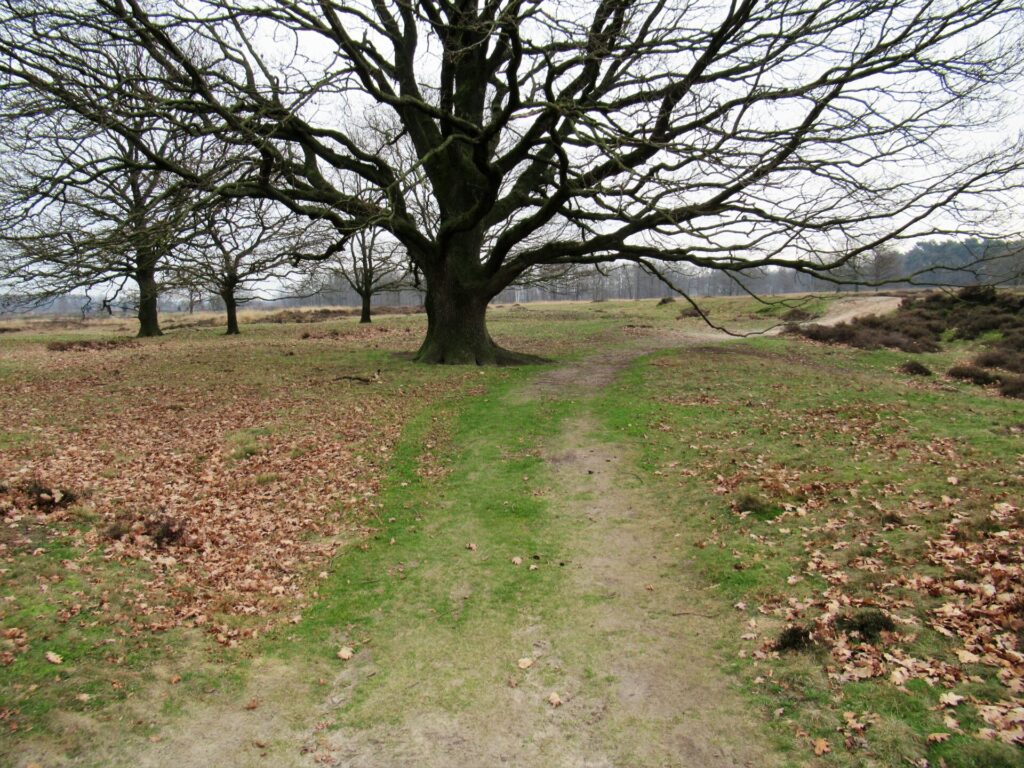 … surrounded by sheep and buffeted by an invigorating breeze I know what she means.
In this little gem of a book, there is also an essay about The Beauty of Colour. According to Webb, 'Of all colours, brown is the most satisfying.' I don't know about that, but I do agree with her when she writes: 'In blue the spirit can wander, but in green it can rest'.
On the whole blue is my favourite colour – my spirit loves to wander. But at the moment I am also strongly drawn to green.
I've finished the Norwegian-patterned mittens for our daughter, woven in the ends and washed them. The last thing to do now is knitting in the linings. While the mittens were drying, I made a start on a green cardigan for our grandson knit from the top down:
The lovely fir-tree-like pattern along the raglan increases posed quite a puzzle. It's taken me several attempts to get the hang of it, but I'm on the right track now.
And looking for something else, I came across a skein of a beautiful green tweed yarn. It's been in my stash for a long, long time. Now I'd love to knit it up into something special, but what? A pair of mittens? A cowl? A hat?
Speaking of the beauty of green things and the healing power of nature, I've just finished reading Landlines by Raynor Winn. A dear friend gave it to me as a birthday gift last year. I didn't read it straightaway but kept it to have something to look forward to for January. This is the hardcover edition – it is worth having for the beautiful dust jacket alone.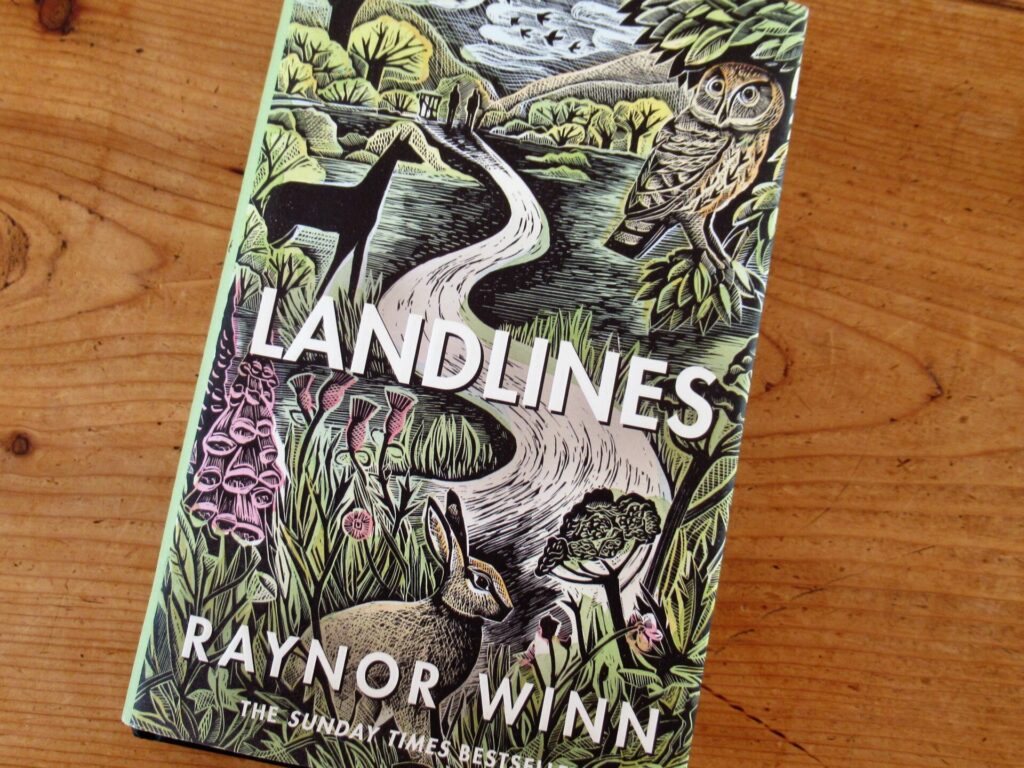 It is also very much worth reading. Landlines is actually the third book in a series. I haven't read the first two (The Salt Path and The Wild Silence), but that wasn't a problem – it can be read on its own.
The author's husband, Moth, has a neurodegenerative disorder (similar to Parkinson and Alzheimer) for which there is no cure. He is told that his condition will only deteriorate. After this devastating diagnosis and subsequently losing their home, they make the unusual decision to walk the 630-mile-long South West Coast Path (described in the first book). This turns out to lead to a miraculous improvement in Moth's health.
In Landlines, Moth's health has gone downhill again and the couple set out for another long-distance walk, this time starting in the north of Scotland. It's a moving personal story with unexpected twists and turns, interesting encounters and insights, and beautiful descriptions of the landscape and wildlife along the way.
Well, I'm going to make a start on the mitten linings now and hope to have them finished by next week. To close off here is a picture of some twists and turns in our most recent non-so-long-distance walk. Take care! xxx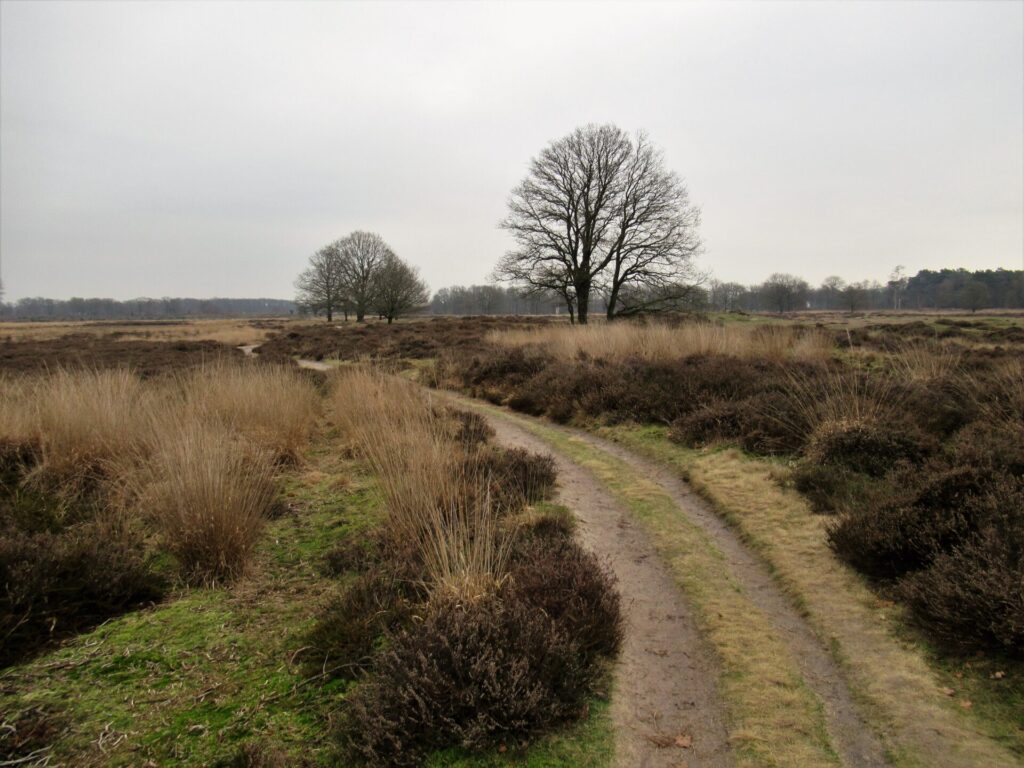 NB: De boeken van Raynor Winn zijn ook in het Nederlands vertaald: Het zoutpad, De wilde stilte en Landlijnen.