Hello!
Knitting 24 tiny Norwegian Advent mittens and a pair of normal sized ones, has made me put 'more Norwegian knitting' on my list for 2023. That doesn't necessarily mean more mittens, but looking for inspiration, I first of all pulled several Norwegian mitten books from my bookshelves. I thought you might like to look along with me.
The first one is Mittens from around Norway, by Nina Granlund Sæther:
This English translation of an originally Norwegian book contains 43 mitten patterns from many different parts of the country. There is obviously a lot of colourwork, but also some cables, knit-and-purl patterns, and a little lace.
There are large and clear photographs of the finished mittens and also photos of the museum pieces they were inspired by. With one or two exceptions, the mittens have been knit in widely available Norwegian yarns.
The next book is Selbuvotter: Biography of a Knitting Tradition by Terri Shea, also in English: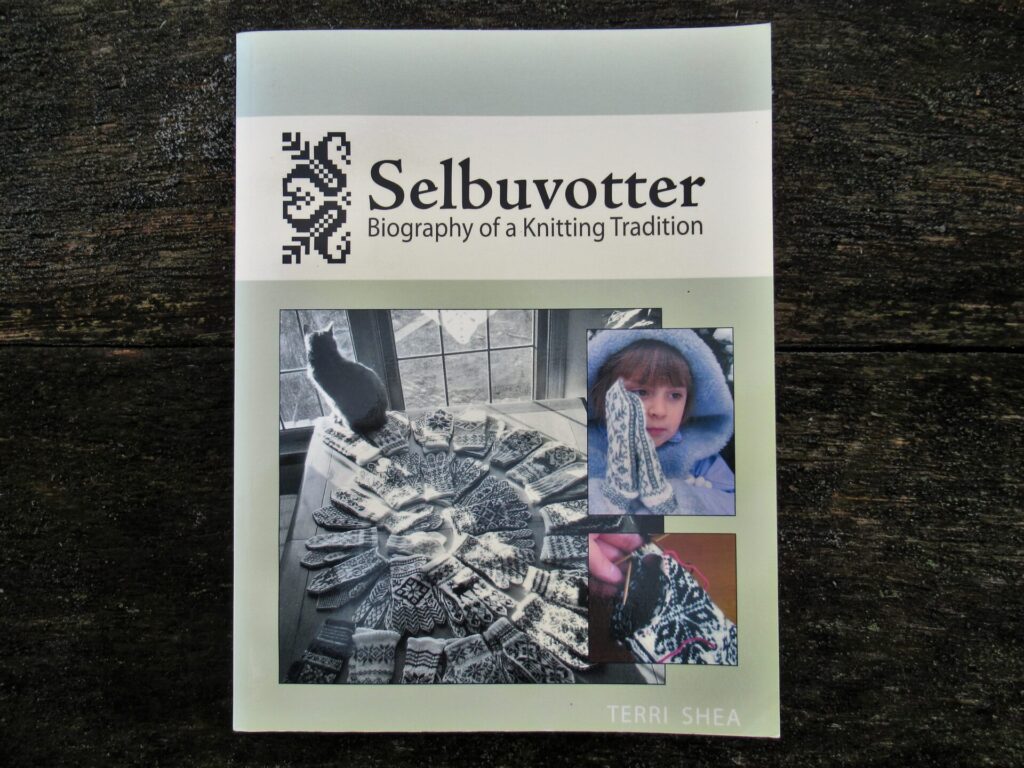 This is solely about black-and-white mittens (and gloves) in the Selbu tradition. The author has researched and reproduced part of the mitten collection of The Nordic Heritage Museum in Seattle as well as mittens from a private collection.
This book provides quite a bit of historical information and also goes into special techniques. It contains patterns for 31 pairs of mittens and gloves. Shea used Norwegian yarns for many of them, but also Shetland as well as some other yarns.
I brought the next publication home from a visit to Selbu (about 70 km south-east of Trondheim) – Selbustrikk: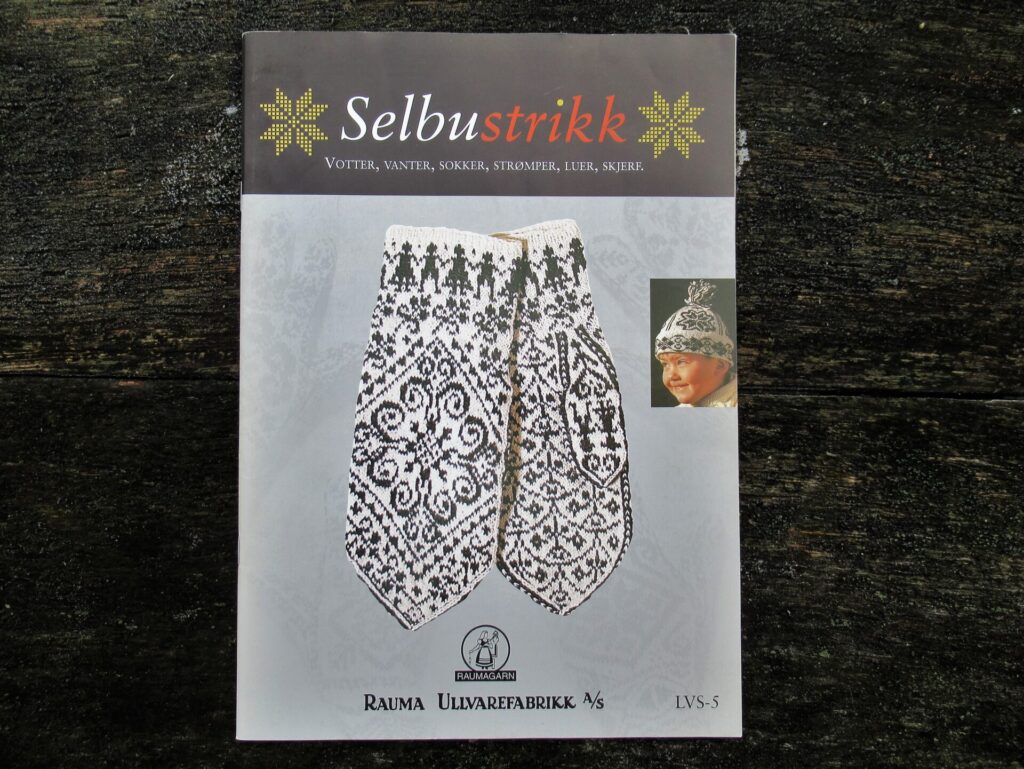 This is only a thin booklet, but it contains a wealth of inspiration for mittens and gloves, as well as socks, hats and a few scarves. Again, everything in traditional black-and-white. It is in Norwegian, but the diagrams speak a universal language. By far the most of the patterns use Rauma Gammelserie yarn, and some of them Rauma Finull garn.
A must-see if you ever get the opportunity to visit this part of Norway is the Selbu Folk Museum, or Bygdemuseum. The museum has a lovely collection of mittens and other knitwear. My husband took the photo at the top of this post during our visit there. Here is a closer look:
Awe-inspiring, all those finely knit, beautifully patterned mittens and other knits, don't you think?
Zooming out again to the entire country, here is one of the most beautiful knitting books on my shelves: Håndplagg til Bunader og Folkedrakter:
This 300-page tome (in Norwegian) is crammed with mittens, gloves and wrist warmers in all kinds of different knitting techniques. Many of them are embellished with embroidery or beads. The photography is stunning, and I don't think I'll ever tire of leafing through this book. So inspiring!
All of the above is inspiration FOR Norwegian mittens But why not take inspiration FROM Norwegian mittens as well?
Our next-door neighbours are expecting their first grandchild any day, and I thought I'd knit her a wee hat. I took the striped hat from Debbie Bliss' Baby Cashmerino 2 booklet as a starting-point. But instead of knitting stripes, I looked at my Advent mittens for inspiration and came up with this: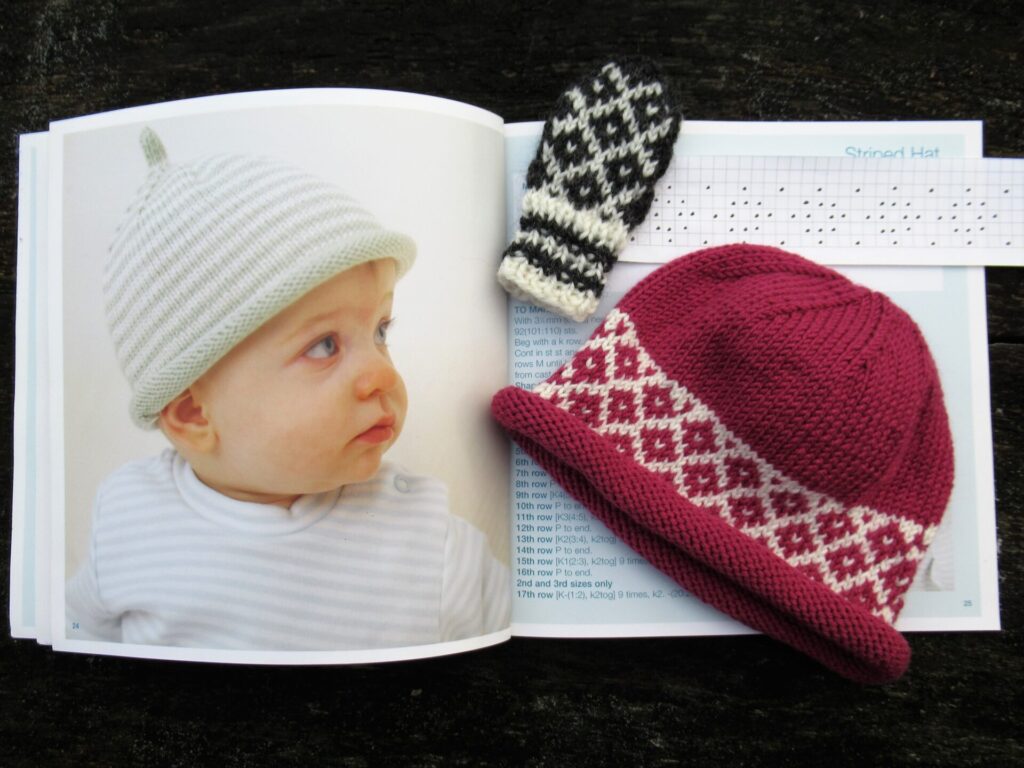 A simple Norwegian-mitten-inspired baby hat – a satisfying little knit.
After looking through all these amazing mitten books, I still have no idea what my next Norwegian or Norwegian-inspired project is going to be. More mittens? Gloves or wrist warmers? Socks? A hat? Or even an entire sweater? Whatever it's going to be, I'll keep you posted!
Links:
If you'd like to read more about Norwegian mittens and can't get hold of any of the books I've described, there is always the internet, of course.