Hello! I know that some of you are on holiday, while others are off enjoying a fabulous weekend at a Fiber Fest. So maybe you're reading this in front of your tent, on the veranda of your summer cottage, or in your hotel room. Or during your coffee break at home or at work. I like imagining all these different surroundings and look forward to reading about them on your blogs, Ravelry or elsewhere.
Nothing much is happening here at the moment. We're at home, doing some work and just living our lives, and I thought this week I'd write about several of my small summer pleasures. First of all: rain.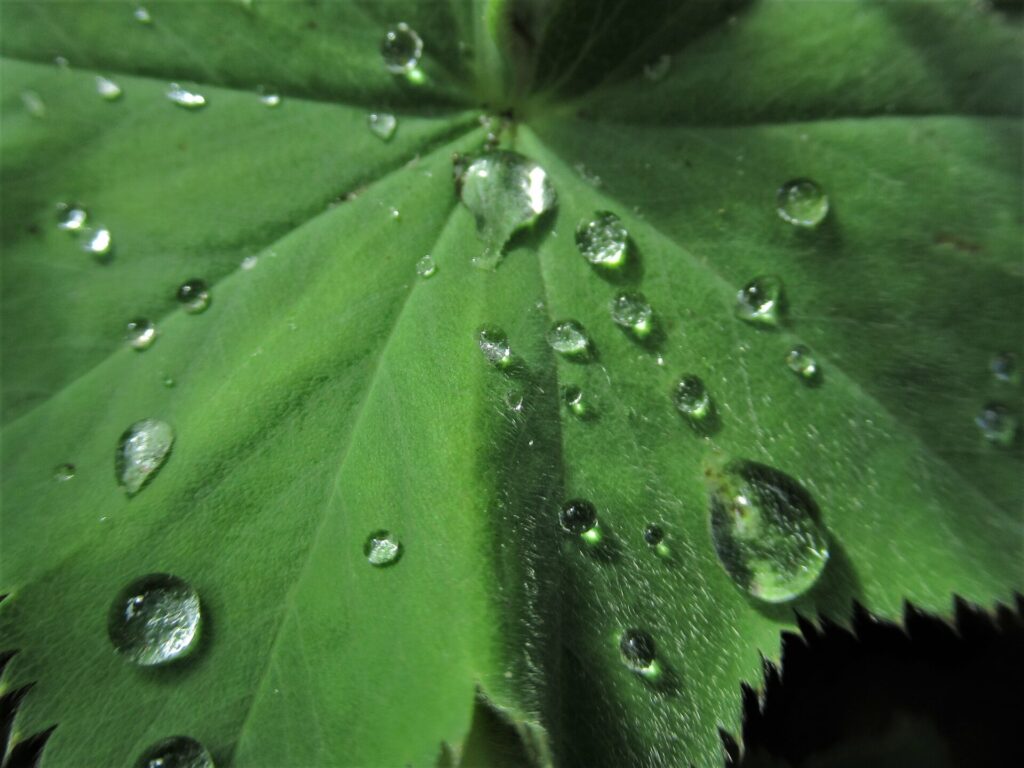 We've had so much rain this week! Is that a pleasure? Yes, for me it is. After the hot and dry start to the summer, I love the muted light, the freshness and the wetness of it all. And our soil, plants and trees really need it.
The garden is perking up and another of my small summer pleasures is strolling through it, looking at the flowers, butterflies and insects. I've picked a few sprays of miniature roses for a small glass vase (top). We also have a tiny fuchsia bush, with flowers like elfin ballerinas.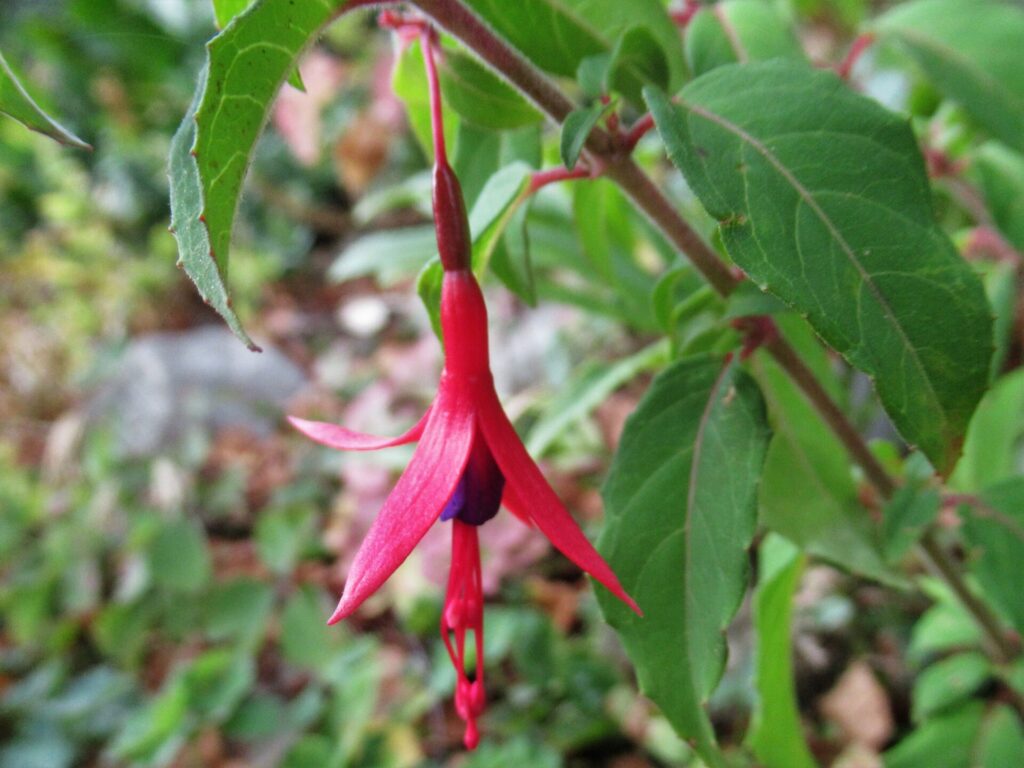 In a recent episode of BBC's Gardener's World, there was an elderly couple who had dedicated their lives to growing miniature fuchsias. On the one hand, incredibly twee. What a thing to dedicate your life to! But on the other, so peaceful – there are far worse things to do with one's life.
Speaking of peaceful, how can I ever swat a fly again, now that I've looked at this one from up close? With its veined glassy wings, its huge red eyes and its checkerboard-pattered backside it's a beautiful creature.
My small summer knitting projects are also giving me a lot of pleasure. I just finished a pair of Welted Fingerless Gloves for our daughter, to replace a pair that was worn to shreds. They took 34 grams of Fonty's 'Tartan 3', a yarn dyed using a more sustainable method than usual.
On my needles now is a small monkey for our grandson. More about that soon, when it's finished.
We do not have a vegetable garden anymore, but we do have some vegetables in our garden. Rocket and spinach on last year's compost heap. Rhubarb plants here and there. And one tomato and one cucumber plant against our tool shed.
The tomatoes are not ripe yet, but we've already harvested three wonderfully fresh and crunchy cucumbers – another small summer pleasure.
The other day we ate slices of cucumber with an Indonesian-style meal. (We have a large Indonesian community and their food culture has been an important influence on Dutch cuisine.) While I was cooking and laying the table, I thought you might like my recipe for Nasi Goreng and took some pictures. It's an easy weekday meal and I've made it countless times over the years.
I don't usually measure the quantities and sometimes vary with the ingredients, but I've done my best to write up a cookable recipe. My version is only slightly spicy. My husband likes it hot and adds lots of sambal.
Nasi Goreng
Serves 2
Ingredients
125 g white rice
1 tbsp sunflower oil
150 g chicken breast, cut into cubes, or a vegetarian alternative
1 onion, chopped
2 tsp ground coriander seeds
½ tsp ground cumin
1 tsp sambal brandal (a mild, fried sambal)
1 medium carrot, finely diced
150 g finely shredded pointy cabbage
½ tbsp ketjap asin (salty soy sauce)
½ tbsp ketjap manis (sweet soy sauce)
Salt
Method
The day before:
Cook the rice, leave to cool and store in the fridge (It is essential to do this ahead of time or you'll get a very sticky Nasi Goreng)
On the day:
Heat the oil in a wok and fry the chicken cubes on high heat until lightly browned
Reduce the heat to medium, add the onion and fry until slightly transparent
Add the sambal brandal, ground coriander and cumin and stir for 2 mins
Turn up the heat, add in the carrot and cabbage and stir fry for about 3 mins
Reduce the heat to low, mix in the cooked rice and the two kinds of ketjap, and heat through
Add salt to taste
To serve:
This time we ate the Nasi Goreng with sliced cucumber, prawn crackers, serundeng (seasoned roasted coconut with peanuts) and fried egg.
Sometimes I also serve it with stir-fried bean sprouts, atjar tjampoer (sweet-and-sour pickles) and/or satay (peanut) sauce
Enjoy!