Hello! A slightly grubby street sign tells us that we've arrived at Schapendijkje (Sheep Lane). An apt name in view of why we're here. So, where am I taking you today and why?
Well, we're at a rather unusual place and I hope you won't click away as soon as you know. We're at the Noorderbegraafplaats – a large cemetery in the Frisian capital of Leeuwarden.
The reason we're here is that it has a modern funeral space that urgently needs help from us, wool workers. (I'm using the word space instead of chapel because it is non-denominational.)
Come and take a look inside and you'll understand why. With its white walls and wood-and-steel furniture, the interior is fresh, modern and spacious.
But the acoustics are terrible, sitting on the wooden benches for longer than five minutes is torture, and the atmosphere is rather bleak. The creative forces behind wool-rescuers' organisation Pleed immediately saw possibilities and started the community project Aula in Blauw. In their words, the aim of the project is
'to have a funeral space where people can feel embraced by
soft local woad-dyed blue wool.'
The plan is to improve the acoustics and atmosphere with felted wall panels, a hooked rug on the floor, long woven coverings for the backs and seats of the benches, and knitted and crocheted cushions.
Around sixty enthusiastic people showed up for the kick-off, and many more names are on the list of volunteers. I don't feel comfortable placing pictures of their faces on the internet, but I think I can safely show their legs and feet.
For those of us volunteering as spinners, wool from the flock of sheep grazing the public green spaces in Leeuwarden was available.
I came home with two batts of washed (but still slightly greasy) and carded wool – 564 grams in total. The flock consists of Drenthe Heath Sheep, Schoonebekers and mixed breeds. I was told that 'my' wool is Drenthe Heath Sheep.
We're asked to spin a fairly thick yarn and were given a length of blue-grey hand-spun wool as a guideline. My first two tries were too thin, but I think what I'm getting now is about right.
The 2-ply yarn I'm spinning is 10 wpi (wraps per inch), which amounts to a worsted-weight yarn. This is my wpi tool with its sunny smile:
The spinning needs to be finished by September, when the yarn will go to the next stage: the dyers.
Below, you can see my spinning set-up. My Louët S10 spinning wheel and an old kitchen chair. To the right a small basket for catching vegetable matter and unspinnable bits of wool. To the left a big basket of unspun wool. I'm spinning with a black tea towel on my lap, to protect my clothes and to better see what I'm doing with the white wool.
I've had some questions from another volunteer, so for anyone who's interested, this is how I spin this yarn. I'm not saying this is the only way or the best way – it's just how I do it.
I'm using a short forward draft, for a denser hard-wearing yarn. For spinning I'm using the largest ratio of my wheel (the largest disc). This will give the yarn the least amount of twist, which is most suitable for a thicker yarn. While I'm spinning, my wheel is turning to the right and I'm counting with every time I treadle: 1, 2, 3, let go.
I still get more twist than needed, though, because my hands aren't fast enough feeding in the yarn. This is why I'm using the middle disc for plying. That will take enough of the twist out to make a stable, not overly twisted yarn. While I'm plying, my wheel is turning to the left and I'm counting 1, 2, 3, 4, 5, let go.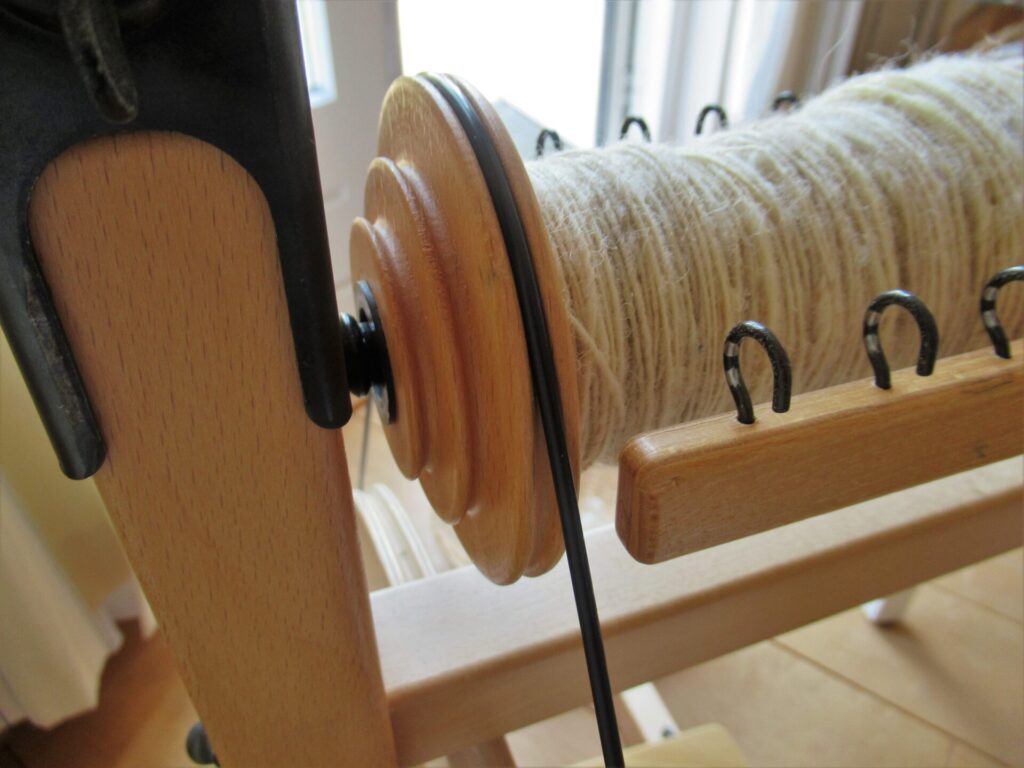 This isn't the easiest wool I've ever worked with if I'm honest, and I was struggling a bit at first. But after I decided not to fight the wool anymore and accept its character we've been getting along fine together, the wool and I. I'm no longer trying to spin a perfectly smooth thread but aiming for a rustic yarn. Sounds good, doesn't it, rustic? It's a great lesson in embracing imperfection.
If you've discovered my blog only recently, here are a few related posts you may enjoy reading:
Thank you for stopping by and I hope to see you again next week!