Hello! Last week, besides needing some quiet time to myself, I was too busy finishing a monkey to write a blog post. Before he was to move in with our grandson, I took him to the forest at the end of our street for a photo shoot. First we walked through the part with the big old beeches, where we got a good shot of the way his tail peeks out from his dungarees.
But on the whole it was too dark under the trees, so we walked on to a sunnier spot. It's one of my favourite places in the whole wide world – a tiny, perfectly round pool.
It's probably an ancient cattle watering-hole and it is surrounded by a small patch of heathland.
The heather is in bloom at the moment. It's mainly ling, but there is also some bell heather.
So, here he is, the monkey I knit for our grandson:
He was knit entirely in one piece, starting from the top of his head. It isn't an easy knit, but the pattern is very clear and has photo tutorials for literally every detail. The only part that gave me some problems was the 'frown' – the vertical line between his eyes that needed exactly the right increases to get a neat result. It's a very clever construction and I particularly like the shaping of the monkey's back and bum that allow him to sit up straight on every surface.
I knit the monkey a pair of dungarees with buttons on the back, that you've already seen from behind. This is the front:
And a jacket that also leaves the tail free.
Even though it's the middle of the Summer Holiday Season and there are many, many tourists in the region, nobody comes up to me here, asking what on earth I am doing. It's quiet. Dragon flies are flitting across the pond, too fast for me to capture. A viviparous lizard is also faster than my camera. Fortunately the carnivorous sundew stays in place, allowing me all the time I need to photograph its treacherous sticky droplets.
We enjoyed a lovely couple of hours in the forest, the monkey and I. He has now moved in with our grandson and they are getting along very well. The monkey has already been dressed and undressed countless times, and also been thrown about quite a bit, but he keeps smiling and doesn't seem to mind.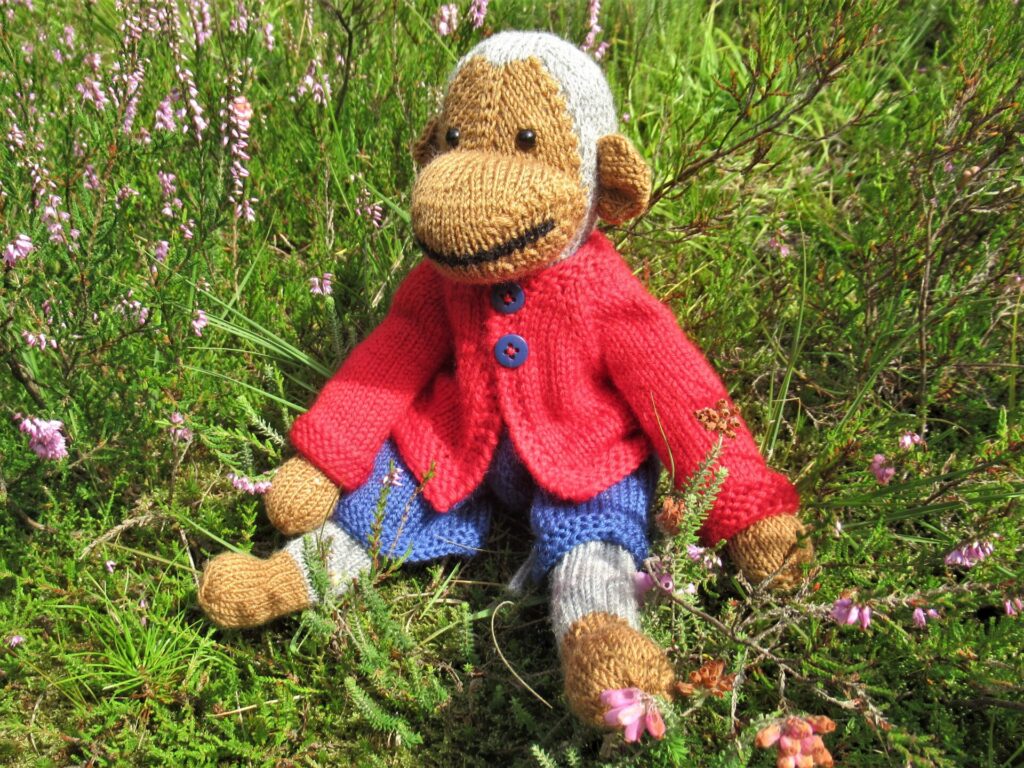 For the knitters among you, here are a few details:
Yarn: Sandness 'Tynn Merinoull' (monkey, 20 MC, 8 g CC); Dalegarn 'Baby Ull' (jacket and dungarees 17 g each, mouth small remnant); I used a fingering-weight yarn, but the monkey can be knit in any yarn weight
Height of monkey: 18 cm/7" from top of head to bum; 27 cm/10½" including legs
Knitting needles: 2,25 mm/US 1 for monkey; 3,0 mm/US 2½ for clothes
The designer's website (in Dutch) with patterns and supplies for this monkey and other softies can be found here
The Dutch paper pattern booklet includes the jacket. There is a separate booklet for the dungarees and some more clothes. Designer Anita mostly uses colourful yarns like Schoppel Zauberball for her creations.
The digital pattern for the monkey in Dutch, English, German and French can be found here on Ravelry; the dungarees in Dutch and English here; and a dress here.
Because I wanted the monkey to be washable, I've filled it with synthetic filling. For weighting the hands, feet and bum I used plastic pellets encased in cotton tubular bandage.
I hope you've enjoyed this visit to 'our' forest with the monkey and me. Thank you for joining us! xxx