Hello!
Today's post has a nettle theme running through it. To begin with, I've knit a pair of socks with nettle fibre in them. That was interesting, because the yarn (Onion Nettle Sock) behaved a little differently from the usual all-wool or wool-and-nylon sock yarn. Let's take a look at the thread first: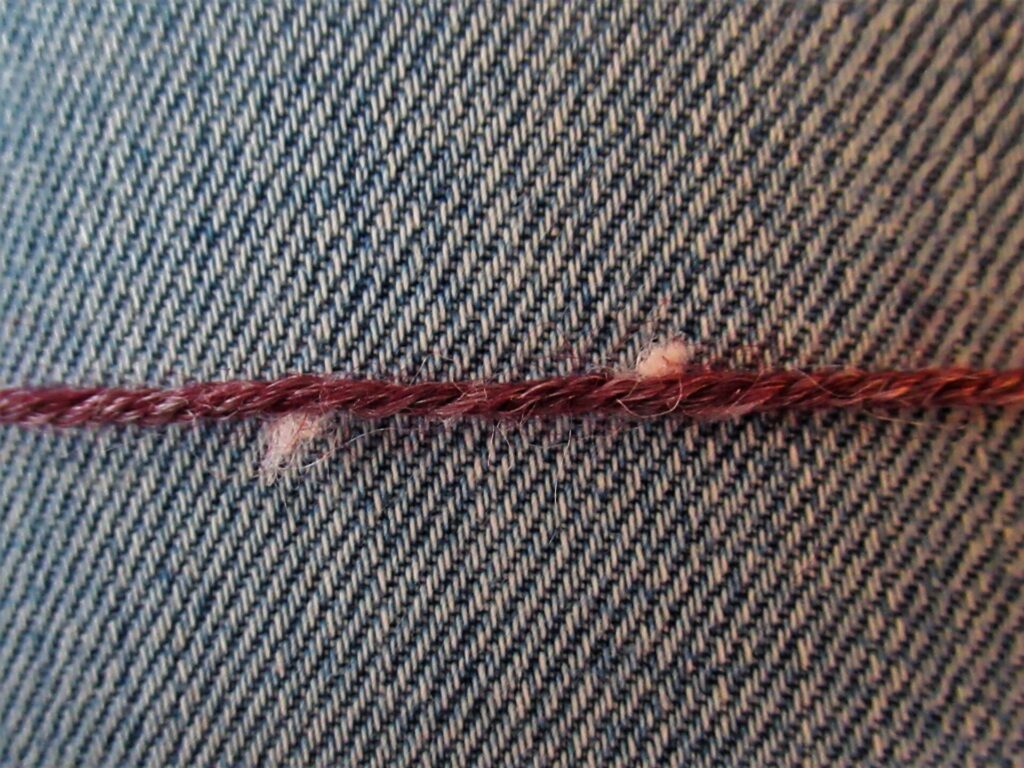 As you can see, there is maroon fibre and white fibre. The maroon fibre is superwash wool (70%) and the white fibre is nettle (30%). Nettle doesn't take the dye used for wool and stays white, which gives a nice marled effect. Here and there thicker bits of nettle stick out, but on the whole the thread is smooth. Nettle is a very strong fibre, and the thread doesn't break easily.
For me, the problem was that the yarn has hardly any elasticity at all. At my first try, with a few centimetres of knit 1, purl 1 rib followed by stocking stitch, the sock became too loose. Casting on fewer stitches would give a tighter fit, but also a stiff sock. After throwing it into a corner taking a break from it, I had a lightbulb moment: what the yarn lacks in elasticity, can be added by using a stretchy stitch pattern! So, I knit the leg and the top of the foot in k2, p2 rib.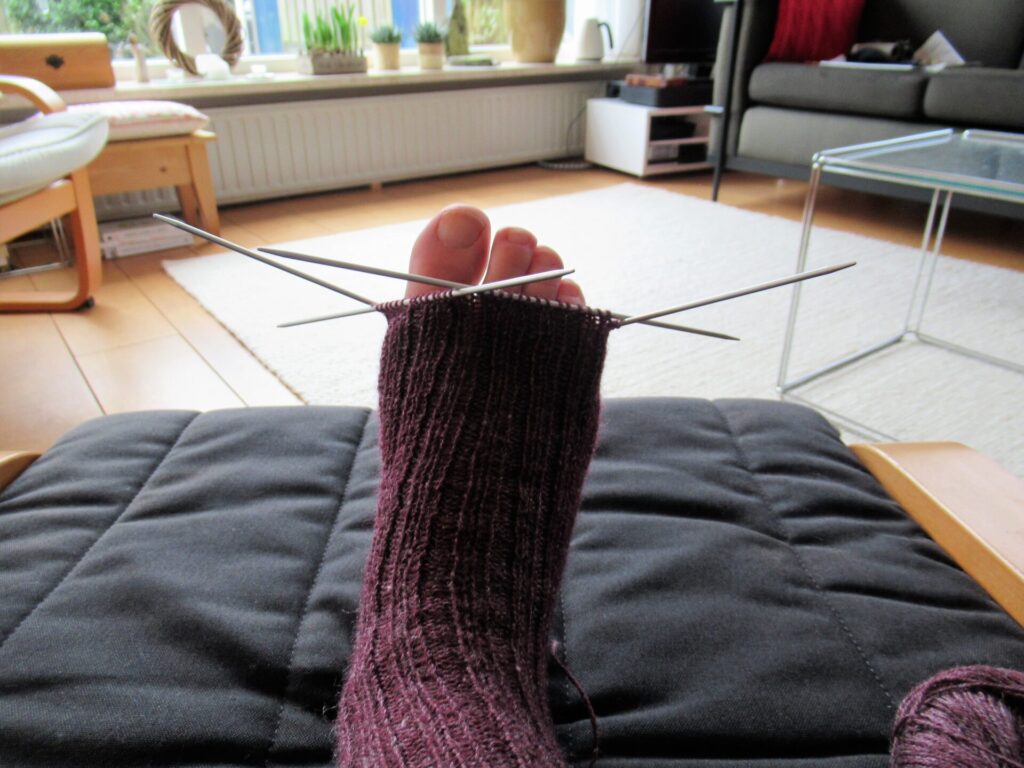 TIP: Here is something I learnt from my mum and she learnt from hers: start on the toe of the sock when the little toe is covered. I can't guarantee that it works for very long toes, but I think it's a good rule of thumb.
Laid out flat, the ribbing is all bunched up and the socks look rather narrow.
But on the foot, you can see how the rib stretches out and the socks fit perfectly.
I had my doubts about this yarn, but I'm happy with these socks now and hope the friend I made them for is too. Still, they're pretty basic. I have more of this yarn for another pair and have an idea for making those a little more exciting. More about them in a few weeks' time, I hope.
Q: Does nettle yarn sting or itch?
A: No more than any other sock yarn. It feels surprisingly nice, really.
All this focus on nettle fibre gave me an idea for a little outing to the Nettelbosch, a garden in the nearby town of Steenwijk. Come along! Up, up, up the stairs we go, on to the top of the old town wall.
After a short walk we go down another flight of stairs…
… and arrive at the entrance gate. Apart from the name of the garden, it shows a simplified map of the old town centre, with its wonky star-shaped defensive walls.
Long, long ago, there was a garden here, too. But it became a neglected spot – a tangle of nettles that was known to the locals as De Nettelbosch. When in 2018 the municipality decided to give the town centre a 'quality boost' by creating a new garden, the spot kept its name.
The small, stony pond looks nice all year…
… thanks to its attractive leafy bridge.
For the rest, De Nettelbosch looks rather bare and bleak at this time of the year.
At least at first sight. Spending a little longer looking around, small details catch the eye, like these seed heads.
There is also some colour to be found.
And even a few signs of spring!
These bulbs (daffodils?) are much further along than those in our garden, probably because of their sheltered situation behind the town walls. I'll certainly take you back here in spring, to see what De Nettelbosch looks like then.
Goedgoan!*
*Local expression for Bye!