Hello!
Another little outing, today. This time, I'm taking you along to the Frisian village of Grou (rhymes with 'now'), where I grew up. It is situated on a lake. In summer you won't be able to see the lake for the boats, but now it's deserted.
A cormorant sits hunched moodily on a mooring post, its feet clamped around the top. I know how you feel mate. I have days like that too, only not today.
Today, I'm happy to be in these familiar surroundings. Today, I have some time to stroll around and visit a yarn shop!
The village has changed a lot since I was a child here, but the old centre has remained largely the same, with everything built closely together.
The 12th Century church and the surrounding narrow streets and alleys with not-quite-as-old houses form the most picturesque part of the village. (I grew up in a considerably less picturesque part.)
The houses here are small, some even tiny, but very attractive.
Long ago there was a yarn shop in one of the houses around the church, the one with the red roof tiles and red brick front on the left in the photo below.
Later there was a yarn shop here, on the central square, where there is now a men's hair salon (left of the striped barber pole).
When the owner retired, she asked my mum if she'd like to take over. Unfortunately, my dad vetoed it. I think mum would have loved it, and I would have loved helping around the shop.
After years without one, Grou got a new yarn shop in October 2020. Not an easy time to start, with a lockdown soon after the opening and another one recently. But Van Draad, as it is called, survived the ups and downs of the past two years and here we are:
It is a fairly small shop, but there is room for a cosy table where knitting circles and workshops will be held in the future, I expect. (The shops are open again, but under the current restrictions it isn't possible for groups to gather in such small spaces.)
There is a wall of colourful yarns that is a joy to look at.
Here is a close-up of some pinks and purples.
There are swatches tucked in among the yarns here and there.
And on top of the wall of yarn is a sweater with a beautiful cable down the centre, knit from 4 very thin threads of alpaca held together (Lang 'Alpaca Super Light')
In a corner by the window there is a tempting display of laceweight mohair yarn (Katia Concept '50 shades of mohair'). It's like a knitter's box of crayons.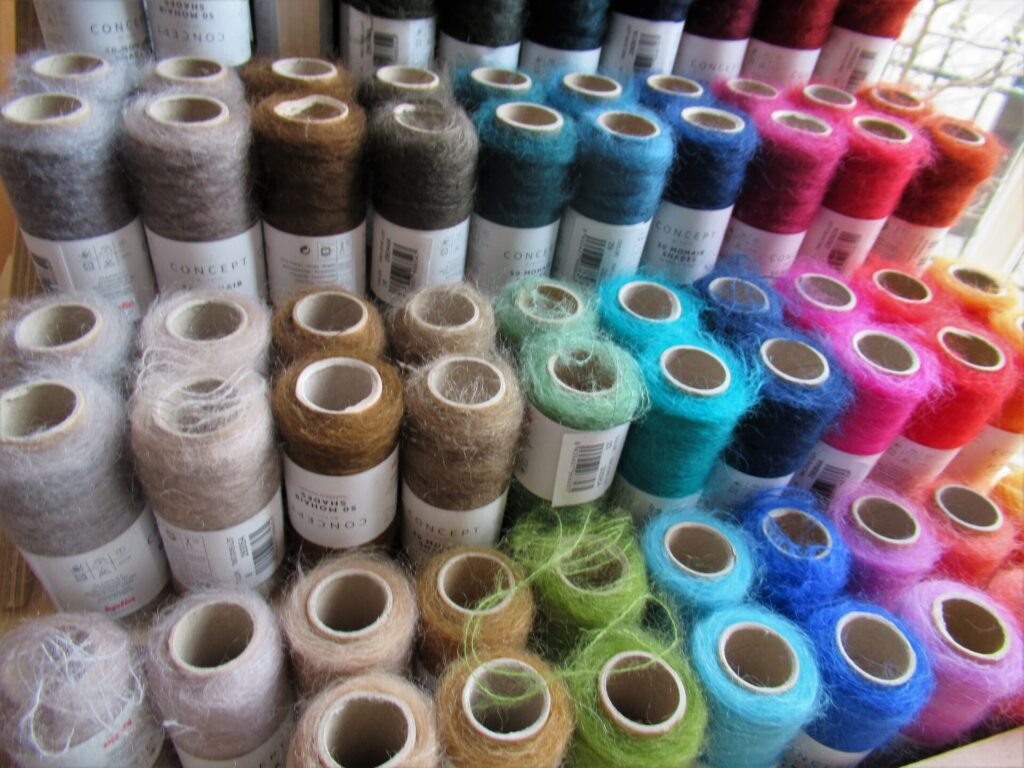 No fancy hand-dyed yarns here, but a great selection of good quality, affordable yarns from Lang, Katia and Scheepjes, as well as books, magazines, needles, tools and accessories. I feel very much at home in this shop, I have to say, all thanks to Sytske, the very friendly and welcoming owner.
Q: Are all yarn shops in the Netherlands so lovely and their owners friendly? It looks like that from your blog. Or are you making things up?
A: No, not all yarn shops here are wonderful places. I just don't write about the ones I don't like. I'm not sponsored to say nice things either, so what you see and read here is honestly how I experienced it.
I took loads more pictures, but think this will have to do for now. If you're ever in the neighbourhood, do pay Sytske a visit. Her website – with address, opening hours and webshop – can be found here.
Oh, and did I buy anything? Yes, I did – small quantities of 4-ply cotton and merino wool for baby things.
Oant sjen! (Frisian for See you!)