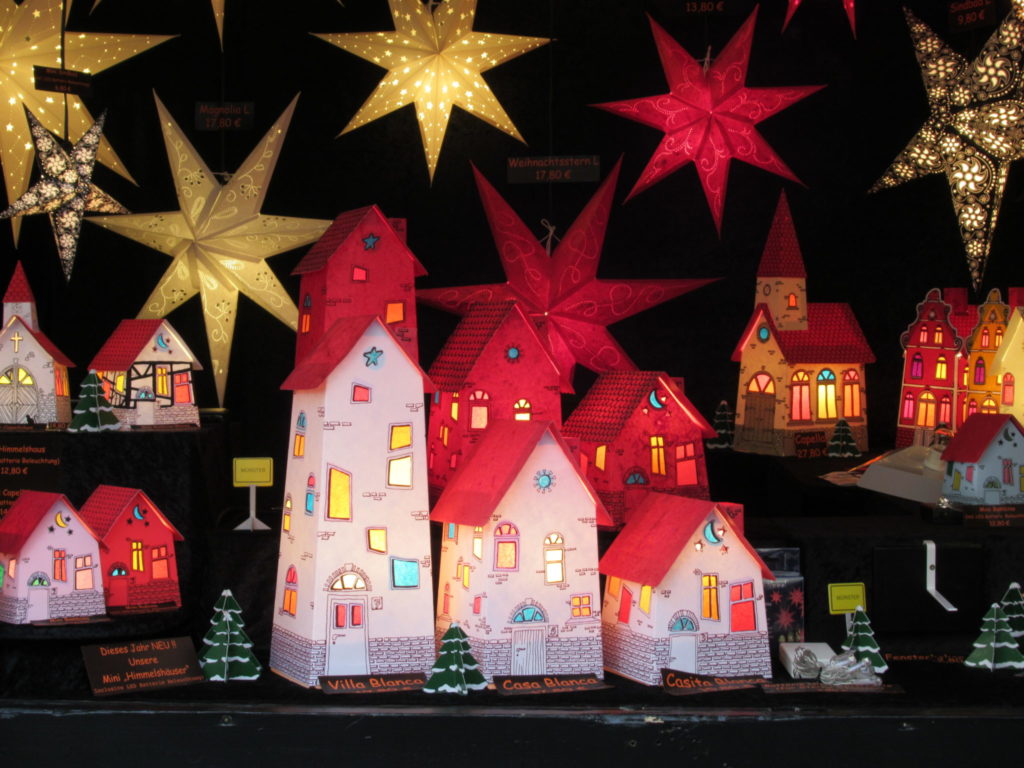 The first weekend of December we drove up to Germany for a change of scene. Our destination, the city of Münster, is not all that far away from where we live, really. It is the same distance as from our place to, say, The Hague. But it is an entirely different world. The same Euro, but different houses, a different landscape (hills!), different food and a different language.
Apart from visiting the Christmas Market, I had planned to visit a yarn shop and report back to you here with some inspirational photos and stories. I'd found the shop on the internet and looked the address up on the map. But… I forgot to go there!
How could I forget to visit a yarn shop? What was wrong with me?!?
The only explanation I have is that I was overwhelmed with all the sights, sounds and smells of the Weihnachtsmarkt. So that was my blog idea out the window. What to do now?
I could try to give you an impression of our day. Maybe you'd like a virtual mini-holiday abroad. And maybe then you'd understand why I forgot about the yarn shop. Would you like that? Come along then.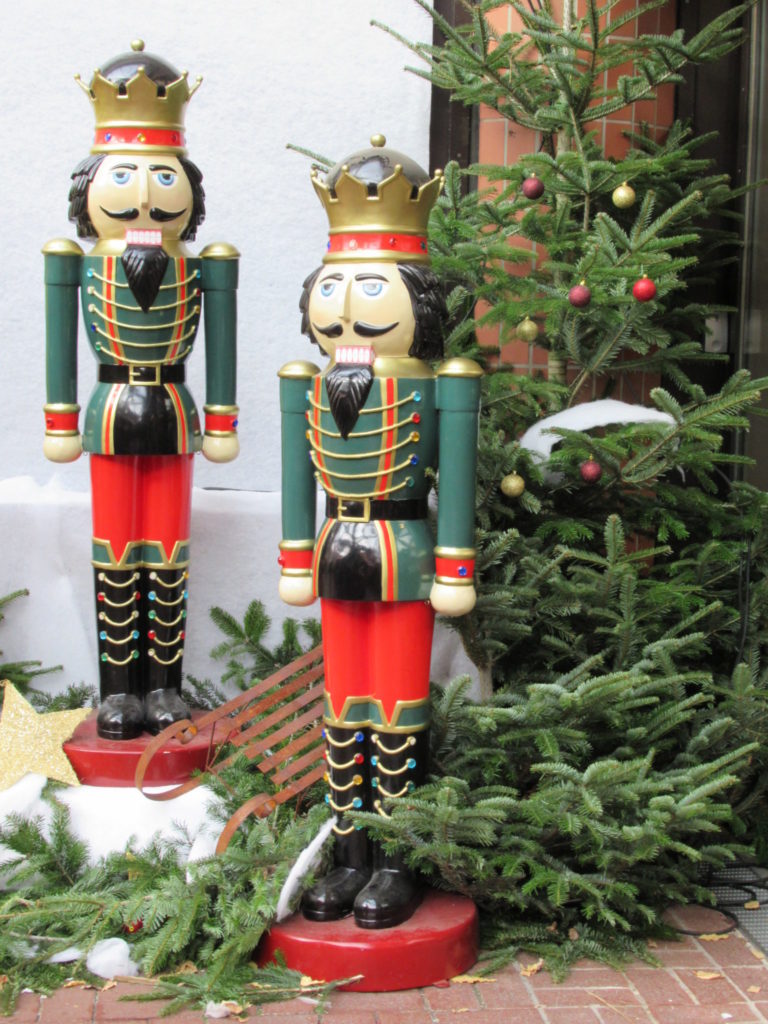 The Weihnachtsmarkt in Münster actually is not one Christmas Market, but five smaller ones, in different locations around the historic city centre. The booths are tiny wooden houses, some painted green, some painted blue, and some left untreated in natural wood. Many of them have lovely decorations along their gables and on their roofs. These life-size wooden deer were on the roof of one of them:
The warm smells of food and drink greeted us as soon as we set foot on the first market. First of all there's glühwein, of course, with its wonderful spicy and fruity aroma, and similar drinks like Punch, Grog and Feuerzangenbowle, with or without alcohol. There is the smell of roasted chestnuts. The piney smell from the literally hundreds of Christmas trees placed all around the markets. And the smell of salmon roasting over a wood fire.
There are lots of delicious things to eat on the Weihnachtsmarkt. One of the things I like best is Reibekuchen, grated potato cakes, served with apple sauce. But this time we chose sautéed mushrooms in a creamy sauce and Rauberfleish, a sort of mix between goulash and chili con carne, for lunch. And we couldn't resist the famous German Kuchen, of course. I was too busy enjoying the taste of spicy plums covered by a layer of crumbles to take photos. But I did take a picture of some of amazing loaves of sourdough bread.
They were absolutely huge. We estimated that they must weigh over three kilos each!
There's music all around, too. Christmas music coming from the shops. Music from street musicians, some very talented, some not so much. And around noon, walking along a river from one market to the next, we heard church bells ringing, a deep and sonorous sound.
The booths sell all kinds of lovely stuff, from Christmas decorations, to jewellery, wooden toys, beautiful hand-carved wooden figures and home accessories.
There are stacks and stacks of hand-made soaps, some fresh, summery and flower-scented, and others spicy and fruity.
And candles, of course. Candles in all shapes, sizes and colours. My favourites are natural beeswax ones, with their beautiful golden glow and subtly sweet honey scent.
There's some knitwear, too, albeit machine-knit. Socks, shawls, scarves and hats. And lots of wrist warmers. The ones in the photo below are made from alpaca. They looked a bit stiff and scratchy, but were in fact extremely soft. Gorgeous colours and patterns – I would really like to knit some like these someday.
So many lovely things, so much to see.
So, what did I buy? Ehm… nothing. Overwhelm at work again, I think. But I really needed some presents, so at the very end of the day, I rushed back to one of the booths selling teas and tisanes and bought some delicious fruity & spicy teas. Mission accomplished.
Now, almost two weeks later, writing this and looking at the pictures, I think: What a wonderful day. And at the same time I am still shaking my head and muttering: How on earth could I forget to visit a yarn shop?