Friends of ours live near the Belgian border. That's not exactly around the corner from where we live, and we don't see them as often as we'd like. So, when my husband was asked to give a talk in Antwerp, we decided to drive down together and invited ourselves to a meal at their place afterwards.
This meant that I had an entire afternoon to spend as I liked in a city I had only been to once, years ago. I wanted to spend my precious time well, and planned my route carefully beforehand to include some sightseeing and some shopping.
I was dropped off on the left bank of the river Scheldt and took the ferry across to the city centre.
The ferry ride, even if it lasted only 15 minutes, immediately gave me a feeling of freedom and being on a holiday. From the water, I had a lovely view of Antwerp's skyline, with its mixture of old and modern buildings.
My first port of call was the Grote Markt, the market square with its tall and impressive guild halls. They speak of incredible wealth. Flanders once had a booming woollen cloth industry, but I think that had declined before these guild halls were built. I know very little about Belgian history, to be honest, and have no idea where all the wealth on display here came from, but I have a feeling that it cannot all have been fair trade.
The gables are adorned with 'golden' sculptures. I don't suppose they really are made of gold, but they aren't brass either, or somebody will have to climb up and polish them once a week.
High up on one of the  gables, a beautiful golden galleon was sailing through the clouds.
Leaving the market square behind, I strolled through the surrounding streets and bought some of those famous Belgian chocolates for my loved ones.
Having crossed off the most important thing on my list of things to do, I went in search of the Vlaeykensgang. I'd read about this historic alley and had located it on the map, but still had some difficulty finding it. The entrances are so narrow and inconspicuous that I'd walked past one of them several times without recognizing it as an entrance.
I'm glad that I didn't give up, because it's a really, really special place.
A restaurant in one of the buildings looked very inviting, with flowering plants on the window sills and the warm glow of candles inside.
But my time was limited and there was more on my list of things to do, so I walked on to Julija's shop. Julija sells fabrics and yarns, some of which she dyes herself, like this tweed yarn.
She is best known for her knitting patterns for young children and their mums, though. She has published four 'real' books and many small booklets she calls magazines.
Julijas patterns are easy to knit and make me wish that I had some small people to knit for. I mean, look, isn't this simple garter stitch cardi adorable?
Even in big cities, I always feel drawn to green spaces. In Antwerp I found a lovely place to munch a snack and give my feet a rest in the Botanical Garden.
Den Botaniek, as it's called, used to be the herb garden of a hospital. Part of it is still planted with herbs and there are also some beautiful trees, a pond with a small waterfall and big goldfish, a glasshouse with cacti and other exotic plants, and an intriguing sculpture.
The plaque next to it says that it's called 'Greening II' and is by Monique Donckers. I haven't been able to find anything else about it. What does it mean? Could this be symbolic for man on his way to pushing up the daisies?
Refreshed by my short stop, I walked on to another yarn shop – Lana. Visiting two yarn shops on one afternoon, made me realize how different they can be. Both of these shops sell yarn, obviously, but their selection and atmosphere is very different. While Julija's is light, fresh and modern, Lana is warm, colourful and cosy.
Lana is a Rowan flagship store and the photos above and below show several knits in their Felted Tweed yarn. Some (or all?) of them are by the famous Kaffe Fassett. I recognize Vibrant Stripe (scarf above right) and Colours in the Mist (sweater below).
I'm not sure about the striped knits below – perhaps they are just swatches to show off a beautiful yarn, or perhaps they are scarves. And I don't remember what yarn they were in either. I only photographed them because they were so nice to look at.
I must admit that I feel a bit iffy about writing about these yarn shops. So, to be absolutely clear about my intentions: I'm not sponsored by any of them. I just write about them because I hope that some of the things that make me happy, will make others happy, too. And also because the information may be useful to other knitters with some time on their hands in this lovely city. Besides, it isn't as if these shops are huge multinationals. They are just small businesses that deserve all the support they can get.
And did I buy anything? Often, I am so overwhelmed by everything I see, that I think, 'Oh well, I don't really need anything', and leave the shop empty-handed. But this time I was well prepared. At Julija's I bought some beautiful Japanese fabric, in a blue-green colour that looks like wide brush strokes of watercolour paint. And at Lana I chose a few balls in a thick, soft, fluffy yarn in off-white for a cosy winter accessory.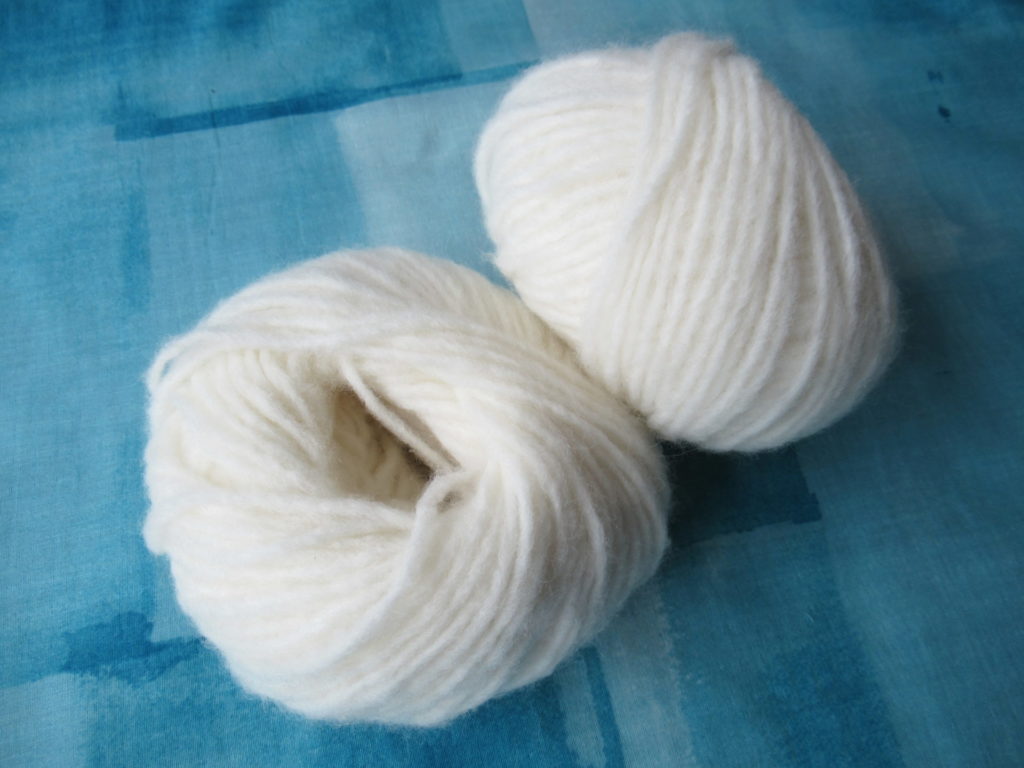 Well, time to head back. Instead of taking the ferry across the Scheldt again, I walked through St Anna's Tunnel under it. I wasn't entirely sure about this, but because there is no bridge, I didn't have much choice. My fears were unfounded, though, as the tunnel is clean, well-lit and feels entirely safe. And it's quite an experience! It's a pedestrian tunnel dating back to the 1930s, with escalators made of wood and brass that make a fantastic rattling noise.
If you'd like to visit Antwerp too one day, I'd say take an entire day (at least) and rent a bicycle or use public transport. (I vastly underestimated the distances and walked miles and miles.)
At the end of a lovely afternoon, an even lovelier supper awaited us at our friends' place. They prepared a special Belgian meal, with Flemish chips, spicy red cabbage and a stew made with one of Antwerp's special beers. Thank you, dear friends!
I won't be here, on my blog, next week. After all this gallivanting, working in the garden and a terrible computer crash, I need some time to catch up with the rest of my life. And I want to finally finish the new design I've been working on for a long time. I hope to tell you more about that soon.
Thanks for reading and take care!