Hello! This week I'm writing from a white and frosty village. We're not entirely snowed in, but last Sunday we were treated to a beautiful thick blanket of snow, blown up into dunes here and there by strong gusts of icy wind. And because it's stayed (far) below freezing even during the daytime, the snow is still here. A rarity nowadays and utterly lovely!
Before anything else, I need to show you this. The snow-shovel guy reversed and drove up several times specially so that I would be able to take a good picture for my blog.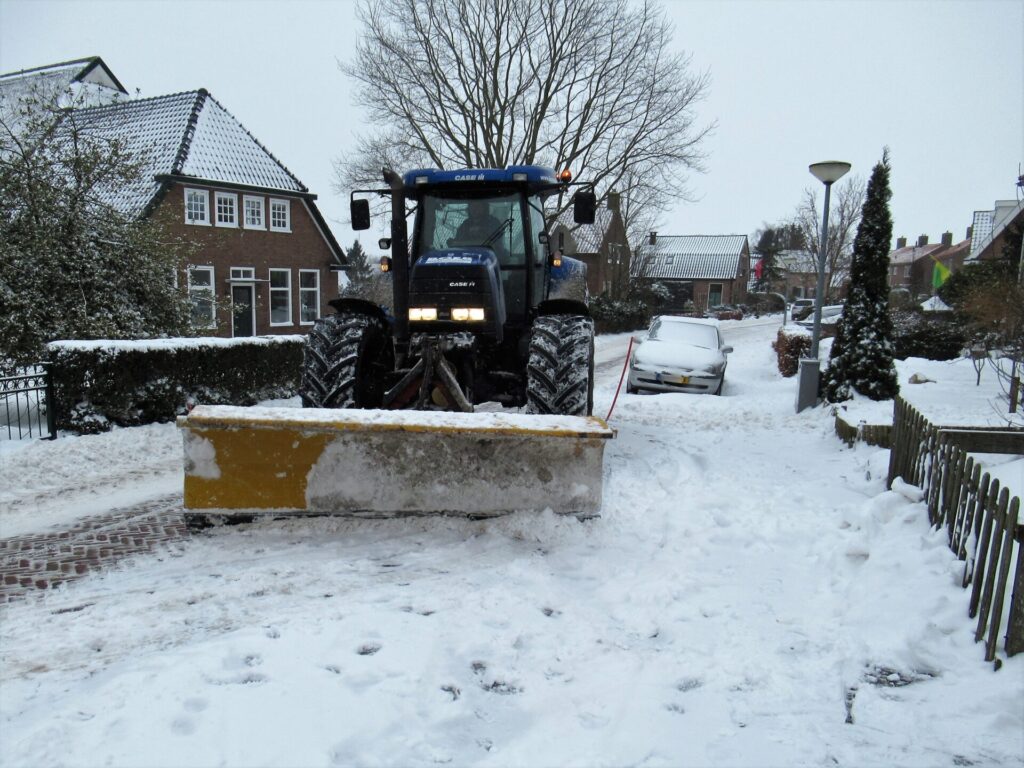 Thank you Mister Snow Shoveler! Enjoy your moment of fame 😊!
It's tempting to natter on about the snow, but I have made quite a bit of progress on the knitting front, and I'd like to talk about that, too. So let's do that first, and have a few more snow pictures afterwards.
Recently, I wrote a very long post about my possible need for a little more focus. I don't know if you've been able to plough through it all, but one of the insights I gained from a book I read on the topic was: 'Different (knitting) tasks use different parts of the brain'. I realized that for certain aspects of my knitting projects, I needed to find moments during the week when the active thinking part of my brain would be fresh.
Saturday seemed like a good time, especially Saturday mornings. So I thought about what I would like to accomplish and noted it in my planner. The first thing I wanted to focus on was the sleeve cap of my Panel Debate cardigan. A puzzle because I'd enlarged the armhole and could no longer follow the pattern – how could I make a sleeve cap that would fit into the armhole and around my shoulder?
Spending several hours tinkering with it with a well-rested brain really worked.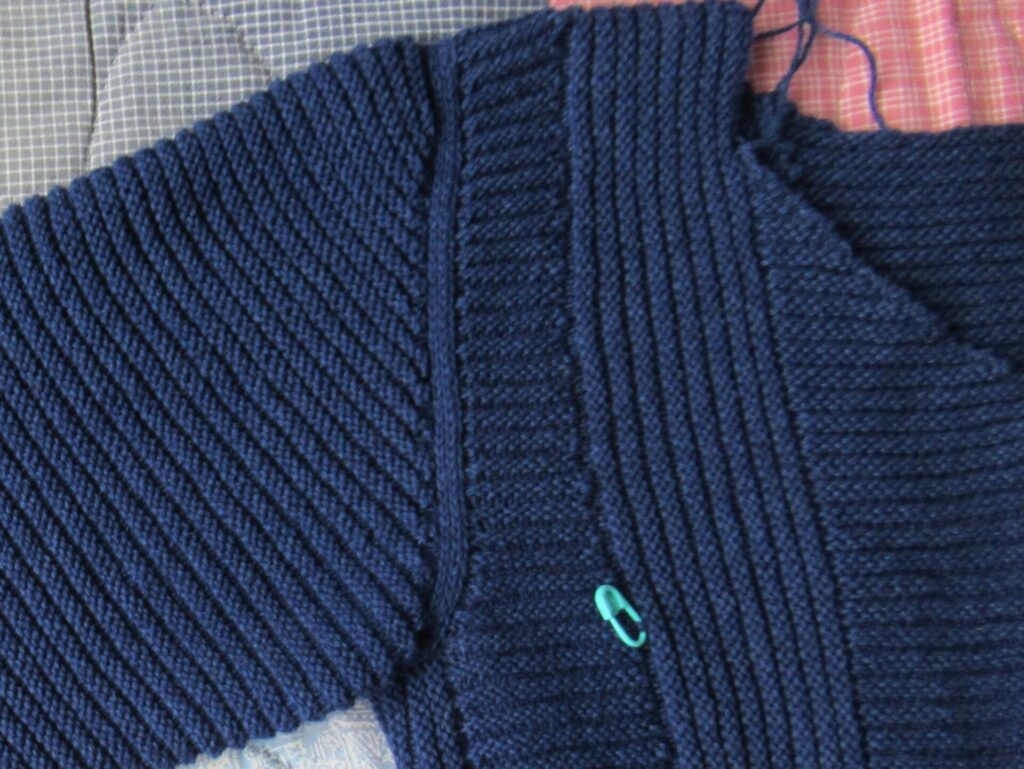 I finished the sleeve cap. And using the parts of my brain that do the more automatic tasks, I was able to almost finish the rest of the sleeve in the evenings. Yes, progress!
The next task I wanted to tackle was finishing one of my UFOs (UnFinished knitting Objects that have been lying around for a long time). I chose a scarf and wrote that down in my planner for the next Saturday.
All I needed to do was weave in the ends and give it a Spa Treatment. Here it is, doing a stretching exercise after its bubble bath.
As always, the transformation was magical – the lacey holes opened up nicely, and the rest of the knitted fabric did too.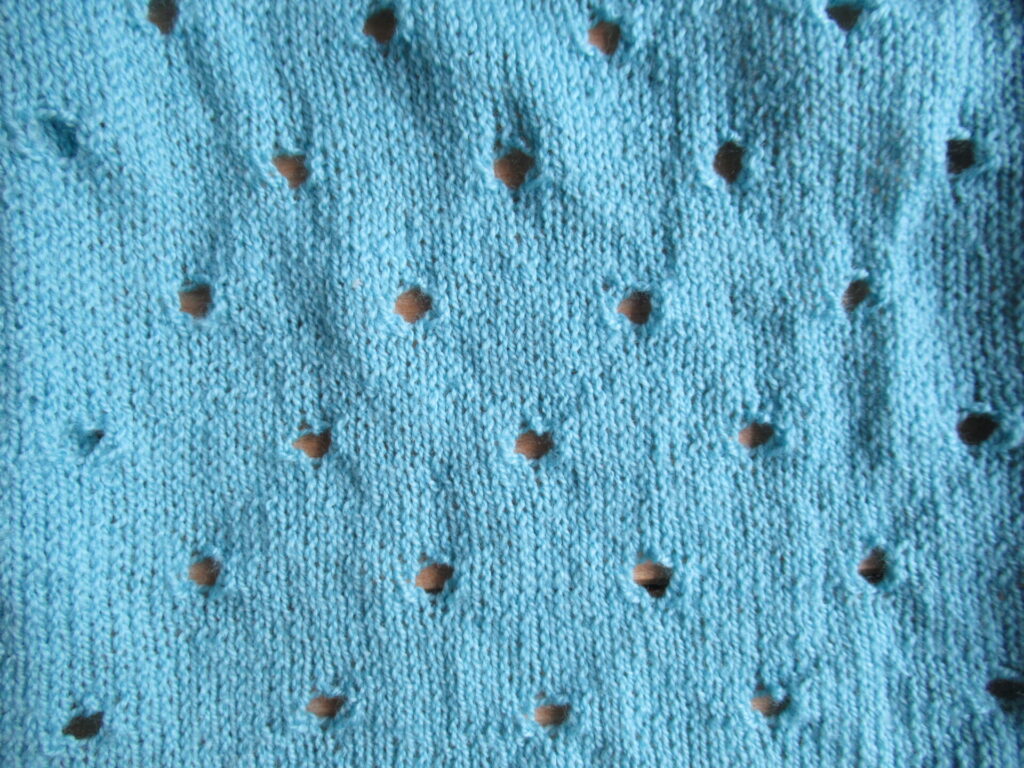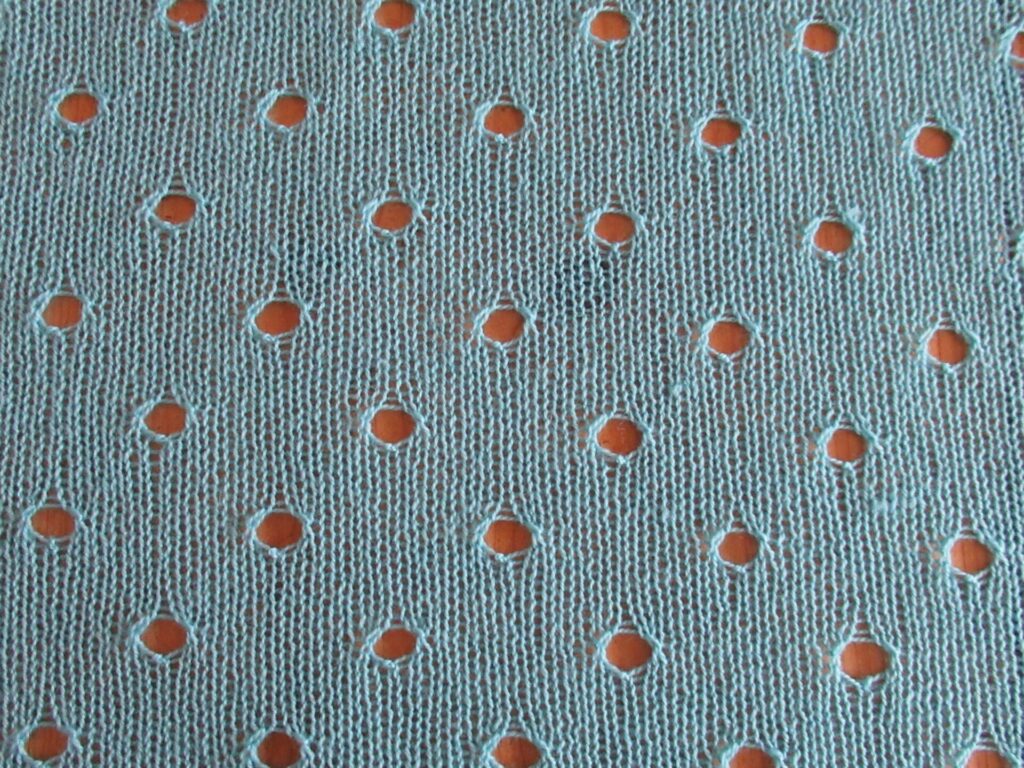 This is what the scarf looks like when 'worn'.
It is the Polka Dot Scarf by the Churchmouse design team. The pattern describes two sizes and I made the larger one. The yarn I used is Debbie Bliss 'Rialto lace', a very soft merino.
For a long time I disliked polka dots. I think it was because of that horrible sixties song about the Itsy Bitsy Teenie Weenie Yellow Polka Dot Bikini. Do you know it? But these subtle 'dots' made me overcome that.
Looking around for matching things for pictures of the scarf, I discovered that I actually have several other items with polka and other dots.
All in all this has become a generous airy shawl that will make a lovely gift for someone. Happy with it.
I'm also happy with my new Saturday knitting plan. Being able to make considerable progress with such a small adjustment to my life, has really given me a positive boost. In addition to these two projects, I have even made some progress on a new design of my own.
Until now, this winter I have felt sort of lost on Saturdays, with nowhere to go and no one to visit. This focused Saturday knitting has also solved that. I don't know if I'll be able to keep it up once we get back to a more 'normal' life and the gardening season starts again. But I won't look too far ahead.
For the time being the garden doesn't need anything doing to it. All I need to do at the moment is admire the hyacinths I planted in pots in November…
… enjoy looking at snow-covered shapes, like the dead flower heads of the Marjoram…
… and feed and talk to the birds.
I hope you're all snug and safe, wherever you are. Bye for now, and 'see' you again soon!