Hello!
As you can see, my knitting baskets are back where they belong – next to my knitting chair in the living room. This means that all the repair work to the house is finished, the paint is dry, the heating is back on and we've moved everything back to its rightful place.
I'm so glad that it's all behind us now. And I'm particularly glad that I'm surrounded by books again. Moving back in, I came across one that I thought might be interesting to discuss here: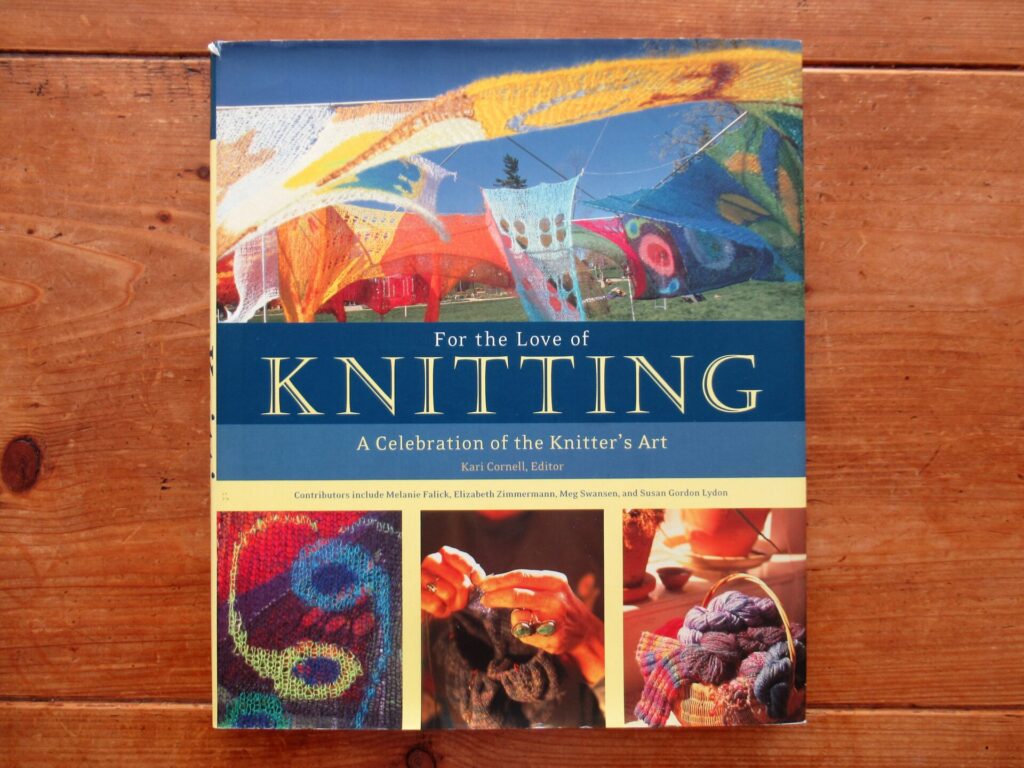 Kari Cornell (ed.), For the Love of Knitting, Stillwater (MN): Voyageur Press, 2004.
For the Love of Knitting is different from most other knitting books in that it doesn't contain any patterns. It is filled with stories and essays about all kinds of aspects of knitting, and illustrated with many interesting pictures.
The book's subtitle is: A Celebration of the Knitter's Art. That's interesting, because knitting is usually considered a craft. In an essay with the title: 'The Search for a Proper Place among the Arts' Teva Durham tries to answer the question 'Why is knitting considered less of an art than painting, sculpting, or weaving?' That's an interesting question, and the essay contains interesting thoughts. A quote (p. 109): 'For the proponents of the Arts and Crafts Movement it was enough for a work of art to be "a well-made thing" where "design interpenetrates the workmanship," showing it was "made by a human being for a human being." […] What could be more applicable to this than knitting?'
What indeed? Still, I wouldn't call the things I knit art. But does it really matter whether something is considered art or craft? Hmm, it's mainly a matter of status, I think. And the price people are willing to pay for one or the other will differ a lot. So, yes, perhaps it does matter.
The things I knit are usually of the useful and wearable kind. This book shows many other applications of the art/craft of knitting, including knitted chairs, a knitted boat (yes, really, it even floats), and these two ladies.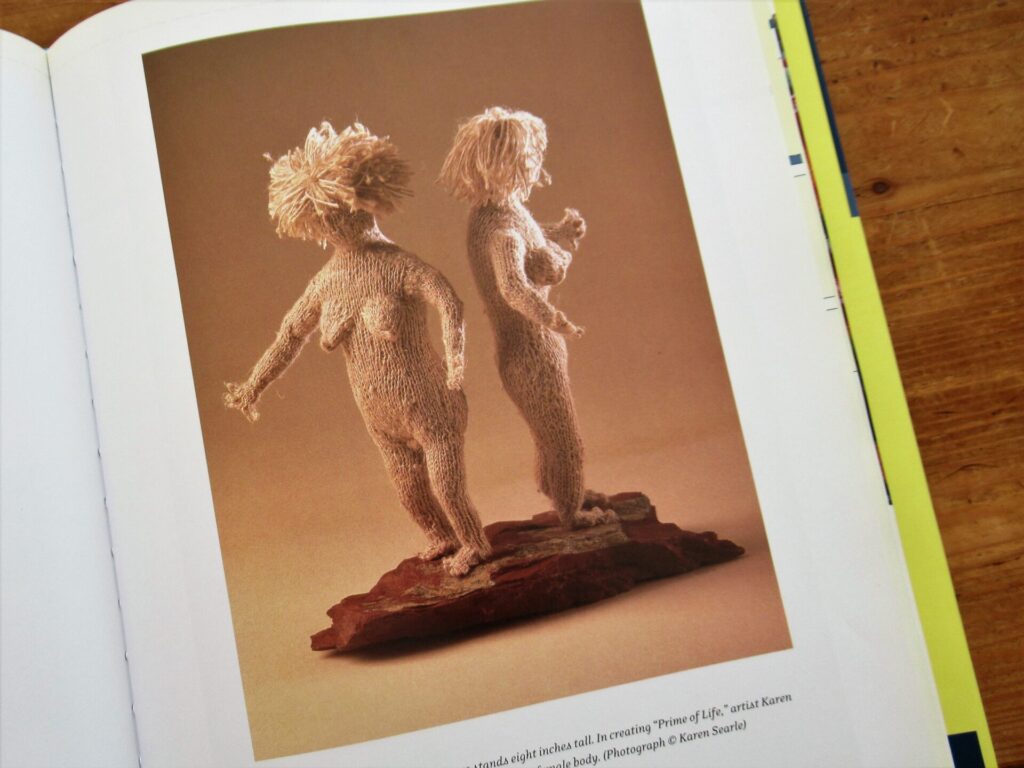 This work of knitting art made by Karen Searle is called Prime of Life. According to the caption, the artist 'wanted to illustrate the beauty of the aging female body.' If you're as intrigued by this as I am, there is an article with more pictures of Searle's work here.
I just have to show you this gem, with the caption: 'A young Dutch maiden knits contently by the sea in this vintage, hand-colored postcard.' It could be me! (Just kiddin'.)
One thing in the book that makes me laugh out loud, is 'Lily Chin's Top 10 Ways to Hide the Stash'. One of her fun yarn storage tips is 'Put a slipcover over a bag of yarn, stick it on the couch, call it a pillow.' And why not? Another one is, 'Never cook, only order take-out or go to restaurants. You've now got the whole oven!'
Haha, nooo, storing yarn in the oven would never work for me. We just LOVE,
our oven and use it almost every day.
Something else I came across while moving back in was my collection of straight knitting needles. My needle cases for these are getting rather ratty, splintering or falling completely apart.
I knit almost everything on circulars nowadays. Apart from the double-pointed ones, I hardly use straights anymore. But I'm still attached to them, so what shall I do? Give them away? Invest in new needle cases? And where am I going to find those?
Here are several special pairs/sets – from top to bottom:
My thickest knitting needles (15 mm)
My thinnest knitting needles (1.5 mm)
Some of my Mum's old, slightly rusty steel knitting needles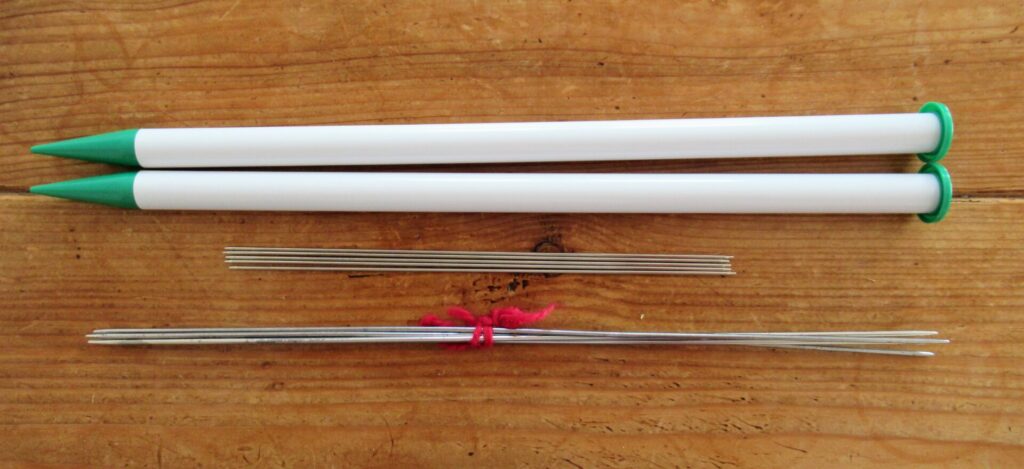 After moving back in, I'm trying to rest and relax as much as possible this week. I've had my first dose of vaccine. Apart from a sore arm and a slight headache that may have had different causes, I haven't felt sick from it at all, but I thought it might be a good idea to take it easy anyway.
I'm really surprised at how happy I feel that is now my turn to be vaccinated. Apparently, I've felt more oppressed by the whole situation than I realized. It also feels as a relief that we're able to do something to protect ourselves and others apart from keeping ourselves to ourselves. I feel very privileged and hope that everybody around the world will get the opportunity to get vaccinated soon.
Besides unpacking, I've been knitting, pottering in the garden…
… airing my husband's best suit (can't remember the last time I saw him wearing a suit)…
… and washing and ironing my new dress for a very special occasion in the near future.
More about that soon, I hope. Bye for now and enjoy your weekend!