Hello!
Last week, instead of writing a blog post, I gave myself some extra knitting time. I knit a number of mini-mittens, a sock, and half a sleeve for a cardigan. I also finished my Library Vest, a project I chose partly because of its name.
To me, libraries are wonderful places. I still remember the first time my mum took me to the local library (I must have been about four) – so many books! And you can even take some home! Working in a library seemed a great job, being among books all day and stamping return-by dates in them. At home, I played being a librarian as a child, but apart from working as a library assistant in the evenings for a while to earn some much-needed income as a student, I never became a librarian.
I still love spending time in libraries. This is 'our' library in the nearest town, in a building that used to be a bank:
Not terribly attractive on the outside, but very welcoming inside.
Dotted around the place there are always themed displays of books. Last week, there was a large table with books about Sinterklaas in the children's section.
Officially Sinterklaas is on the 5th of December, but for practical reasons we are celebrating it tomorrow. Shopping for Sinterklaas gifts, I spent an afternoon in Bolsward, a town with a great independent bookshop and other non-chain stores. Its library is housed in a far more impressive building than ours:
The library shares these beautiful premises with a museum and a café. Part of the café staff have Down's syndrome, which gives the place a relaxed and light-hearted atmosphere. The young woman serving me proudly announced that the carrot cake they had baked that morning was one of the best ever, so how could I not have a slice?
Well, let's not forget the Library Vest this whole story started with. It's a sleeveless garment knit in simple stocking stitch, with a slight A-line, a few short rows above the hem to make it hang more evenly and shoulder seams placed a little forward.
It also has knit-in pockets. It is always hard to sew pocket bands in place neatly, but the pattern has a clever technique for that. Selvedge stitches are added on either side using bits of waste yarn (photo tutorial in the pattern). Perfect!
Beside the name, another reason for knitting the Library Vest was that I had exactly the right yarn for it left over from another project – a soft, navy blue tweed yarn called Lamana 'Como Tweed'. It looks and feels like a fingering-weight yarn, but knits up at 22 sts on 10 cm/4". With 120 meters/131 yards to a 25 gram(!) skein it goes a long way.
Instead of the rolled reverse stocking stitch edges that the original design has along fronts, armholes and pockets, I used the same ribbing as along the bottom (k3, p1). The faux leather buttons nicely bring out the tweed neps and somehow I think they are just what a librarian would choose.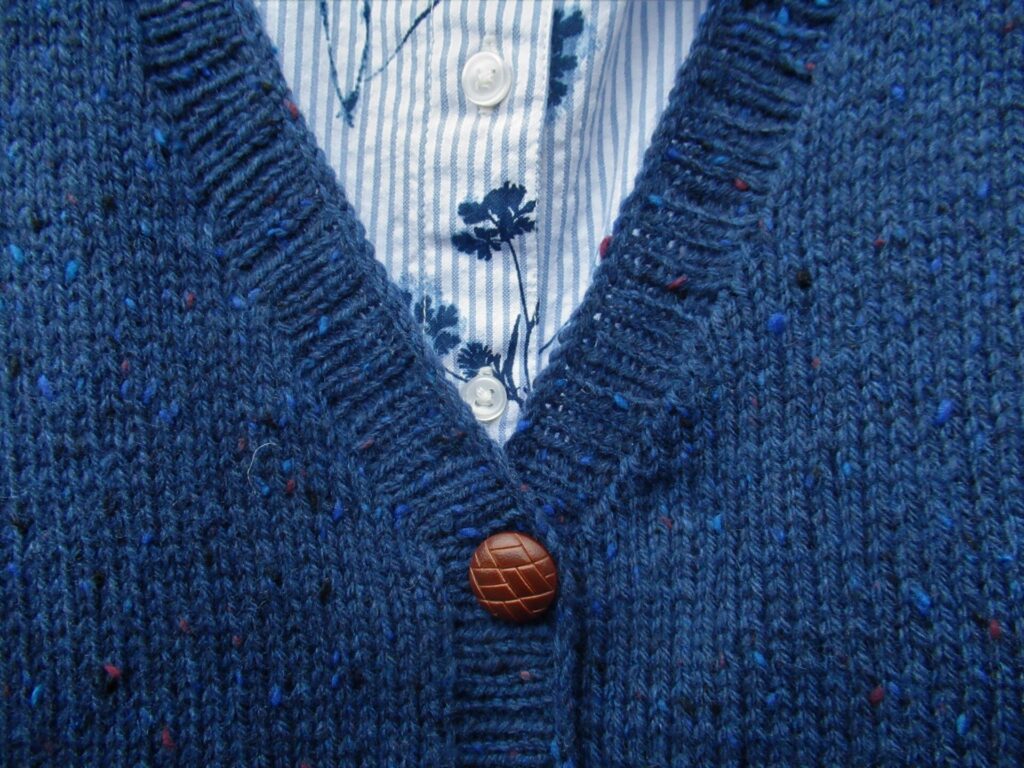 If I'd become a librarian, I would probably have lost my job years ago, when almost all of the paid staff were replaced by computers and volunteers. Sometimes I think it might be nice to work in the library as a volunteer, but, hmmm, should I? It isn't that the volunteers aren't doing a good job, but it doesn't feel quite right that this valuable work isn't valued monetarily. Is this just a Dutch thing, paid staff being replaced by volunteers in certain sectors, or does it happen in other countries too?
I'll consider volunteering seriously when I retire. Until then I'll just play being a librarian at home, wearing my Library Vest (pattern here on Ravelry) and my geeky computer glasses.
Wishing you a relaxing yarn and book-filled weekend! Xxx