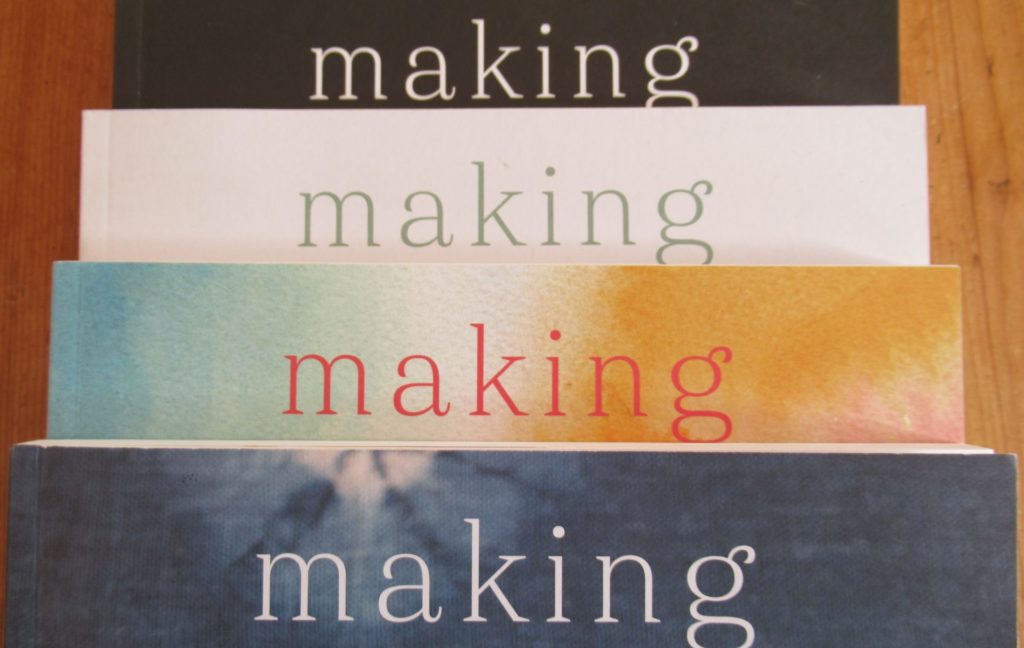 Why make things when we can buy them?
For my Mum it was necessary to make things because they weren't available in shops or she couldn't afford to buy them. For me and for my daughter's generation it's different. We don't need to make things and it is, in fact, often less expensive to buy ready-made things than to buy the materials to make them ourselves. So, why still make things?
As always, I can really only speak for myself, but I think we all agree that a home-cooked meal tastes much better than any ready-made meal from the supermarket. There is nothing we can buy that comes close to a hand-knit pair of socks. And would you ever treasure a shop-bought bed covering as much as you do the quilt or the crocheted blanket your grandmother made?
It may sound cheesy, but for me, it's all about love. Love of the materials, love of colours, love of the people I make things for, love of the process of making. That's why Making appeals to me so much. Everything about this bi-annual magazine speaks of the love of making things.
In the US one issue costs $ 26,00 and it is around the same price in Euros in the Netherlands. That's a steep price for a magazine, but… it was love at first sight. And what's more, the first two issues were themed Flora and Fauna.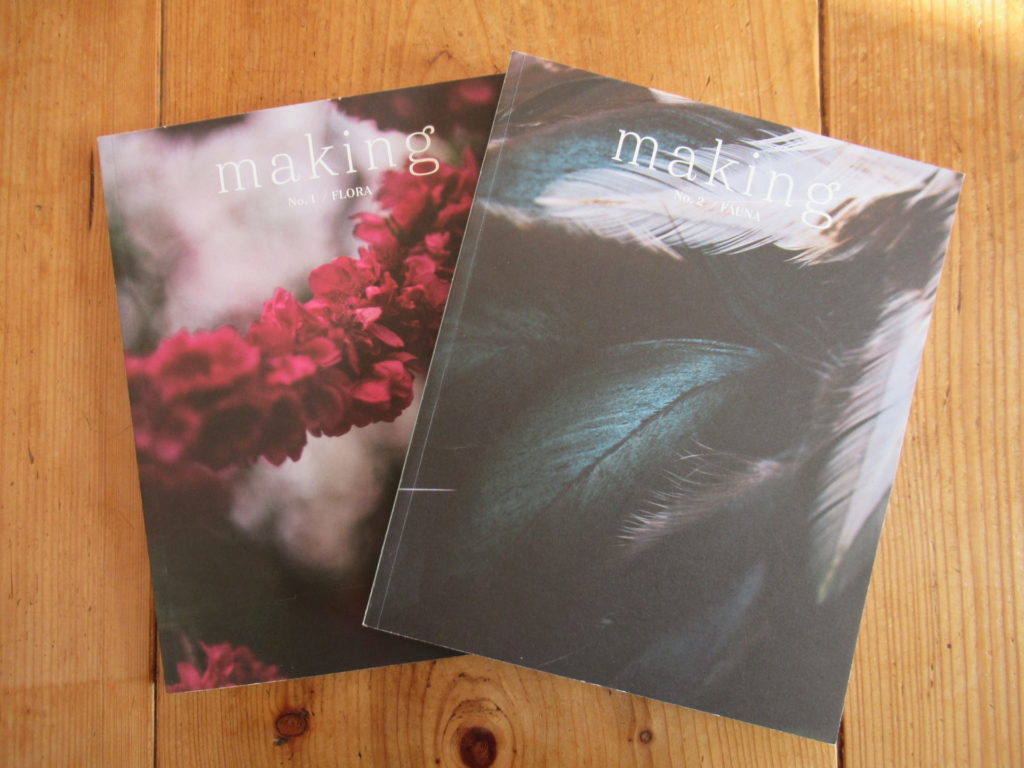 How could I resist?
The people at Making always work with themes. There are always two related themes following each other: Flora and Fauna, Dots and Lines, Color and Black & White, Desert and Forest. I love the whole idea, as well as the projects, the photographs, the stories, the styling and even the ads (there are just a few, they are only on the last few pages, and they are in keeping with the theme).
Knitting is only one of the crafts in Making. There is also weaving, sewing, embroidery, dyeing, felting, rug hooking and much more, as well as a recipe now and then and essays about all kinds of interesting subjects. Some of the projects are small and simple, others a little more complicated.
I brought the third issue, themed Dots, with me on a holiday to Germany a few years back.
I enjoyed leafing through it when I woke up early in the morning. And I enjoyed studying the photographs and reading the essays in the evenings on the covered porch of our Ferienwohnung, after we'd come back from one of our long walks.
Everything in this Dots issue is in shades of indigo blue or undyed. It isn't as if everything is covered in polka dots – the dots theme is much more subtle than that. In one of the knitting projects, the triangular Indigo Sea Shawl, the dots take the form of a row of eyelets along one side:
During the same holiday in Germany, I bought yarn for this shawl in a very special yarn shop in a former smithy, a few miles from our holiday home. The pattern specified three 50-gram skeins of a sport weight yarn. With a wingspan of just over a metre it was too small to my liking, so I bought four skeins.
I chose three shades of blue-green (what else?), and then added a grey one for a little contrast.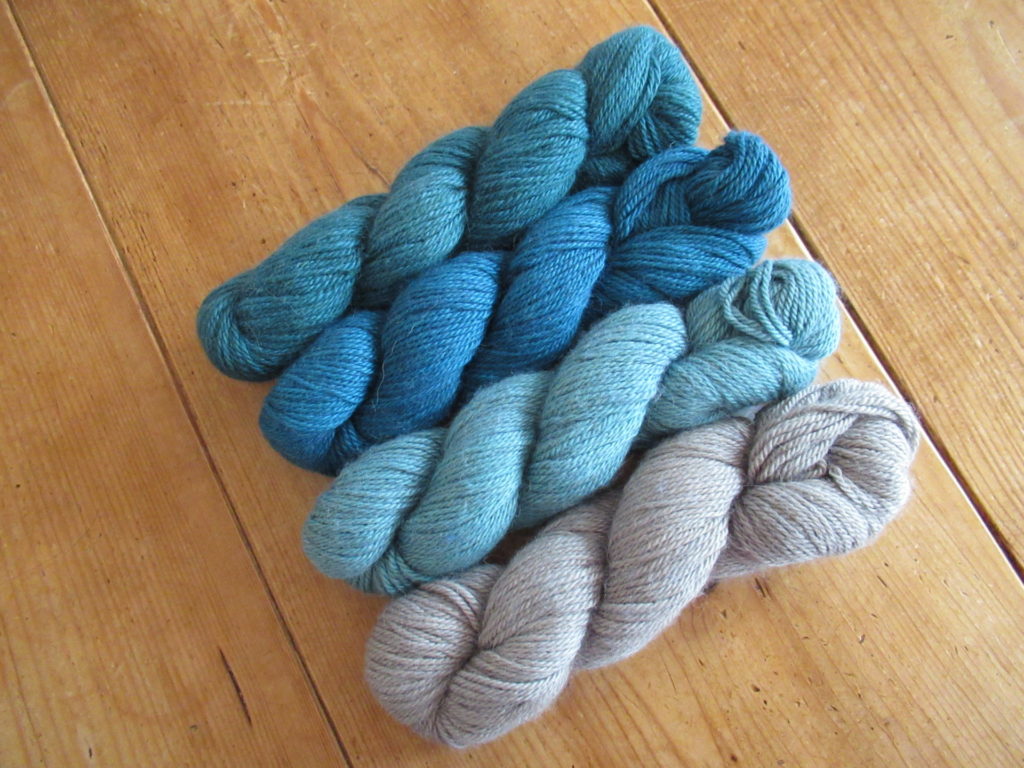 After we got home, I regretted the grey. (It is muddier than in the photo, with a hint of brown.) I didn't love it and had the feeling that it sucked the colour out of the blue-green shades. I couldn't go back to change it for a different colour, so I put it away until I knew what to do.
I dug out the yarn for the utterly simple Indigo Sea Shawl recently because I'm desperately in need of another in-between-projects project. Why?
Well, although I love making things, it isn't always plain sailing. Just as in any important relationship, there are struggles and setbacks from time to time. Right now, I'm puzzling over a new design that isn't working out as I at first envisioned it. I'm struggling to finish a UFO. And after weeks of waiting, the yarn I've ordered for a sweater for our daughter still hasn't arrived.
So when I saw that Juffrouw Lanterfant (the yarn shop I wrote about last week) stocked the same yarn, I decided to replace the grey with another shade of blue. I photographed the skeins, wound the yarn into balls and took more photographs.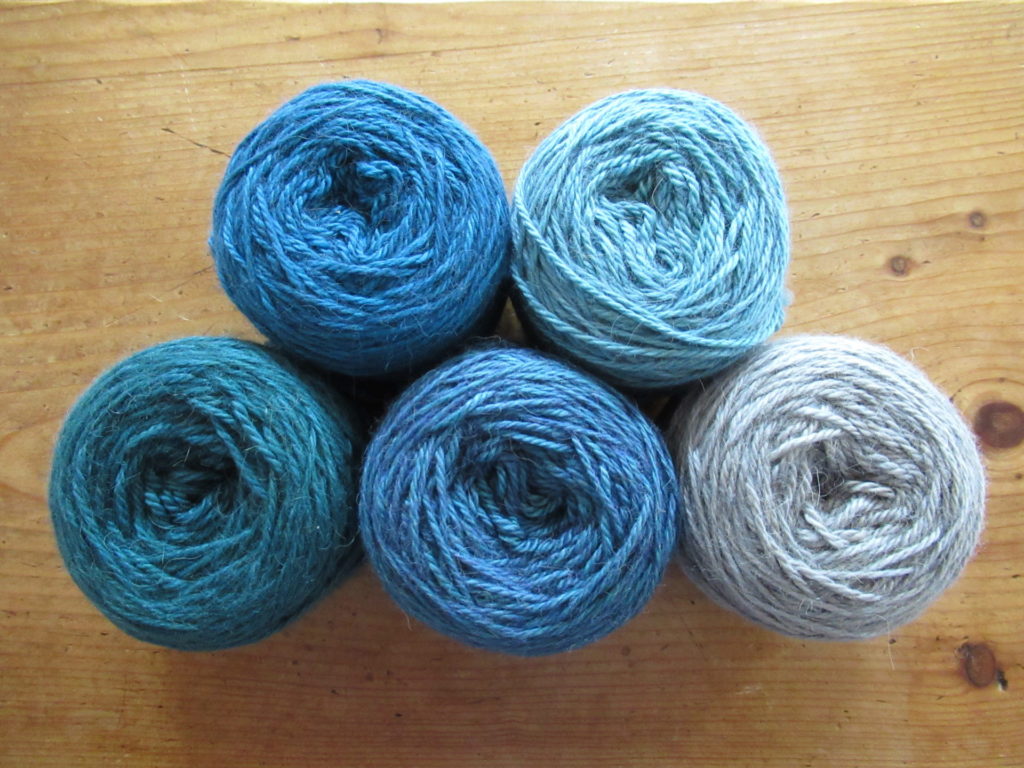 And then, looking at the photographs, I thought: hmmm, perhaps that grey isn't so bad after all. I still don't love it, but I don't hate it anymore either. Maybe it will work in combination with the blues. Maybe it will even be a valuable addition.
So, what shall I do? Embrace a colour I'm not really in love with and give it a chance? Or tell it that I don't see a future for us together and take it to my knitting group's yarn swap in March?
Unfortunately the Dots issue is now out of print. The other issues are still available from some yarn shops and on the Making website.