Hello!
Easy and relaxed – doesn't that sound like music to your ears? Life would be boring without any excitement or puzzles to be solved, of course. But as someone who tends to overcomplicate things and is far from laid-back, I often yearn for things to be easy and relaxed. So, how could I resist a pattern called Easy Relaxed Pullover?
The original version is knit with 3 lace-weight yarns held together. I knit mine with one strand of a colourful bulky yarn.
It is Cloud from Lang Yarns, and is one of those new light-weight 'blown' yarns. One of the balls had a couple of knots in it, but on the whole, I am happy with the quality. I considered cutting the neon pink and bright orangey-red bits out, but I'm glad I didn't.
It was a quick, fun, light-hearted project. The pullover is knit from the bottom up. The shoulders are joined with a 3-needle bind-off. Stitches are picked up for the sleeves, and those are knit from the shoulder down.
I seamed the side and sleeve seams using mattress stitch, worked from the outside. The stripes do not match up at the sides of the body at all, and that's fine by me. But I did match up the stripes neatly on the sleeves.
At first I thought I'd take the easy way out and just show you the pullover on it's own. But how will you know how it fits without seeing me wearing it? So here we go, first the front: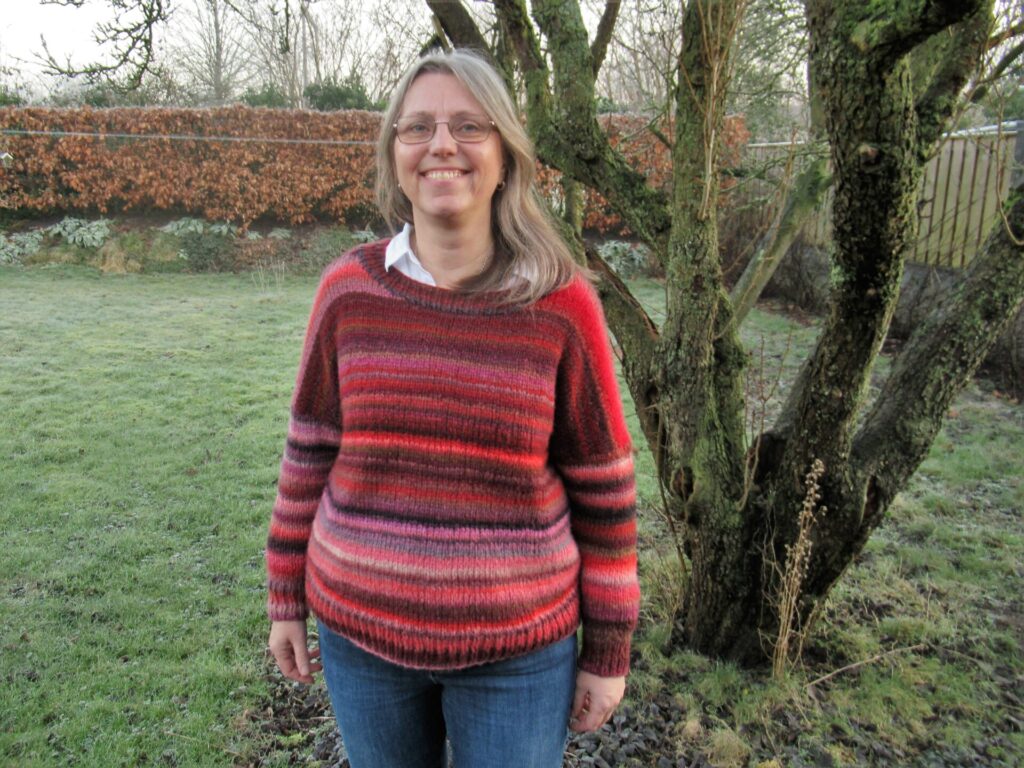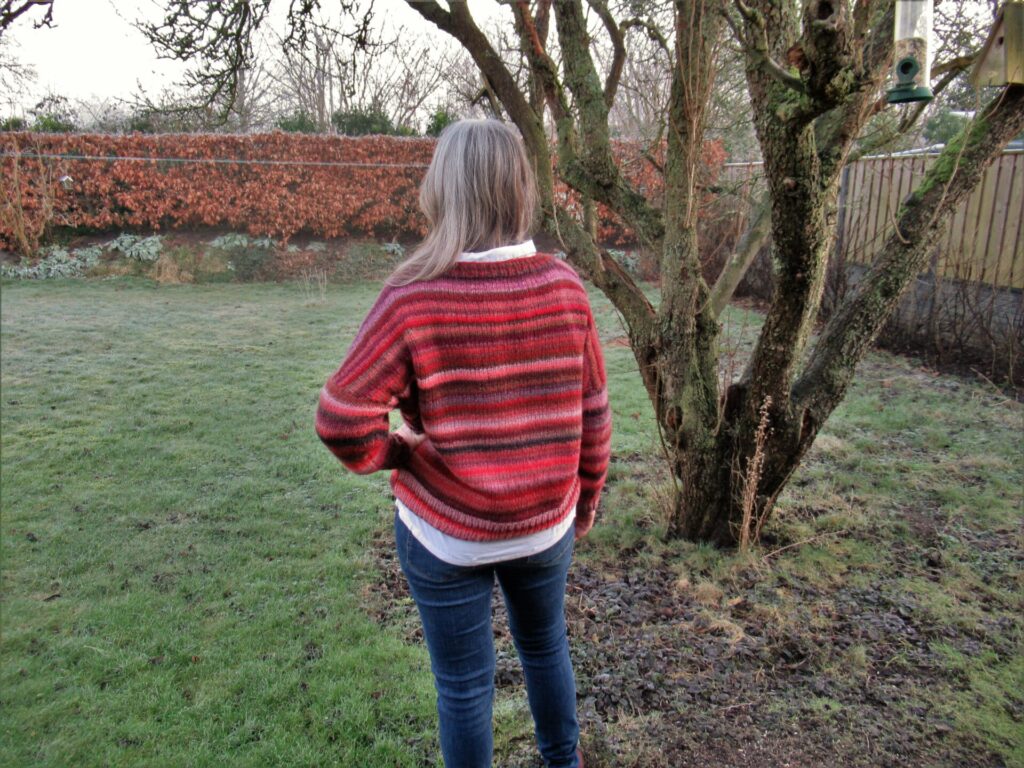 As you can see, it has a very relaxed fit, with arm'holes' tapering out, which is why the sleeves start halfway on the upper arm. So, that explains the 'relaxed' part of the pattern's name. As for the 'easy part', this is a very easy knit. Because of the short rows at the hem and the shoulders not very-first-knit-ever easy, but easy enough for a knitter with a little experience.
All in all, a very comfy working-from-home pullover. (The pattern for the Easy Relaxed Pullover can be found here on the design team's website and here on Ravelry.)
 'Work from home unless it's absolutely necessary to attend in person' is still the norm here. Some people seem to thrive on working from home while others struggle. I've worked from home for most of my adult life, and think I'm somewhere in between. I know all about the pros as well as the cons, and if there is one piece of advice I can give, it is this:
Go for a walk every single day!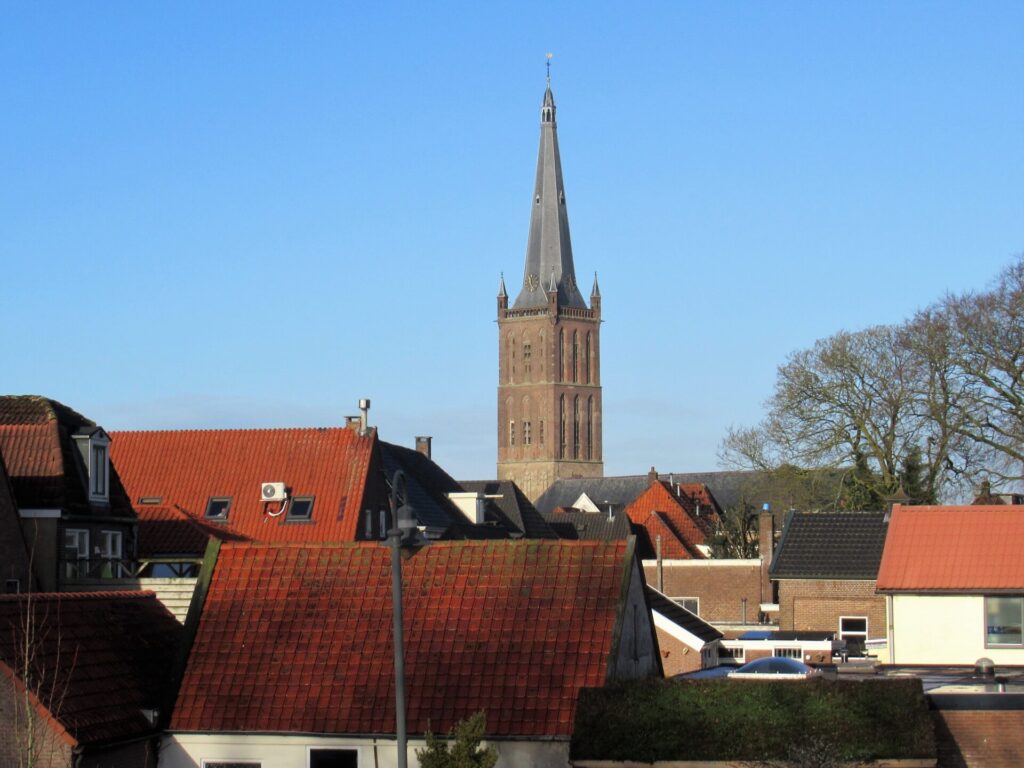 For some variation in my daily walks, I combined an errand in the town of Steenwijk with a walk and brought my camera. For anything but basic groceries we cycle to Steenwijk, and we can see its church steeple in the distance on most days.
Steenwijk is also the town of the historic house of last-week's pop-up card. I passed by its art nouveau entrance gate.
This is by no means an easy and relaxed time for many. First of all, I'm thinking of everybody who is ill or has a loved one in hospital, and our hard-worked care-workers. Other groups that are hit hard are those working in cafés and restaurants, and shopkeepers.
Like just about everything else, all non-essential shops have been closed again since the mid-December.
Blessed is the country that considers flower shops essential.
It's strange to walk through the quiet streets. I notice different things, too. This shop is my first port of call when I need new clothes:
A funny detail I've never noticed before is that the building used to belong to the Salvation Army.
And here is something that I know will interest at least one of you reading this:
This little shop no longer sells second-hand books, but is now focusing completely on bookbinding materials and tools. I try to support our local shops as much as I can. And one of the small ways I can do that is by giving you a link to this shop's website. Do pay it a visit if you're interested in bookbinding or beautiful papers. There is a little flag at the top of their website for an English or German version.
I'm hoping for some good light this weekend to photograph the swatches I've been knitting. If all goes well, I'll write about those next week. Hope to see you again then!