Hello,
Here, in the Netherlands, we're easing into autumn. This past week some days have been VERY wet and a little windy, but other days were so mild and sunny that it was easy to forget that it is October. The trees still have their leaves and the globe thistle in our garden is forming new flowers. 
The acorns, walnuts, hazelnuts and chestnuts are telling us that it really is autumn, though. We've reaped most of the walnuts and hazelnuts now, and I've even collected some of the green outer husks of the walnuts for a friend.
They're waiting in the freezer until the next time we're seeing each other. She is going to use them to make ink.
I like bringing a little of the seasons inside, too. This is the windowsill in our hallway.
Seashells and beach glass have made room for chestnuts, candles and two autumn ladies having a chat.
I made them from felt years ago. They are stuffed with wool and wear acorn caps on their thick woolly auburn hair. One of them is also carrying a basket made from an acorn cap, the other lady has mislaid hers.
There used to be a shop near here selling kits for felt figures like these as well as materials for Waldorf dolls. It was called Niels Holgersson, after the boy from the Swedish story, and was a wonderful fairy tale kind of place. Unfortunately for people in the region the shop has closed. Fortunately for the rest of the world, they now have an Etsy shop.
There is also a small felt fox on the windowsill. It is only around 7 cm/2¾" tall and sewn together with tiny stitches.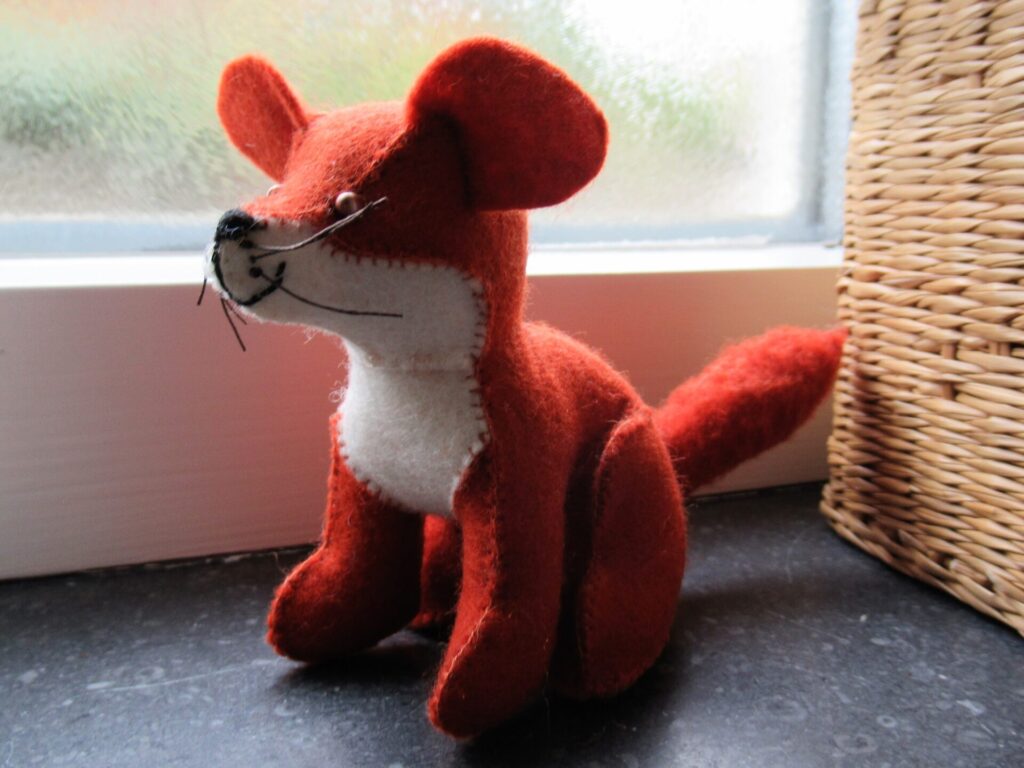 I have lost my patience for these fiddly felt projects somewhere along the way. I really, really hope to find it again someday.
The windowsill in our living room is less autumnal, but does have a few candles as well as a glass bowl holding two autumn-flowering colchicum bulbs – a gift from my ink-making friend. They do not need to be planted in soil indoors. I just placed them on some sand with a few attractive pebbles for decoration. After they have finished flowering, I'll plant them out in the garden.
Something else that tells us that it's autumn is the last of the farmers' markets. There was a new stall there, selling bulbs. No colchicums, but tulips and daffodils.
It was lovely strolling around and chatting with the stall holders. We won't be seeing them over the next six months. The tea lady is one of my favourites. She sells loose teas and herbs as well as blends she creates herself – all organic.
I love the cast-iron teapots on her stall, in a mix of shapes, sizes and decorations and a rainbow of colours.
The tea lady is a very colourful person in a stylish way and kindly allowed me to photograph her beautiful armful of bracelets to show you here.
We arrived back home with a good supply of teas for ourselves and for gifts, some other groceries and two new sets of tea and hand towels – simple, useful, cheerful.
On the knitting front, my Striped Linen Stitch wrap, with 400+ stitches per row, is growing very slowly.
(The bunches of yarn along the side are going to be a fringe.)
The cardi for our daughter, on the other hand, is growing quickly. I've taken it outside, because there isn't always enough light indoors for taking pictures at this time of year.
Back and fronts are finished, the first sleeve is almost finished, and the cuff of the second sleeve is also finished and waiting on a holder.
Our daughter is a tall girl, and I've added 7.5 cm/3" to the body of the cardi. That means that the right front needed more buttonholes. The stitch markers in the left front are there to mark the places for the buttons and the corresponding holes. I'm also making the sleeves longer but not wider, and that means spacing out the increases (preferably evenly) over the sleeve, and that means a lot of maths.
I now notice that I wrote these notes in Dutch. Sometimes I think in English and sometimes in Dutch, and am not always aware of which I use when.
Well, that's all for today. Whether you are also easing into autumn or are moving into spring, I hope you're well and hope to see you again soon. Tot gauw!