After several rather busy days, I spent an entire Sunday afternoon in the garden. Just sitting, knitting, drinking tea and looking around with my camera at hand. Everything is growing so fast, I can hardly keep up.
Above, you can see my utterly comfortable chair. It was a present for my 50th Birthday, which seems like yesterday, but is in fact so long ago that the fabric has become quite faded in places.
Behind my chair, you can see a part of our small wildflower meadow. It took a while to get going, but now it's absolutely glorious, with many different plant species and always something new to discover. And one of the best things about it, is that it attracts lots of butterflies, bees and other insects. Here, on an oxeye daisy, is a large tortoiseshell: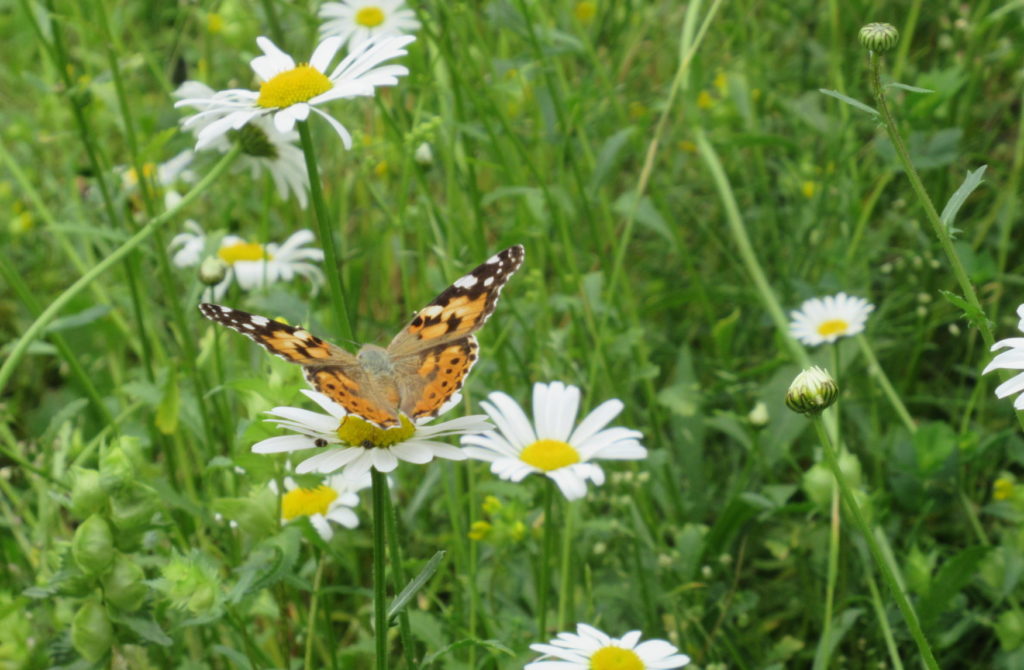 We were thrilled to see it, for it is a rare butterfly that was almost extinct in our country until a couple of years ago. Now it seems to be making a come-back. I'm really glad to be the bringer of this good news amidst all the bad news we hear and read about the terrible decline in biodiversity.
Just like the oxeye daisies, the foxgloves are flowering prodigiously this year.
We didn't plant or sow these foxgloves. They just arrived out of the blue. The first couple of years there were just a few plants, but look at them now!
Bumble bees are buzzing in and out of their bell-like flowers. I really love their shades from purple to pale pink to white. And they have beautiful burgundy spots inside:
There are more plants in our garden that sprang up of their own accord, and we heartily welcome them (at least some of them). But we also have some that we've deliberately planted, like these sweet peas.
They're growing incredibly fast. Since I took this picture they've grown quite a bit, and I can already see some tiny flower buds. I'm so looking forward to the fluttery flowers with their lovely scent.
Apart from plants, butterflies and insects, there is also a lot of bird activity in the garden.
There are many, many young sparrows around, flapping their wings begging for food. Two of our nest boxes are filled with cheeping great tits. And the house martins are flying to and fro to feed their young. After the eggs hatched, the birds threw the empty shells out of the nests. I found them on the ground underneath the nests over several mornings:
The speckled shells are papery thin. So fragile that I could hardly pick them up without crushing them. And so small that it's hard to imagine a complete chick can come out of them. I've photographed the egg shells next to one of our own small, white hen's eggs to give you some idea of their size:
I found the egg shells a little over two weeks ago. I read that it takes house martins five weeks to fledge, so the adults still have an exhausting few weeks ahead of them.
A good friend of mine, the blackbird, is always around too:
For weeks on end, it was hurrying around, collecting worms and other edibles for its young. I think it has had two consecutive nests. Sadly, it seems that this year just one chick survived. But that chick looks strong and healthy, and can now almost fend for itself: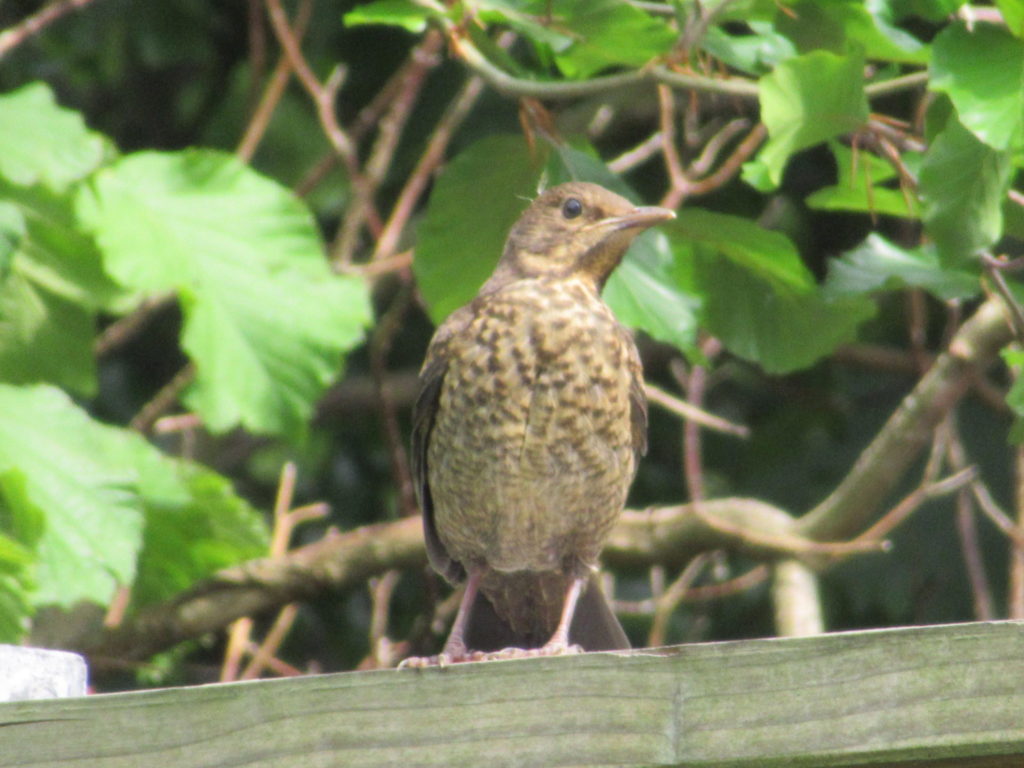 Two large, noisy families of magpies, by contrast, have done very well. Maybe they've raised their young on blackbird eggs or chicks, who knows?. They're notorious nest raiders. They've even been known to steal some of our hen's eggs, which we briefly left unattended between collecting them from the laying nest and putting them away indoors.
I can almost hear the magpie thinking: 'Well, how was I to know that you didn't put them out there especially for us? You leave peanuts, seeds and mealworms out for other birds, too, don't you?'
In between watching the birds and looking at the flowers around me, I also did some knitting. I started two new projects – both in soft shades of pink. One is a striped cardigan in a combination of yarns in different weights:
And the other is a simple shawl in two different lace-weight yarns held together:
They're both lovely, relaxing knits. I'll show you more when I'm a little further along.
The day I sat knitting and taking pictures in the garden, was before the onset of some Very Hot weather. For the past few days, it's been absolutely sweltering. I've had to put these knitting projects on hold. The soft, hairy yarn is sticking to my hands, and both the cardi and the shawl in progress are way too hot to have on my lap.
I'm now spending my spare time reading instead, but I need to find something else to do with my hands soon. Something suitable for tropical temperatures.
I'm not much of a summer knitter, really. I often switch over to crochet when temperatures rise. But I'd like to have something summery on my knitting needles, too. Hmmm, I'll see what I can find. If you have any ideas, please let me know.