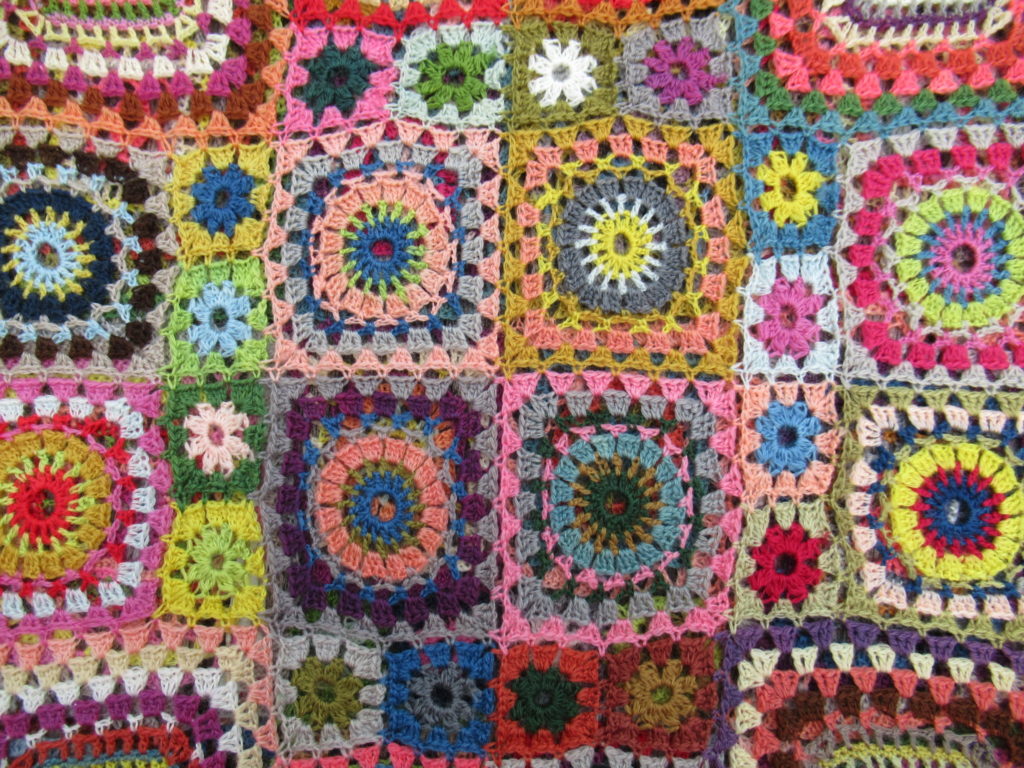 Hello again! This time it's a bit cooler in our little corner of the world than last week. But summer has just started, and we're sure to get some more hot days, so I've been thinking about suitable warm weather projects.
Summer crochet
As I wrote last week, I often switch over to crochet in summer. I don't know why exactly. Is it because the materials I use for crochet are more summery? Is it because the crochet projects I choose are usually small and portable? Is it because I have more time for focused attention and more light for fiddly techniques? Probably a bit of everything.
I love the act of crochet. The movement, the rhythm, following intricate schematics, making something very fine. But it's hard to find projects that I really like. Do I want a crocheted sweater or crocheted socks? Not really. I do like some crochet blankets, but apart from modular blankets, with small pieces joined together later, I wouldn't call them summer projects. Just imagine having a blanket in progress on your lap when it's around 30°C!
A crochet scarf
But here are some really summery crochet projects that I've made or am planning to make. First of all there's 'Bohemian Rhapsody':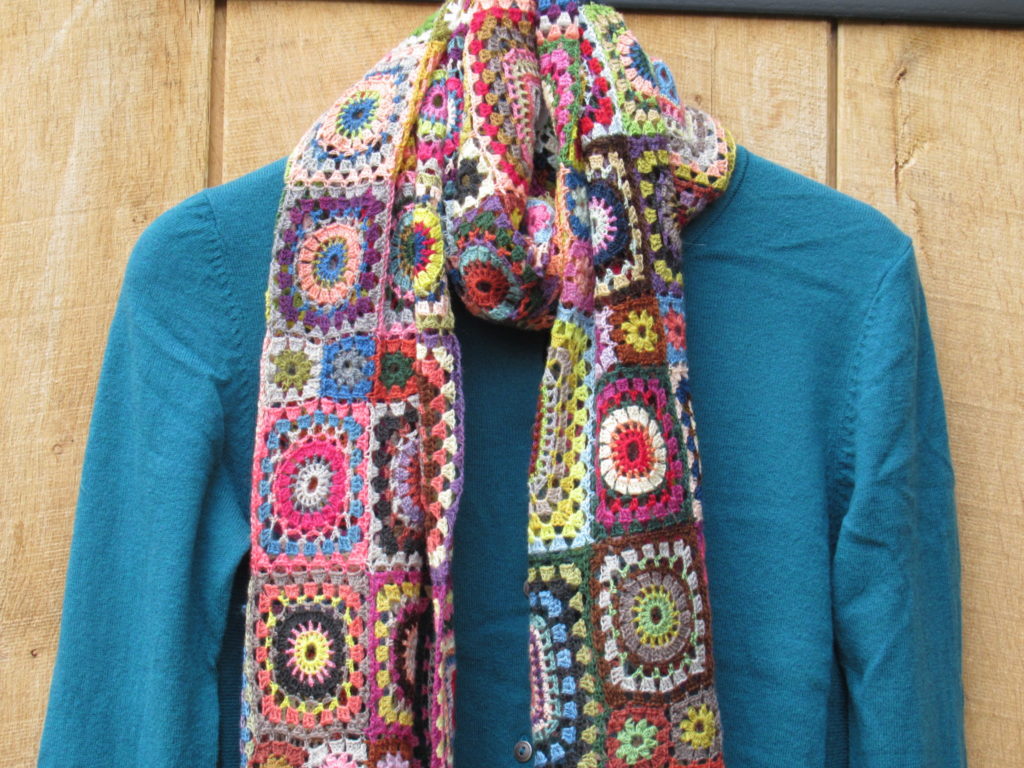 I made this fabulous scarf a couple of years ago, during a holiday in Germany. Crocheted into it are memories of early morning birdsong, mountain walks, sunny vineyards and cosy rainy evenings. Bohemian Rhapsody is made from 75 (!) colours of naturally dyed yarn. The yarn was dyed by Renaissance Dyeing, a small company based in the Southwest of France, and is available as a kit complete with pattern.
The yarn arrived in the form of mini-skeins. I had a lot of fun playing around with them before winding the yarn onto embroidery floss bobbins:
It is a woolen yarn, but so light that it is no problem to work with during warmer periods. This is a project that never gets boring. There are blocks in three different sizes – Large, Medium and Small. These three blocks have different motifs, and are attached by the 'join-as-you-go' method in various combinations. The pattern is available in English as well as in Dutch and has very clear instructions.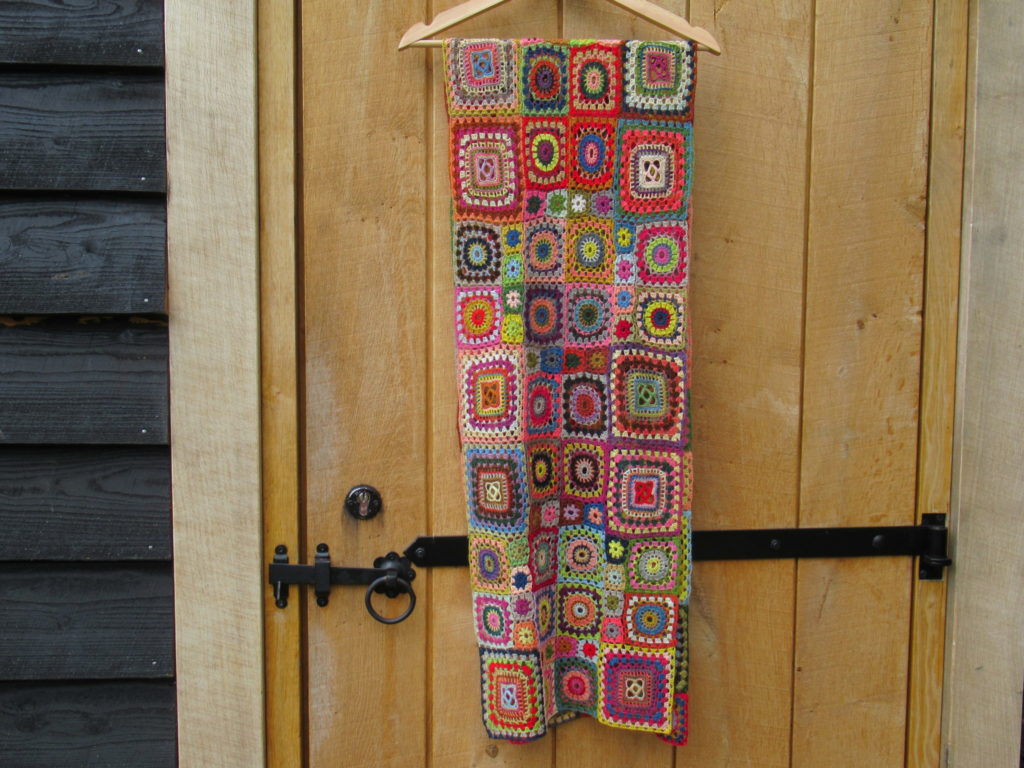 More crocheted scarves

Talking about crocheted scarves, I saw some beautiful ones by Sophie Digard last week, during a stay with a friend in Maastricht, in the 'far' south of our country. We were strolling through the lovely cobbled streets of her city when I spotted one of Sophie's amazing scarves in a shop window. The friendly shop owner allowed me to open some special drawers with glass covers displaying them. I didn't feel comfortable taking photographs without buying anything, but if you'd like to get an impression, you can see an array of inspirational pictures here.
These shawls are very expensive. That doesn't mean that they're not worth the money, though. They're all handmade, and they're all unique. Just think of all the hours that have gone into those tiny stitches. Way above my budget, but that doesn't matter. Just looking at them is so inspiring!
An incident
I'm sorry to say that I can't show you any photographs of Maastricht's beauty spots at all, because my camera was nicked at the railway station on the way back. It was 'just' a small point-and-shoot camera, but it was MY small point-and-shoot camera! Fortunately I already have a new one exactly the same. And fortunately the memories of this lovely time with my friend were not just on my camera, but are also safely imprinted on my mind. An unpleasant incident at the end of an otherwise wonderful visit. Well, things like that happen. Let's get back to more crochet ideas.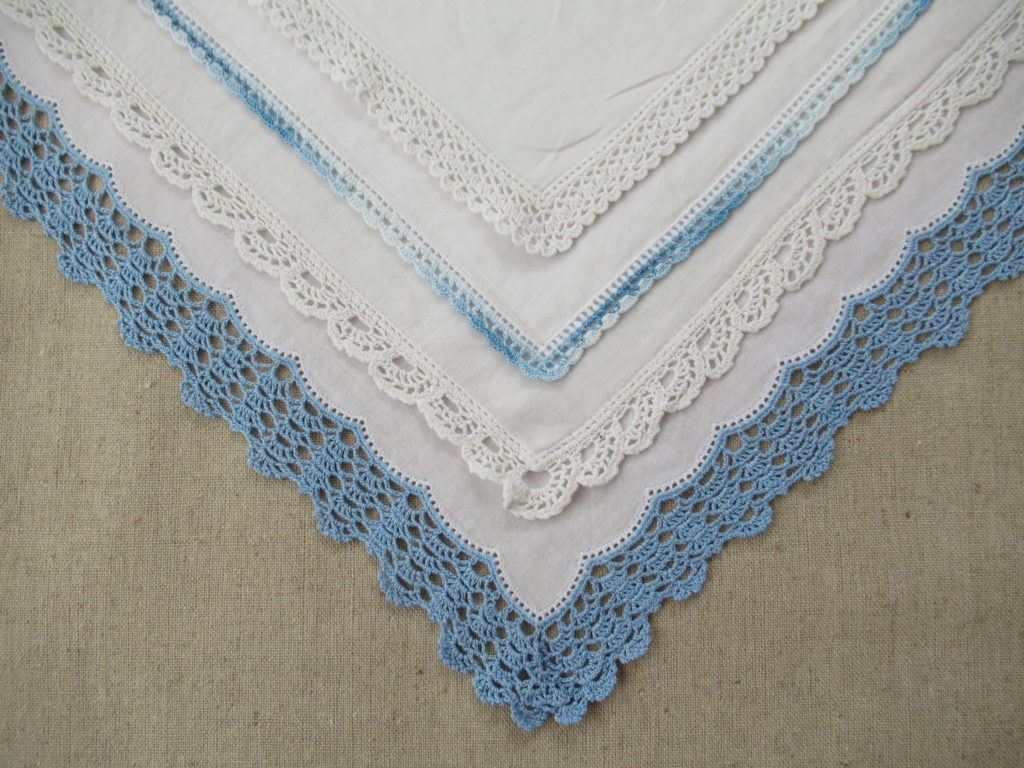 Hankies

Over the years I've crocheted many, many borders around hankies. I know they're rather old-fashioned, but they're so nice to make. I love this kind of very fine crochet. I've given many of them away, but here are a few of them that are in my pockets every day. I don't blow my nose on them – I use them for cleaning my glasses.
Every year I choose a crochet project to work on during our summer holiday. Sometimes it's something very special, like the Bohemian Rhapsody scarf. But it can also be something very simple.
Potholders
Last year I made some ordinary striped potholders. Nothing fancy, but I like making them. And we regularly need new ones because they tend to get burnt.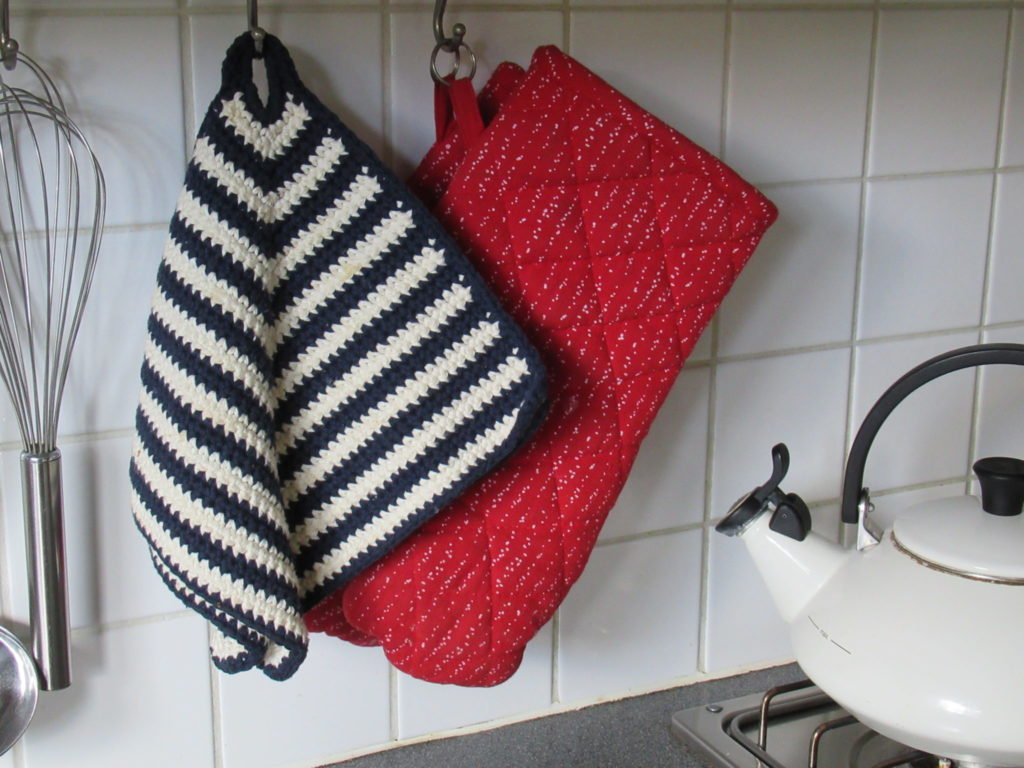 I have no idea where the pattern comes from – probably from my mum. There are several similar patterns on Ravelry, although I seem to be using thicker yarn.
Shawl with crochet border
For this year's summer holiday project I've chosen a shawl with a crochet border. The shawl itself is from a very thin woven wool fabric – it's just the border that's crocheted.
The shawl is called 'Oda' and the materials were dyed by local dyer Lindelicht. The fabric and the yarn were dyed in the same pot, so that they match beautifully. Marianne, the person behind this micro-business only dyes very small quantities, which she sells at crafts markets.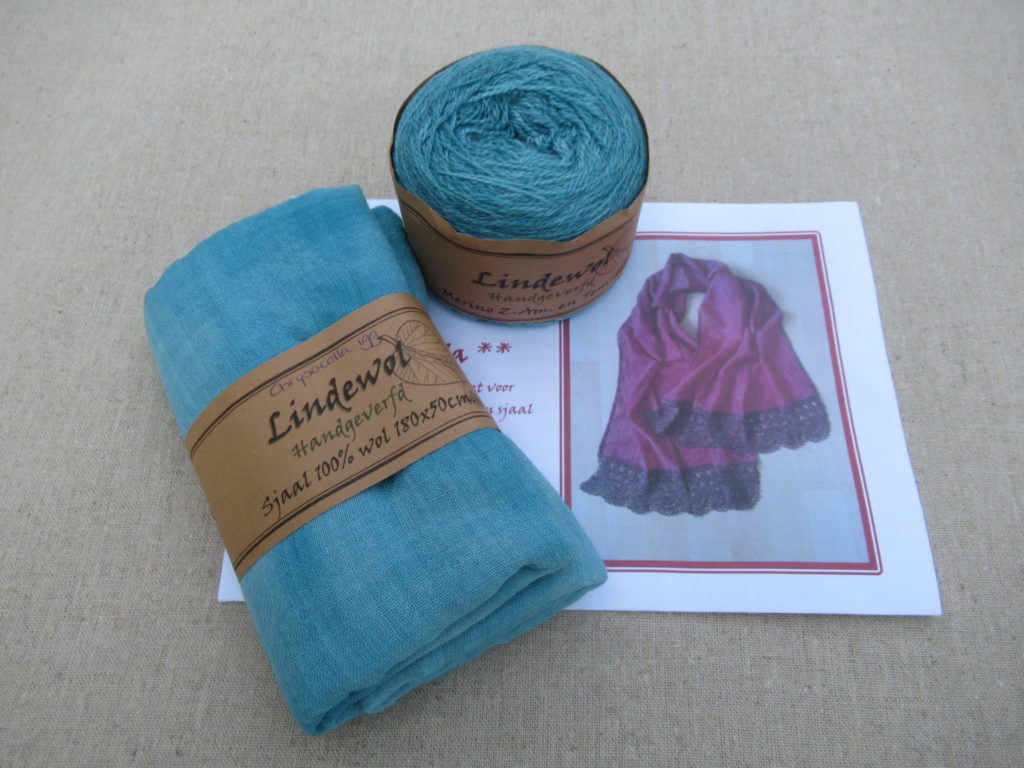 Well, I hope that has given you some inspiration for crochet projects. Now on to the accident I mentioned in the title.
An accident
While I was away in Maastricht, one of the young house martins I wrote about before fell out of one of the nests high up under the eaves of our roof. My husband found it next to our chicken coop. The little creature couldn't fly yet and had apparently crawled there for some company. Just look at the fluffy little thing:
Awww.
In a natural environment it would die. That's the way it goes. But what was my husband to do? He couldn't very well just leave it to die, could he? It was impossible to return the chick to its nest, because that was too high up to reach safely. And besides, which family did it belong to, and how do you stuff a house martin back into its nest?
In the end he picked the little chick up and called the Animal Ambulance, a wonderful institution run by volunteers. They arrived promptly, said they had recently taken a chick just like it to a bird rescue centre, and also that they expected this one to survive. Well, let's hope so.
Summer knitting
Meanwhile I've also been looking around for summer knitting projects. I already have some ideas and expect to write about them next time.
Have a lovely week!
Note: This post isn't sponsored in any way. I just like writing about beautiful things and the people who make them possible.