Before launching into a discourse on summer knitting yarns and projects, I just have to show you our sweet peas first. They are doing so well. In just a few weeks they grew from tiny little seedlings to tall flowering plants.
I expected lots of different pastel shades, but almost all of our sweet pea flowers are the same – a velvety dark purple combined with a deep burgundy. In reality the colours are even darker than in the pictures. Very different from what I expected, but lovely nevertheless.
Among the dark flowers, there are a few pale pink ones: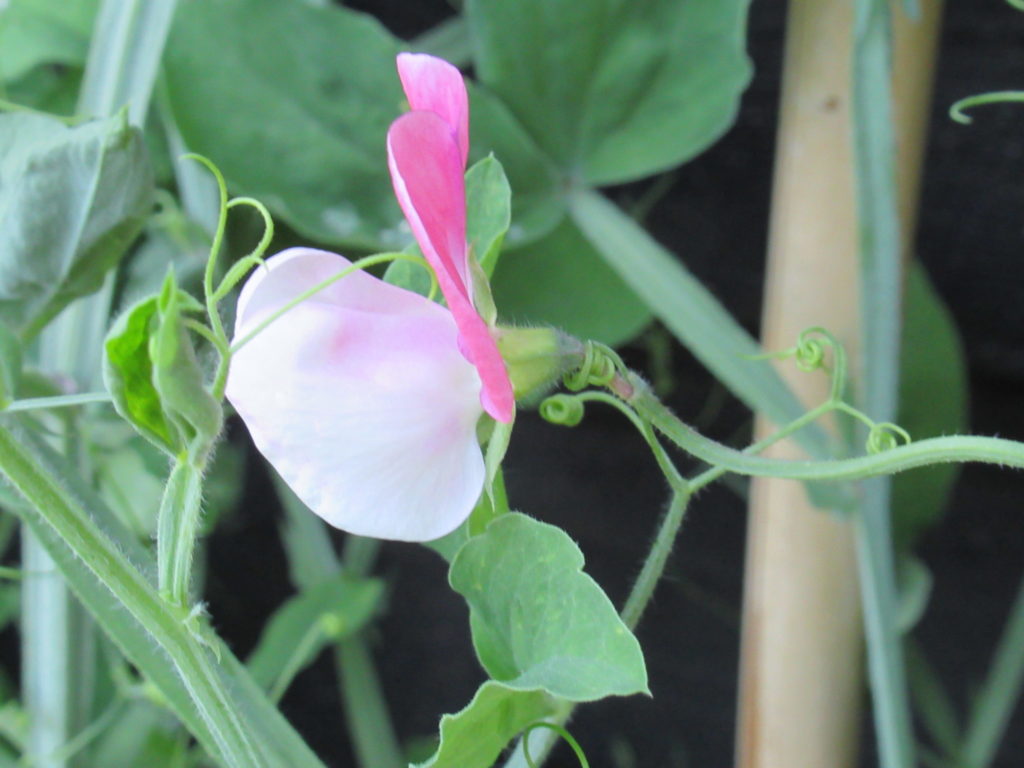 We have to keep picking them if we want the plants to keep producing flowers throughout the summer months. So, from now on there will be posies of sweet peas on our table, perfuming the room with their heavenly scent. Simply luxurious!
That's one thing I like about summer – sweet peas. They'll go on my list.
List? What list? Well, summer is my least favourite season. I know this may sound weird, as most people seem to love it, but the truth is that I don't feel at my best during the summer months. For years I've tried to ignore it and told myself to stop moaning. But this year I'm trying to find out exactly what makes me feel this way, so that I can do something about it. Plus I'm making a list of things that I do like about summer, and sweet peas definitely deserve a place on it.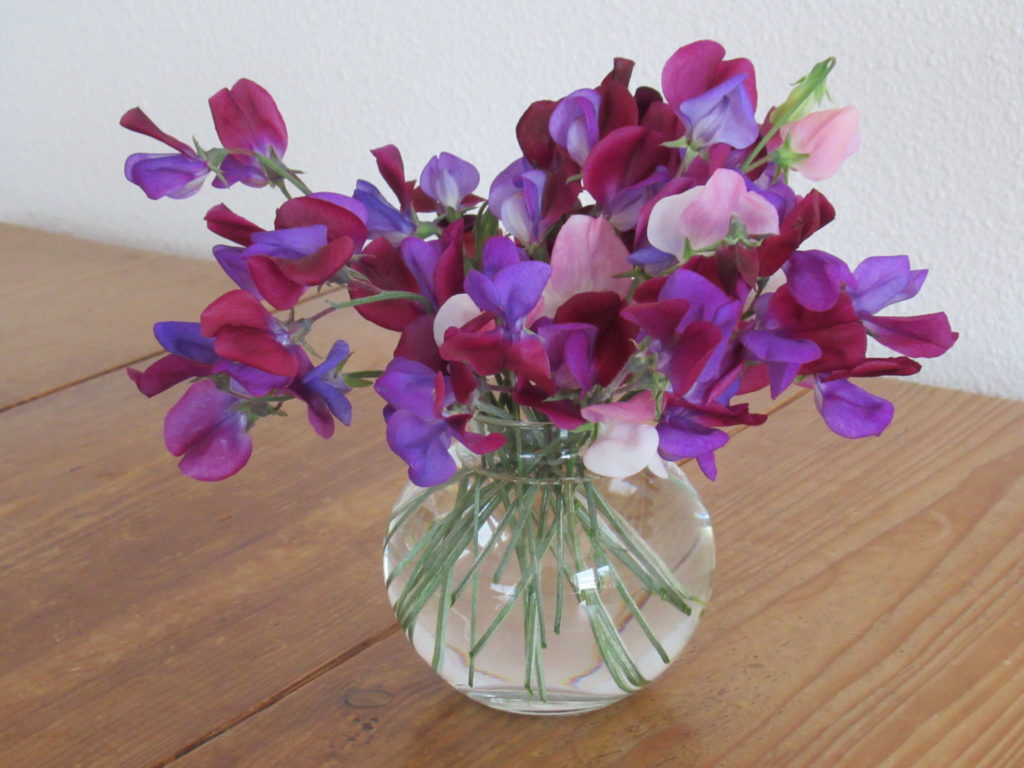 One of the things I've found out so far, is that I miss my knitting. When temperatures rise, I tend to put my knitting aside, because the yarn is too warm in my hands and on my lap. I find other things to do instead, like reading and crochet. But that's not quite enough for me. I still miss my knitting!
So what would make knitting possible on hot days? After giving it some thought I came up with two simple criteria:
Yarn for summer knitting should be either cool and crisp or fine (and have zero mohair content), so that it doesn't stick to clammy palms
AND/OR
Projects for summer knitting should be small, so that they don't feel like a warm blanket on one's lap
Pretty obvious, really. With these two criteria in mind, I first looked at what I had in my stash and came up with some leftover yarns that I could use for small projects. This is some yarn left over from a shawl I once knit: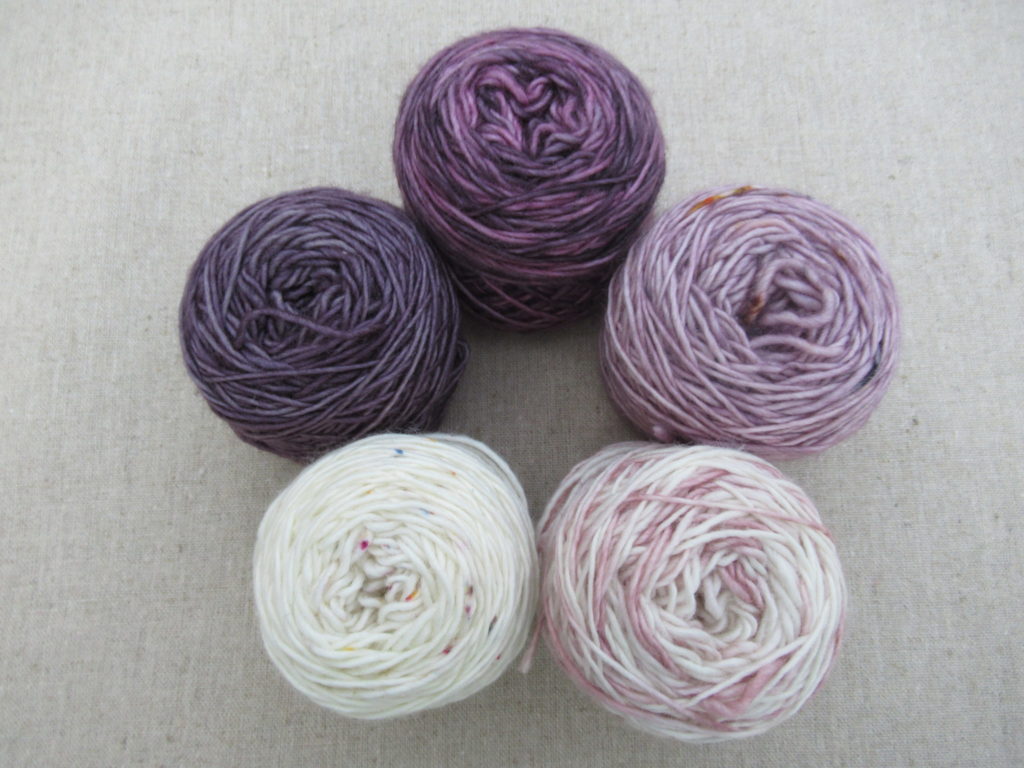 It's Tosh Merino Light in five matching shades. I'm using these little balls for another Tellina cowl. This yarn doesn't fall into the category 'cool and crisp', but it's smooth and fairly fine, so OK for small projects even on warm days.
The yarn I used for the original version was a fine fingering-weight. Now I want to try the pattern out in some heavier fingering-weight yarns, like the Tosh Merino Light you see here.
After finishing the purpley one, I am also going to make one from some average, ordinary fingering-weight sock yarn: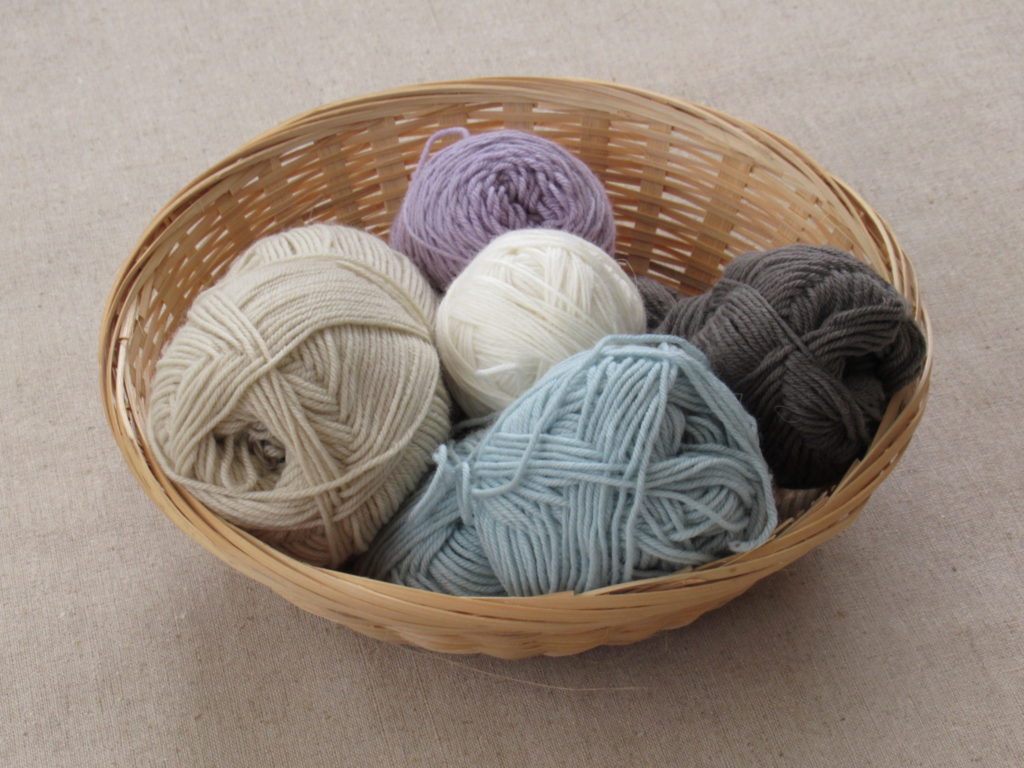 By knitting several versions, I'm testing out how many stitches and how many rows are needed to get approximately the same size cowl with various yarns. I think it'll be a great little project for all kinds of leftovers.
As I didn't have any yarn worth speaking of in the category 'cool and crisp', I browsed around on the internet and in a brick-and-mortar yarn shop. Usually I don't give the 'cotton corner' a glance, but this time I specifically headed for it. And although I think I will always prefer wool, I must say that I found some beautiful non-wool yarns, too. There are so many summery yarns available now! Not just all kinds of cotton, but also linen, hemp, viscose, yarn spun from recycled jeans and much more.
In the end I chose a mixture of cotton and linen in plain white: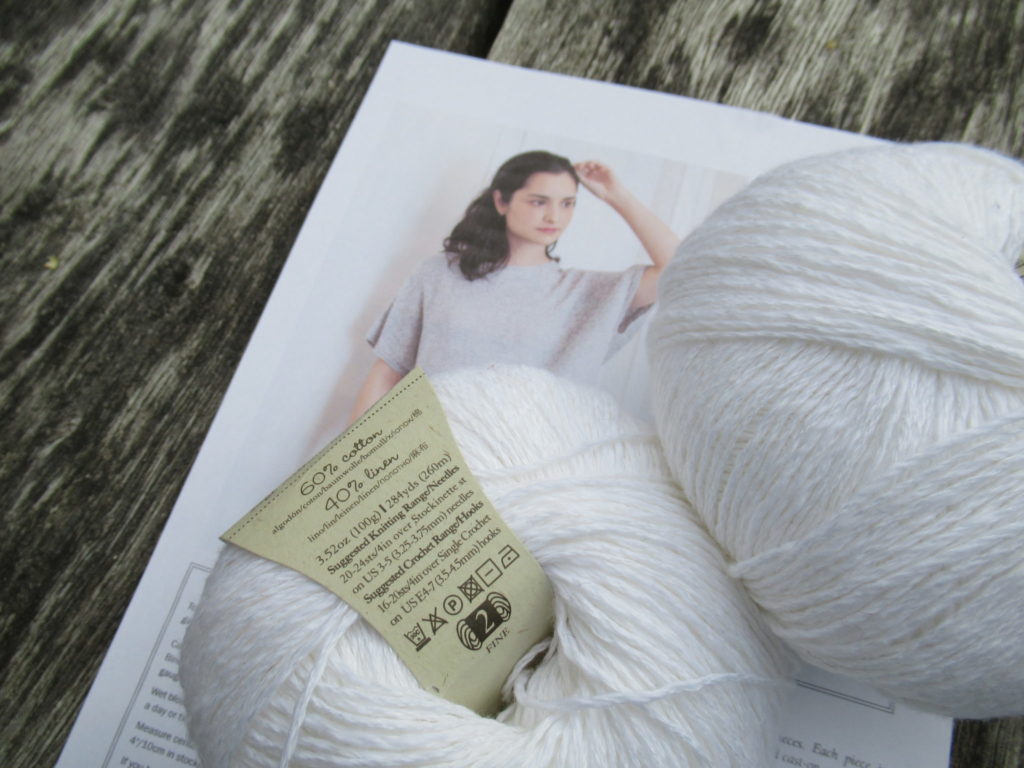 It's going to be a plain white Tee. Do you remember that band, The Plain White T's? With their sweet song 'Hey There Delilah'? That's the song that I'll be humming when I'm knitting this oversized summery T-shirt.
Another idea for summer knitting that ticks all the boxes comes from a comment on a recent blog post left by Marieke. She recommends a booklet by Helle Benedikte Neigaard: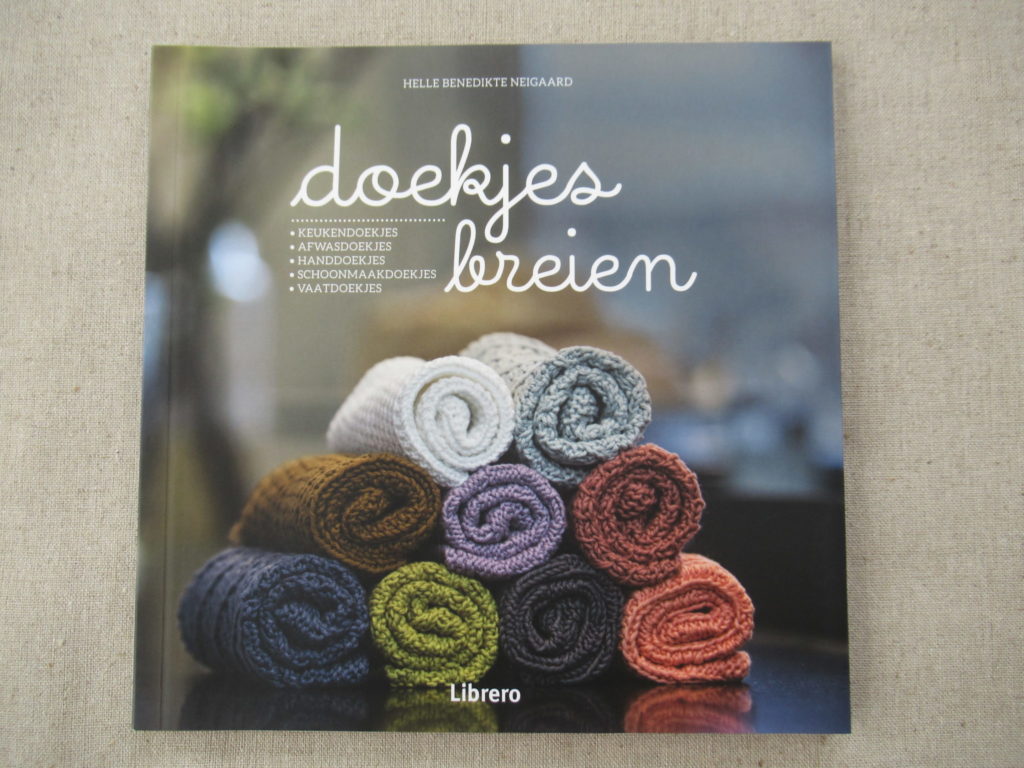 It's a charming, inexpensive booklet that's widely available, and I bought it straightaway. Thank you for the tip Marieke! In English it's entitled Easy Knit Dishcloths. (When adding the link, I discovered that it's not all that inexpensive in English – Sorry.)
Handknit dishcloths seem to be a Scandinavian thing – I've come across them in Norwegian and Danish books and magazines before. This booklet is also by a Danish author. And I recently heard about a Danish designer who built up an entire yarn emporium around these humble cloths. What's the attraction? I'm going to find out!
Finally, I've bought a big yarn cake in a colour gradient: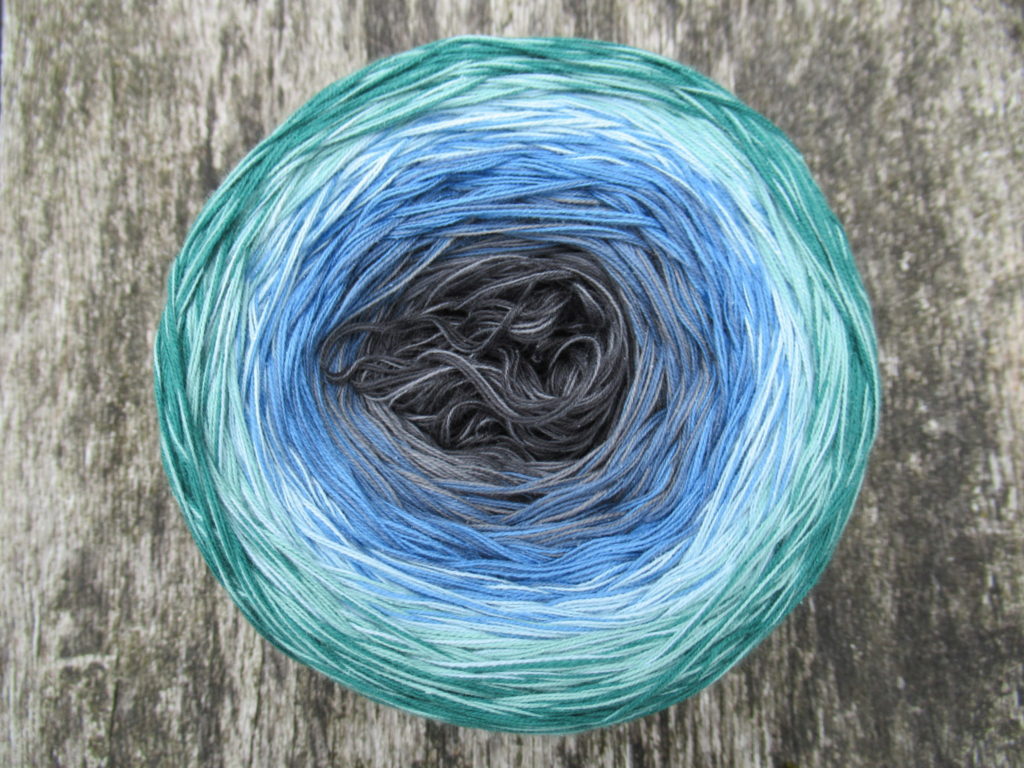 It's cotton, and I'm going to use it for a new design I'm working on. I've already knit it twice, but want to try it out in at least one other yarn before I publish it.
Uhm, exactly how many weeks does a summer have again? Together with the cooler weather knits still on my needles and the shawl with a crochet border I wrote about last week, I now have so many plans for summer projects that it's beginning to look slightly unrealistic that I'll actually finish them all. Well, we'll see. At least I feel good about using up some leftover yarn, and I'm very happy to have so much to look forward to.
All around us, people are busy packing for their holidays. We aren't, because we've decided to stay home this year. We will be taking some time off, though, for a 'staycation'. That may mean that I'll be blogging less frequently or on different days of the week, or write shorter blog posts. Or maybe I'll continue as usual. I just don't know yet. So if things are different, or you're not hearing from me for a while, don't worry. I'm just sitting in the garden, knitting, reading, enjoying the flowers and the birds, and gathering fresh inspiration.

Whether you're going away or staying at home, I wish you a happy and relaxing summer!