There was a small market in the square behind the church in the photo at the top. This market – called Wollig Landleven (Woolly Country Life) – visits a different village in our part of the country every month from spring through autumn. It is a lovely small-scale event.
The Country Life part refers to 'essentials' like soaps, sausages, cheese, herb teas, clothes and all kinds of knick-knacks for the home. My favourite of these is the baker with his wood-fired oven.
The smell is heavenly, and their lovingly displayed loaves are delicious as well as a feast for the eyes.
But I mainly came for the Woolly part, of course. There was wool in different forms. There were raw fleeces in plastic bags…
… and hand-dyed fibres for felting and spinning.
The last time I went to a 'real' crafts fair was in February 2020, and no indoors yarn events will be held here in the near future, as far as I know. The organizers of our regional (indoor) crafts fair are now aiming for February 2022. This market only gets permission because it is outdoors and complies with all the regulations, lilke one-way traffic and a limited number of visitors. And we still need to be careful to keep a 1.5 metres distance, disinfect our hands etcetera.
But in spite of all that, the atmosphere is relaxed, and it is wonderful to stroll around looking at the wares and just be among people. It takes some getting used to that again. There was one person who stood out because of her daring and original outfit.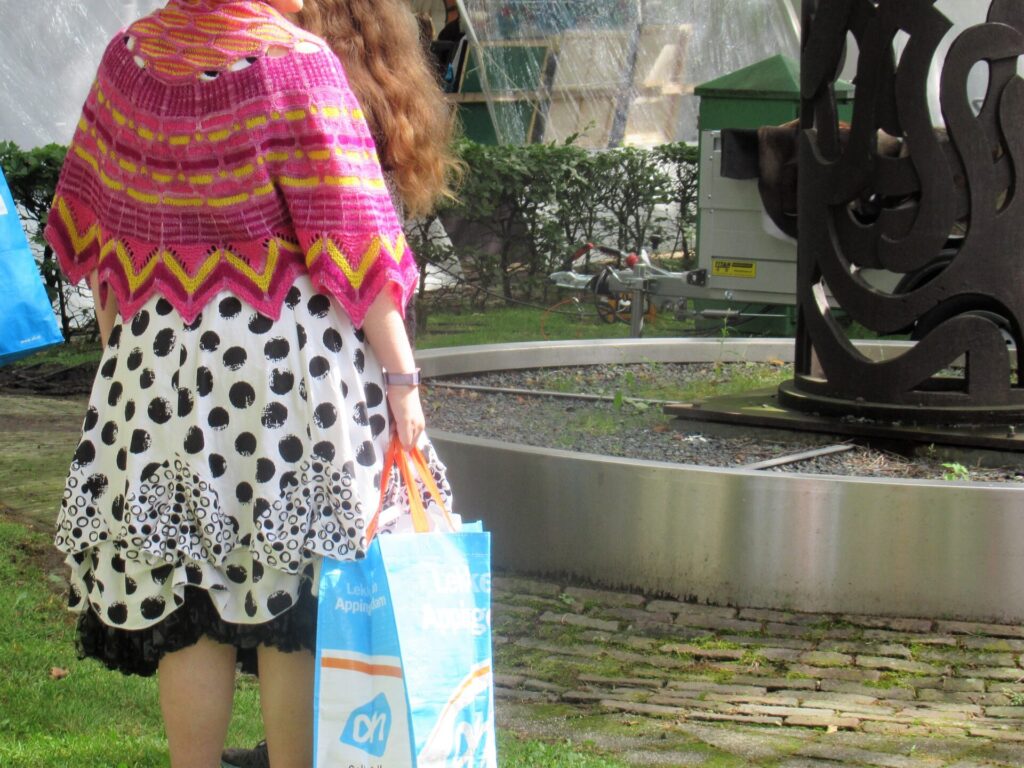 Looking at the shawl now, it occurs to me that it might be a Stephen West design. And yes, a quick Ravelry search tells me that it is Slipstravaganza. He is so creative, and his designs really stand out.
I enjoyed looking at several baskets filled with handspun yarns. To me it is always inspiring to see what choices other people make. What colours did they choose to combine? How many plies? How thick or thin is their yarn? Is it slubby or even?
It was a lovely surprise to meet two new indie dyers. The first was Wat Wollie (which is a pun in the local dialect and could be translated as What WOOLd you like). Petra dyes her yarns in beautiful saturated colours.
Apart from at these markets, she also sells her yarns through Etsy, and her website can be found here. Petra has only been knitting for a few years, but has quickly become an accomplished knitter, as her sweater shows. I forgot to ask which pattern she used, but I think it is Goldwing by Jennifer Steingass.
The stall next to hers was that of Badcattoo Yarn. It's fun to see how every dyer has her own style. Badcattoo's yarns are generally lighter and often have parts left undyed. She also has a website.
For a long time now, my policy has been only to buy yarns with a specific project in mind. But for once I've deviated from that rule and bought a skein from both dyers with no idea what I'm going to do with them yet. I had some pocket money to spend on frivolous things, after all.
Both are fingering-weight yarns with a percentage of nylon in them. Top right is Badcattoo's yarn in lovely pale sky blues with black, white and brown tweedy neps. And bottom left Wat Wollie's skein in deeper hues of blue and purple, with a few brown speckles here and there.
It felt so good to be hanging out with my 'tribe' again for a while.
For anyone living in or near Drenthe, an overview of upcoming Wollig Landleven markets can be found here.