Hello, and welcome to the last of the outings on my blog this summer! Hope you have the time for a good long read. I have really tried to keep this post from getting too long, but failed miserably.
All of the other outings were close to home. This time we're travelling a little further afield, to the city of Kampen. And this time it's not just me, but also my husband you're traveling with. Kampen is not very far afield (it is only about 28 miles from here), but somehow we rarely visit it and we really felt like tourists ourselves.
With less than 40.000 inhabitants city seems too big a word for Kampen, but that's what it officially is, I think. One side of the city centre is bordered by a park and several old gate towers.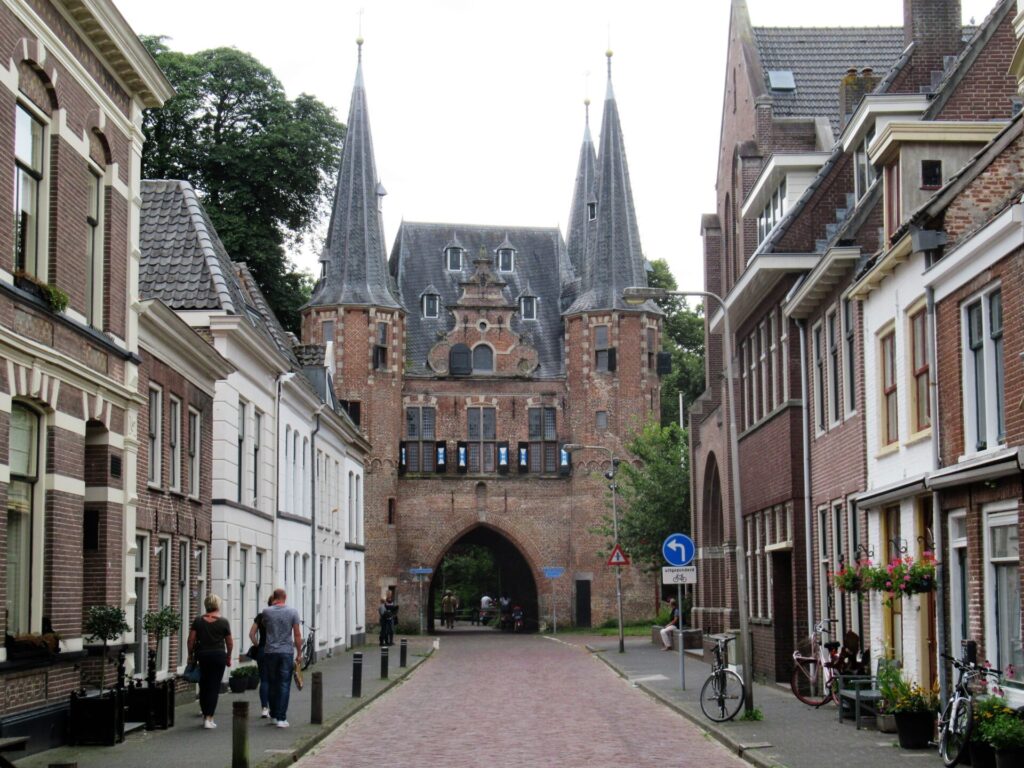 On the other side, there is the river IJssel, where several tall ships are moored today. The white ship on the left is The Flying Dutchman. When she is not in Kampen, the ship and her crew are sailing around Scotland, navigating the Caledonian canal, visiting the outer Hebrides and treating their passengers to Scottish whisky and music.
Like any other town or city at the moment, Kampen has its share of empty shops. It also has the usual chain stores that can be found everywhere else. But there are also many small and quirky shops, beautiful old buildings, museums etcetera.
This is the main shopping street with on the right an old tower called 'the new tower'.
Below the carillon and the clock, something is dangling from the balustrade. On closer inspection that something turns out to be a cow. (Fortunately not a real-life one.)
Why? Can it be a farmers' protest or something?
Branching out from the main shopping street there are many lovely narrow streets and alleys to discover.
My eye is always drawn to old buildings and I feel most at home in the older parts of towns and cities, but the juxtaposition of old and new can also be attractive.
The wooden buildings on the right are the workshops of the Koggewerf, where a shipwrecked kogge (a medieval wooden sailing vessel) found here was carefully reconstructed. Unfortunately, the kogge was out sailing and the buildings were closed, but just peeking in through the windows and looking at another boat and the buildings from the outside was nice too.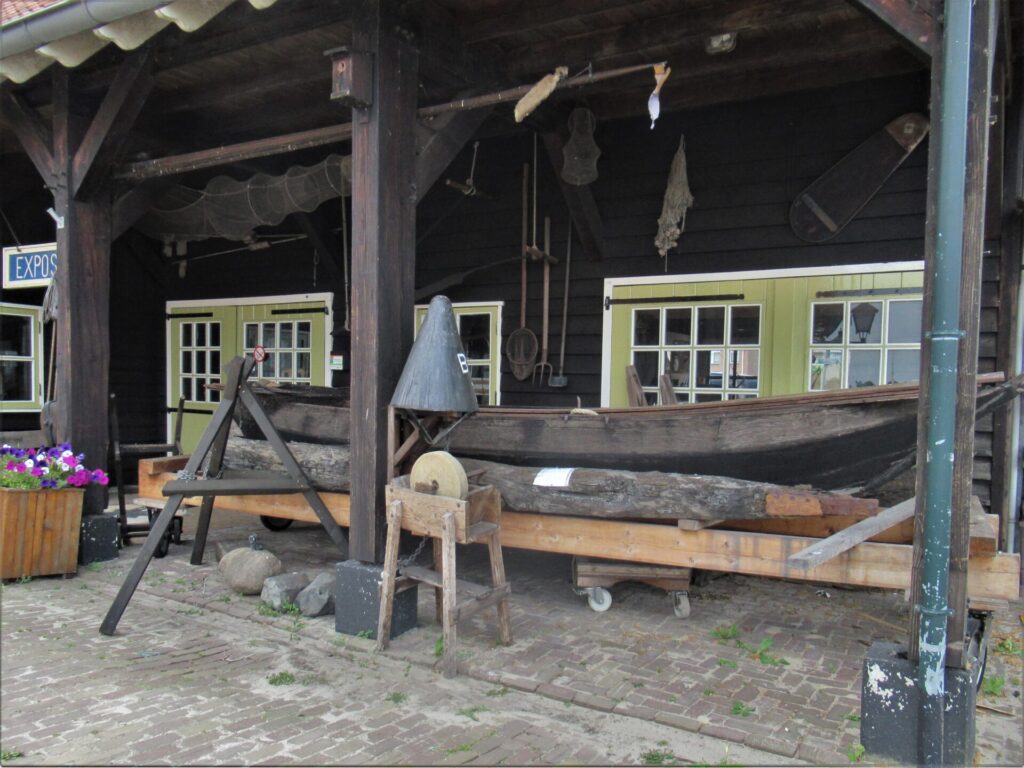 What really struck me in Kampen this time, is that it is very much a city of makers. Or maybe every town and city has them and they are just more visible here. Or maybe it was just that I was more open to them this day.
Anyway, as a maker myself I feel a sort of kinship with other makers. I make things with wool and other fibres, words and sometimes fabrics. But I'm also interested in people making things with wood, metal, dough, chocolate, glass, paper or in any other medium. What materials do they use exactly, how do they use them, what do they make and why? It's the process of making things I'm interested in at least as much as the product. And here, in Kampen, we cannot only see the finished products, but also some makers at work actually making things.
This time we didn't visit the smithy, the coffee roasting company or the cigar factory, but from a previous visit I can tell you that even for a non-cigar-smoker cigar making is interesting and the smell is overpowering!
We did see the chocolatiers at work, though.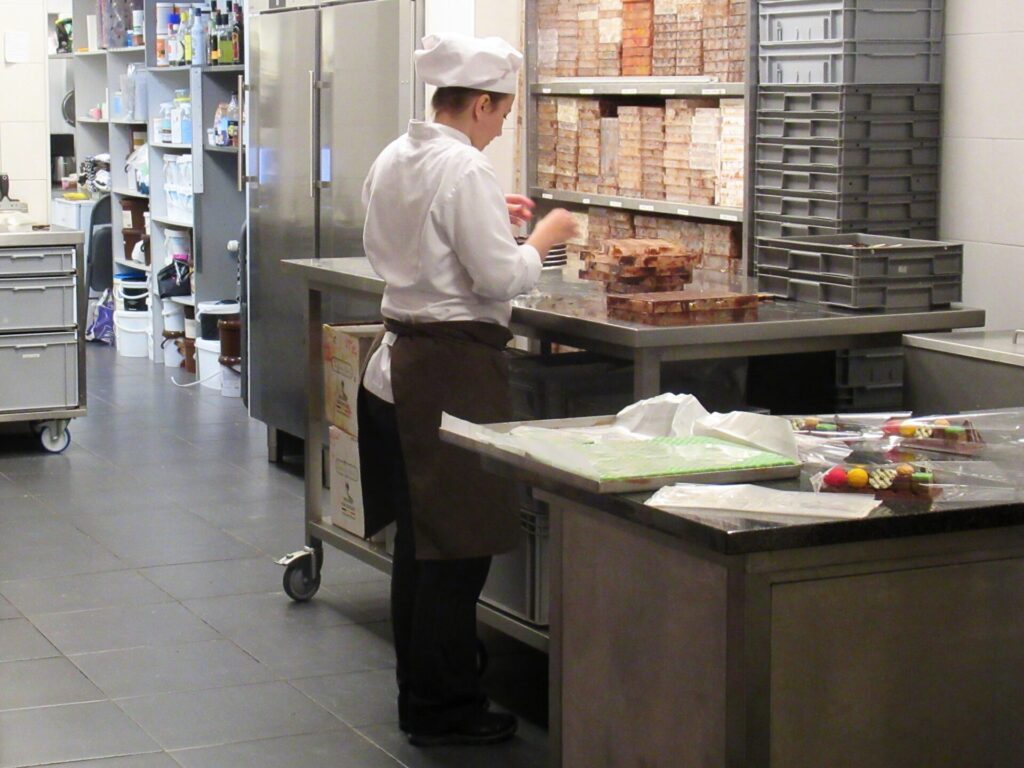 Of course we had to sample some of their products.
I think that for my husband, as a great amateur cook and occasional chocolate maker, that was the highlight of the day. For me, it was SuperGoof Quilts.
Now that was a super lovely surprise. I didn't know anything about this quilt shop. Turns out it is owned by a blogger who has been blogging about quilting since 2007! With a great sense of self-mockery, she calls herself SuperGoof, or Goof for short.
Of course SuperGoof Quilts is a shop, and of course it sells fabrics, as well as some other things. Just look at these fun stuffed toys with their finely knitted sweaters and hats:
But this is about more than buying and selling. What this is really all about is the love of making things.
The fabrics are lovingly chosen and express Goofs exquisite taste.
The fat quarters and eighths are neatly folded and lovingly displayed by colour. Here are the blues…
I didn't ask, but looking at the quilts on display, my guess is that red is Goofs favourite colour. Isn't her sampler quilt stunning?
Would you believe that she doesn't own a sewing machine? It is all done by hand! If that isn't love.
Goof (sorry, I don't know her real name) told me that as a mother of four teenagers, carer for her parents and maternity nurse, she used to get up before everyone else for a spot of quilting. Amazing that she found the time for it in such a busy life, but at the same time I totally understand how important it was for her. The quilt with the stork and the words 'home is where the heart is' reflects her life at that time.
The finished quilts are beautiful, but I also like it that there is quite a bit of work in progress on display.
And then there is this mouse quilt that was a mystery quilt-along project from autumn 2020 to spring 2021. I don't know if you can zoom in, but there is so much to see on it.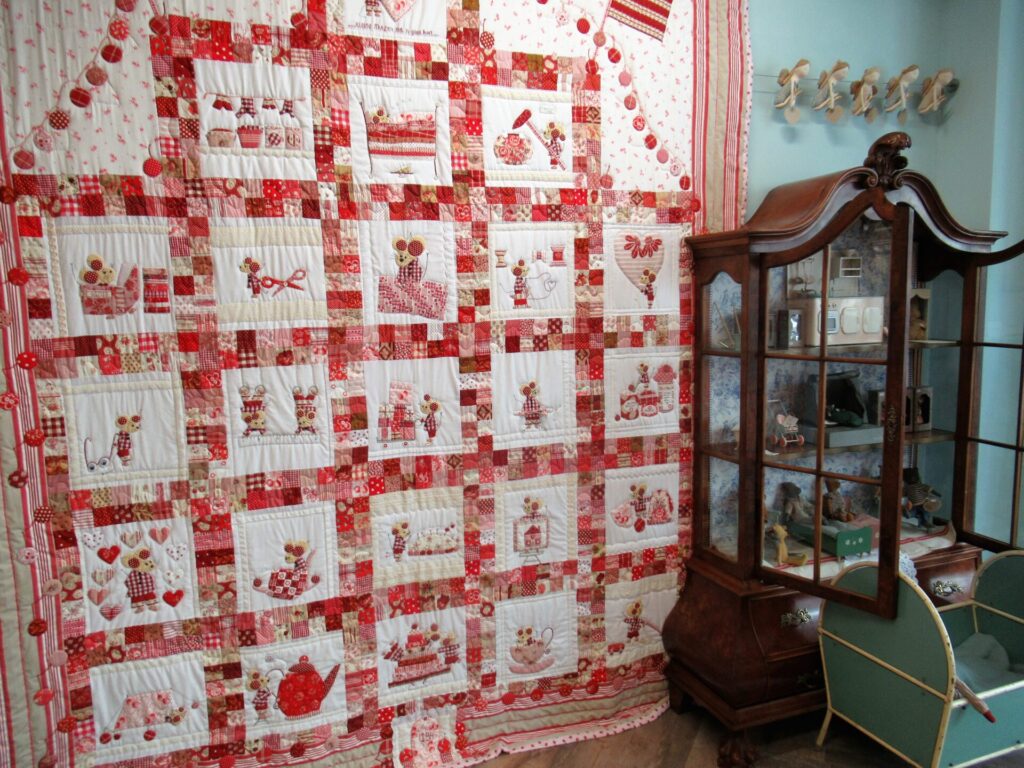 More pictures and information about this quilt can be found here on SuperGoofs website. She doesn't have a webshop, so you'll just have to travel to Kampen to visit her some time!
Since I discovered her, I've been reading SuperGoofs blog. It has lots of lovely pictures and her writing is light and fun. She writes in Dutch, but in the top right-hand corner of her homepage, there is a Google Translate box where you can select your language. I just loved her recent post in which she explains how she reacts when non-quilters visiting her shop comment on how much time quilting must take. Here is a quote:
"And if you love something?
You don't think about time at all.
At most something like, Goodness is it that late already?"
And that's just what I'm thinking now. Time to close off. Thanks for your time and hope to see you again next time!