Hello!
It won't come as a surprise that I love knitting. To me (and I know to some of you, too), seeing a knitting project grow stitch by stitch and row by row is immensely satisfying. Although I haven't written much about books until last week, I love reading a good story just as much.
Now I've combined the two and knit a story in the shape of a shawl! Or rather two shawls, knit along the same lines but telling different stories.
The watery blue version of Story Lines, as I've named the design, tells the saga of a drowned village.
It is a slightly asymmetrical triangle that starts off on a light and airy note – transparent stocking stitch stripes with widely spaced out garter stitch lines. Later on, the plot thickens and the lines are knit closer together.
A village really did drown in the lake where these pictures were taken.
It was the village of Beulake. Extensive peat extraction had already made the area vulnerable. And when the dykes broke during a storm in 1776, Beulake disappeared beneath the waves. Only the church, where the villagers had fled to, was spared.
Fortunately no lives were lost, but the people who lost their homes must have shed a few tears. A row of Dainty Droplets seemed a fitting ending for this shawl.
Although the basic pattern is the same, the other shawl I knit has a different tale to tell. In fiery reds, it tells a love story from a time long gone by.
This story is set against the backdrop of a castle ruin, not far from the lake of the drowned village.
It is Toutenburg, the remains of a medieval castle in the town of Vollenhove. An utterly romantic spot. There is a moat around it, with a lovely fountain.
This version of Story Lines needed a different ending – a Romantic Ruffle. I'm not really a ruffle-y type, so I've kept it modest.
Story Lines is a very easy knit. The only reason I wouldn't recommend it to an absolute beginner is that the thinner of the yarns used takes a little experience to handle.
The design combines two types of yarn: a lace-weight mohair/silk blend and a fingering-weight single-ply merino yarn – 1 skein (50 g) of the former and 1 skein (100 g) of the latter.
The yarns I used for both shawls come from an indie dyer in my little corner of the world. She creates many gorgeous colours. Below you can see the mohair/silk blend I used on the left, the 1-ply merino on the right: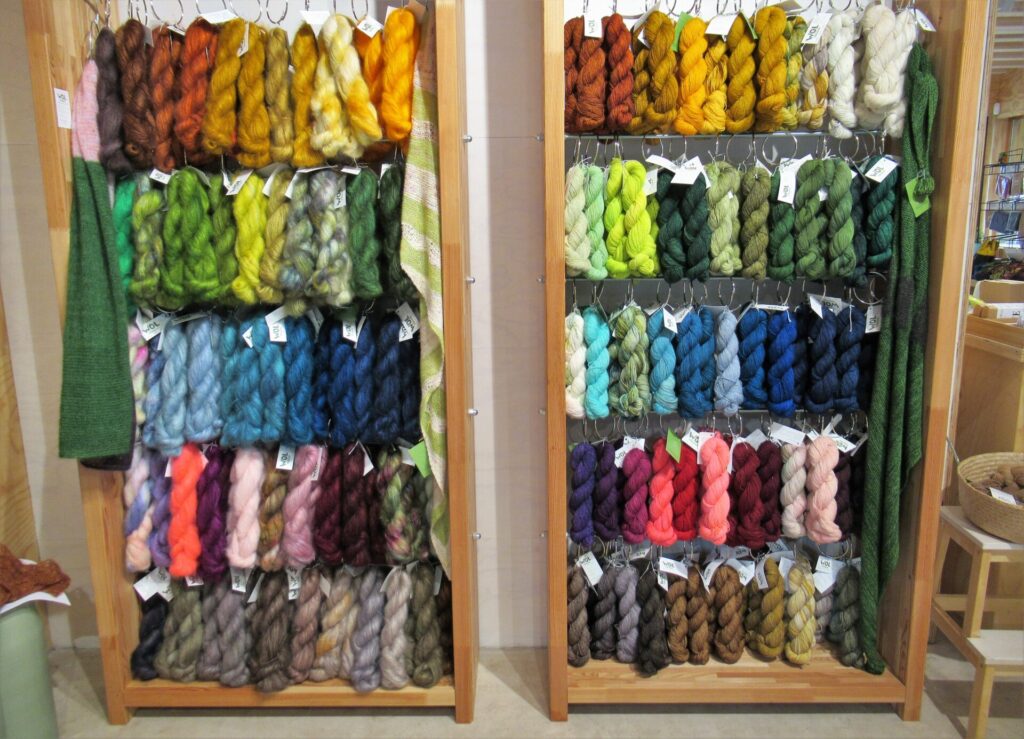 'My' indie dyer is happy to ship world-wide,  but those of you not living in the Netherlands could also look for yarn closer to home. Here is a list of very similar yarns from indie dyers all over the world:
Canada: Lichen and Lace (Marsh Mohair/1-Ply Superwash Merino Fingering-Weight)
France: La Bien Aimée (Mohair Silk/Merino Singles)
Germany: Walk Collection (Kid Mohair Lace/Cottage Merino)
Ireland: Hedgehog Fibres (Kidsilk Lace/Skinny Singles)
Norway: Norne (Kid Silk/Singles)
Sweden: Fru Valborg (Fuzzy Mohair/Merino Singles)
UK: Qing (Kid Mohair Silk/Merino Singles)
US, New York: The Wandering Flock (Laceweight Mohair Silk/Fingering Weight Singles)
US, Oregon: Ritual Dyes (Fae/Crone)
Some people find a triangle a difficult shape to wear and I understand. Worn in a traditional way it can look old-fashioned. But it can be worn in so many ways, as already shown in some of the pictures above. Here are some more ideas.
Worn nonchalantly with the two long ends on one side: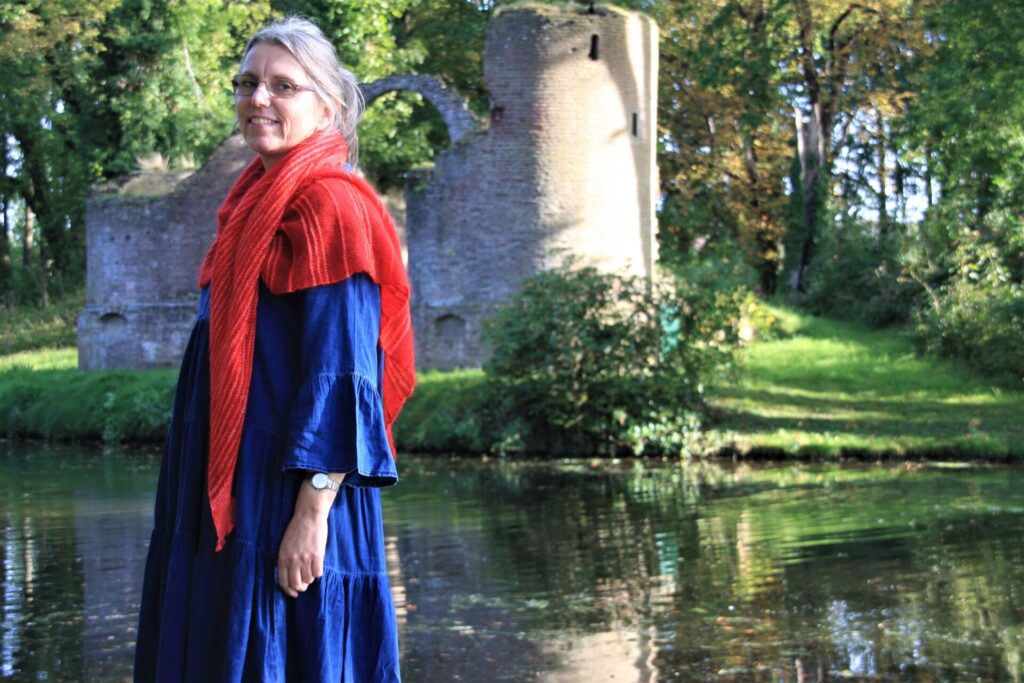 Rolled up with the point at the back of the neck inside, worn much like a rectangular scarf:
With the ends knotted loosely:
The shawl has a versatile shape and can tell many different stories, depending on the colours chosen. Choose icy shades for an arctic adventure, greys for a ghost story, greens for a jungle book, or………………… The possibilities are endless.
If you'd like to knit your own Story Lines,
you can find the pattern HERE ON RAVELRY. 
In addition to the Dainty Droplets and Romantic Ruffle shown here, the pattern also includes instructions for a Basic Bind-off that ties everything up neatly. And there is a Dutch as well as an English-language version.
Well, that brings us to the end of today's story. Thank you so much, dear photographer, for your patience and for capturing everything so well. And thank you, dear friends near and far, for reading and for your always kind support!