Hello!
It was on my way to the Knitting and Crochet Days in Amsterdam in May 2019 that I saw the first minibieb (pronounced as: mini beep). It was a beautifully crafted boat, complete with mooring posts.
Over the past 18 months or so, when our 'real' libraries were closed for a long time, these little libraries have mushroomed around here.
During my walks and bicycle rides I've taken pictures whenever I passed one. Most of them are like small cabinets, some with sloping and others with pointed roofs (click on images to enlarge).
Similar, but still all different. Many of them have mottos, like 'give and take'; 'one out, one in', or:
'A good book can be shared together, borrowed, swapped, donated.'
Here is a peek inside one:
Several English books among the ones in Dutch, a few crime and other novels, and a book with the intriguing title Chuapi Punchapi Tutayaca (or is it the author's name?). As well as one that is also on my own book shelves: Zomerboek (The Summer Book) by Tove Jansson – who would give that gem away, I wonder?  
Some little libraries are tiny…
… and found along city streets lined with wheelie bins.
Others are slightly bigger and found in out-of-the way places. Along a grassy path…
…I found this one, also selling plum jam and walnuts.
En route, I passed this sign, where we are meant to tralalalalaaaa our way to the next little library.
One little library in our neighbourhood is located inside a café.
And several provide benches, so that you can start reading straightaway, like this one.
Nice, isn't it, with little olive trees on either side of the bench. This minibieb is called Bieb aan 't Diep.
That means Library on the Canal. And this is what it looks out on.
I had a nice chat with the owner of this one…
… that has a bench with a brass plate on it saying 'Little Book Bench'.
I asked her why she decided to start a minibieb. She told me of her lifelong love of books. She also mentioned things like social cohesion, enlivening the street and serving people (especially young and elderly) who can't easily get to the public library.
I'm writing about the minibieb because I think it's a wonderful new phenomenon. And also because there is a link between books and my new knitting design. We've already been out for a photo shoot. I'm working hard on the lay-out now and hope to publish the pattern next week. Here is a sneak peek.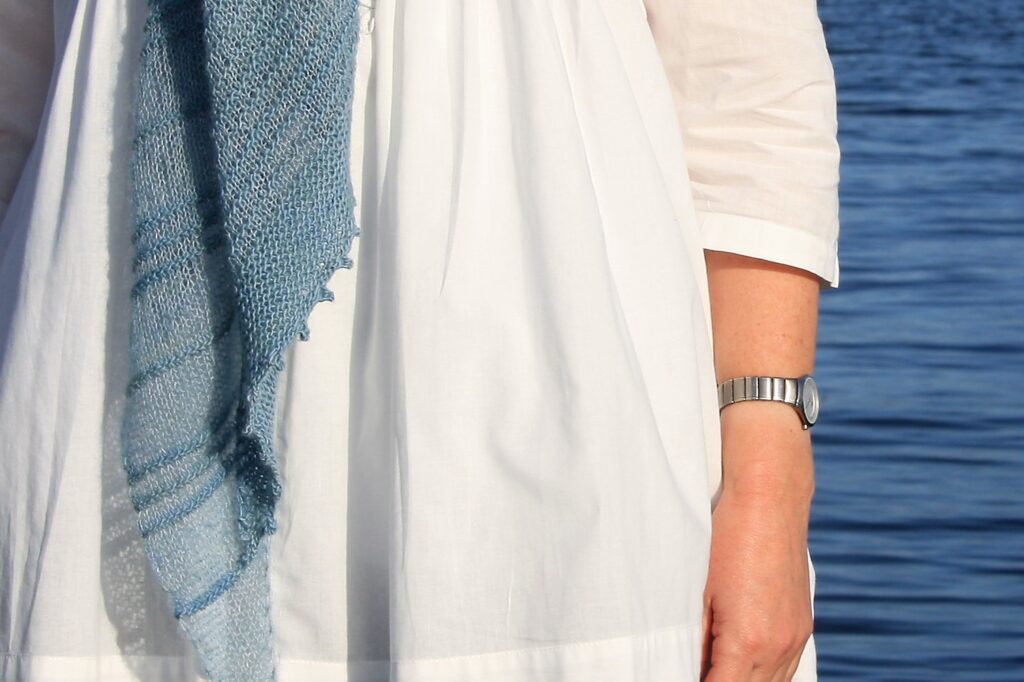 Googling, I discovered that the minibieb movement started in Wisconsin in the US and that there now are little free libraries (as they are officially called) in 91 countries. Do you have them near you, too? Do you use them?
Some people seem to be worried that they will steal readers from the public libraries. Hm, maybe. Or maybe they'll create new readers eager to move onto larger libraries after a while.
More information and a world map can be found on the Little Free Library website. The Dutch minibieb website can be found here. I don't know if this goes for the rest of the world, but in the Netherlands there are many, many more minibiebs than those registered on the website. Once you've found one, you can always ask the owner if they know more near where you live.
Well, that's all for today. I hope to be back next week with a knitting story. Bye for now and take care!