Hello!
"This is a tale about a tail—a tail that belonged to a little red squirrel, and his name was Nutkin." That is how Beatrix Potter began The Tale of Squirrel Nutkin. It was what I thought of when choosing yarn for a baby set in a colour called… Nutkin!
It really is the same warm reddish brown as a red squirrel's coat. The other reason for choosing this colour was that the parents-to-be have indicated a preference for natural/undyed, green and brown for baby things.
During the weekend and every evening, I knit, knit, knit… and finished the complete set within a week. These are only wee things after all.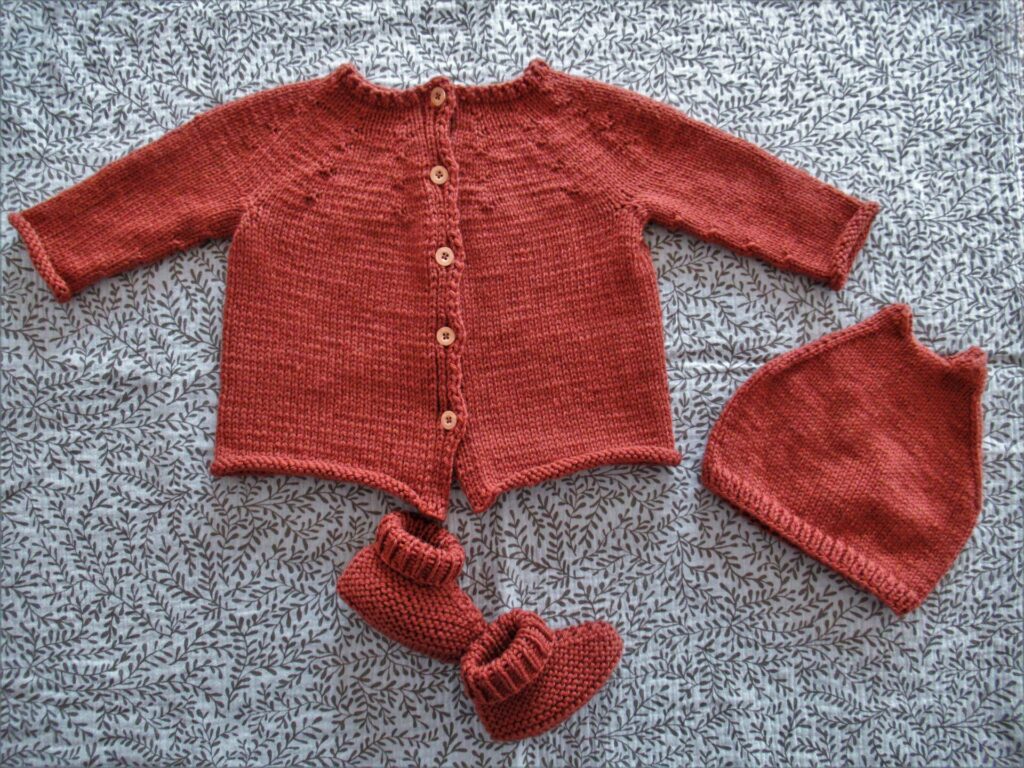 Some of the things I'm making will remain a surprise until after the baby is born, but I'm giving them this set beforehand. It looks deceptively easy all in stocking and garter stitch, but certainly isn't for novice knitters.
I had some trouble keeping track of the different increases and the button holes at the same time. I also had some difficulty with the place where the sleeves meet the fronts and back. To be honest, I was unable to prevent fairly large holes from appearing no matter how hard I tried and had to cheat a little to close them. The ears on the hat were not easy to get right, and the bootees were a bit fiddly.
The patterns ask for double pointed needles in three different sizes. I didn't have all of those, so used circular needles and the magic loop method for the hat and bootees.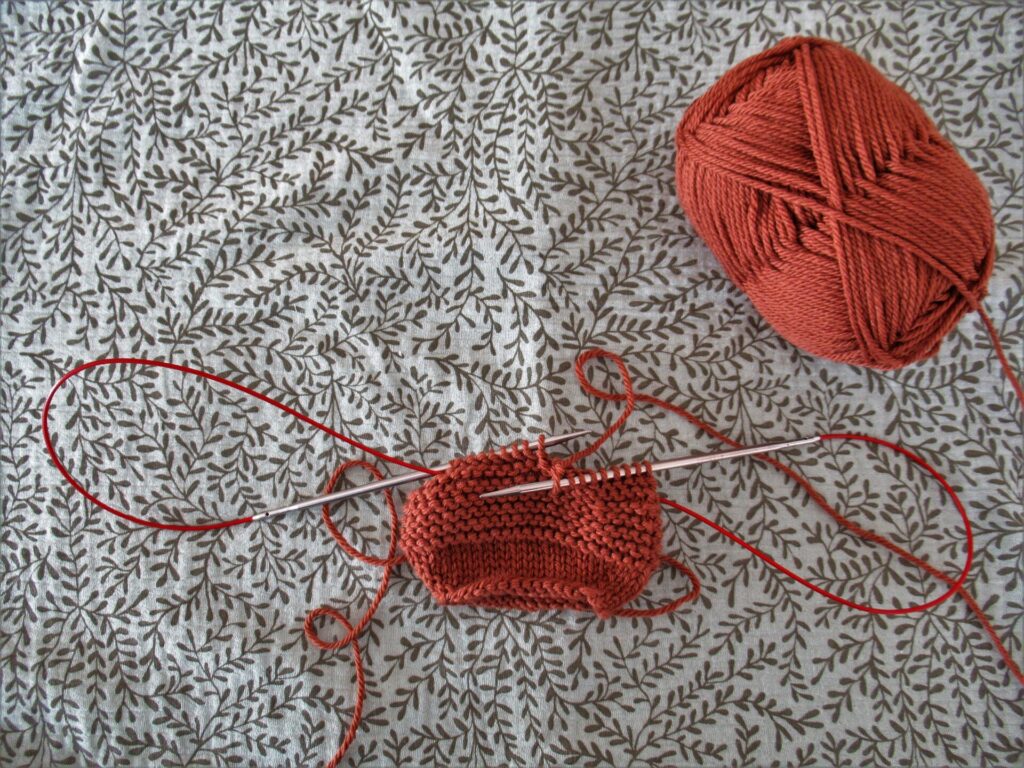 They take some patience and concentration, but all in all, these are very nice little projects. (All of them can be found here on Ravelry.) What I like most of all are the small pointy ears on the hat – they really look a lot like Squirrel Nutkin's ears.
Last autumn, a red squirrel visited our garden every day. We have lots of hazel bushes bordering our garden, and we watched it burying hazel nuts all through our garden and our neighbours' for weeks on end. Now, when it is time to dig them up and eat them, we don't so much as catch a glimpse of the squirrel. But we do see the empty nutshells it leaves behind.
Not all of the nuts were eaten by the squirrel, though. I've collected some and tried to find out who made which holes. These halved ones were 100% certain cracked open by an adult squirrel:
At first I thought that the ones with the oval holes were all left behind by the great spotted woodpecker:
But looking more closely, I'm not so certain anymore. Some of them look pecked out with a sharp beak, but others (like the one on the right) clearly have tooth marks around them. Hmmm… A young squirrel perhaps? How long does it take for a squirrel to become an adult? Or could it have been a mouse?
And then there are those with small round holes drilled into them:
I haven't been able to find out whose marks these are yet. Some kind of insect? There is so much I don't know.
Red squirrels have become fairly rare in our surroundings over the years. We do not see them very often. But last week, my husband was lucky and saw no less than four of them on one walk, twice two together. This is one of the pictures he took:
In appearance it looks a lot like the squirrels in Beatrix Potter's lovely pictures, but in behaviour not so much. I can't see this one carrying hazelnuts in sacks, or rafting on a lake using its tail as a sail.
I only discovered Beatrix Potter's delightful tales as a teenager. Did you grow up with her stories? Which one is your favourite?