Hello, and welcome to my last blog post for 2022. While I am typing this, the Christmas stollen my husband has baked is cooling on a wire rack in the kitchen, filling the house with its delicious warm smell.
We do not celebrate Christmas in a big way, but there are certain traditions we hold dear. Like the above stollen, a Christmas tree with the same baubles every year, and a Christmas dinner prepared and shared with love and attention.
We also enjoy visiting a Christmas market in Germany when we can. So on a frosty morning, just before the sun came up, we set off for Münster.
On the way there, I knit a few rows on a simple sock in a lovely hand-painted yarn, the only suitable knitting project to take along – everything else was either too complicated or nearly finished.
Actually there isn't a Christmas market in Münster but six, on various squares around the beautiful old city centre.
They are all slightly different. Some are more food-oriented, some more about gifts and handmade things. And one small new one was focused on organic, sustainable and fair-trade products. Even the mulled wine was certified organic.
As our gift-giving moment is already behind us, we didn't need to shop for gifts and were free to stroll around, enjoy the sights and each other's company, and have a bite to eat here and there. I love the traditional hot and golden Reibekuchen mit Apfelmus (potato fritters with apple sauce).
I also quickly popped into the yarn shop in the city centre, thinking it might be nice to write about, but popped out just as quickly – nothing to write home about there. Well, never mind, there was enough to enjoy without yarn.
To be honest, I have mixed feelings about this time of the year. I really love Christmas. And no matter what, how, or where we're celebrating, I think we can all do with a message of peace and light.
But I can also relate to newspaper columnist Doortje Smithuijsen, who recently wrote, '… it's the time of year again when we feel that at the end of the month the world is coming to an end – the time when everything needs to be finished NOW […] The time of year when you're feeling vulnerable, looking for something to hold on to.' (De Volkskrant, V2, 15 December 2022, my translation).
Unlike Doortje, I'm not joining MyInnerHealthClub. I don't need to look far for something to hold on to – I have my knitting needles. Like her, I feel the urge to finish things, and I try to have all my knitting projects finished before the end of the year/world. My navy blue cardigan is nearly finished.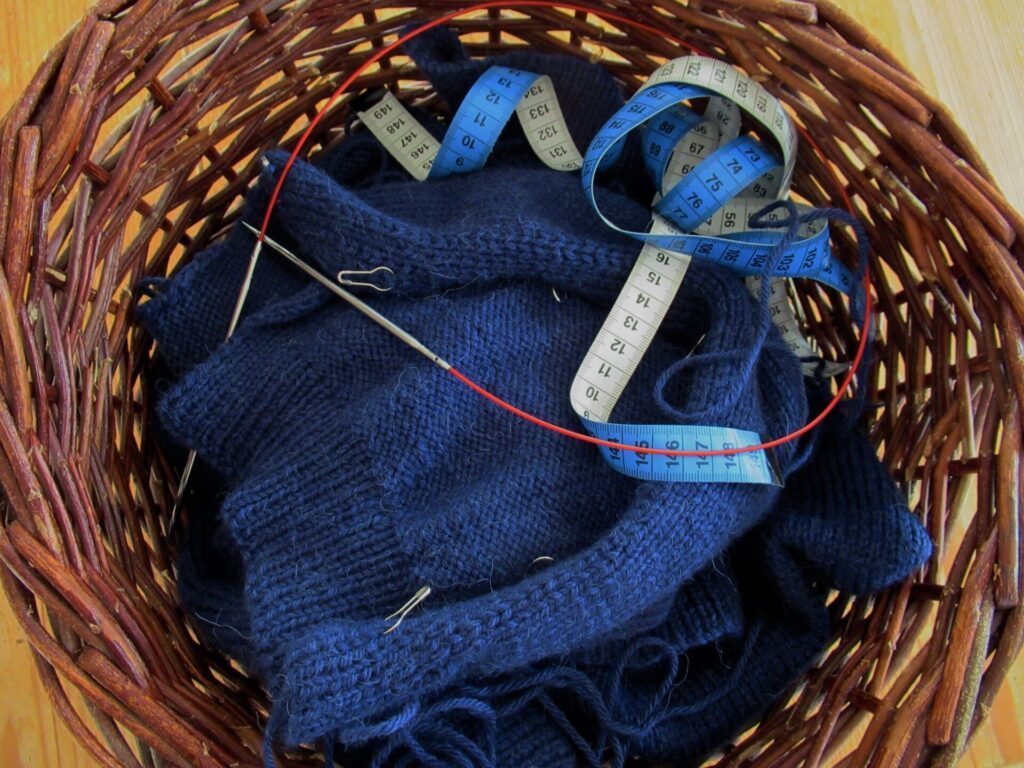 I also hope to finish my Advent calendar mittens soon. I am really, really enjoying knitting these, and if the world doesn't stop turning at 12 pm on December 31, I'd love to do more Norwegian knitting in the new year.
I'd also love to knit more for our grandson, more socks (not just simple ones) and more things designed by myself, and to write about what I'm learning along the way. I won't be able to finish my new shawl pattern before the year is out, but I've already wound the yarn for the final version. I hope to be able to tell you more about it in January or February.
I'm taking a break from blogging now to spend time with my loved ones, knit, read and go for walks. Thank you so much for reading my blog over the past year. It's been lovely hearing from some of you now and then. I hope to 'see' you again in 2023, and wish you and yours a happy and relaxing festive season!