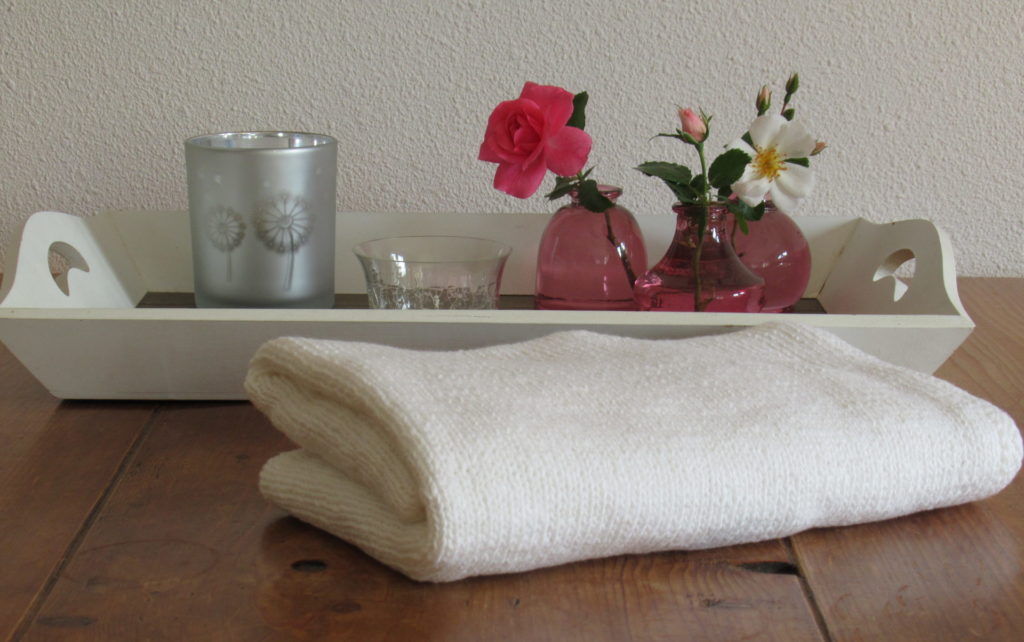 Mid-September. The mornings are starting to feel chilly and the smell of autumn is in the air. In the garden there are still some roses to be picked and the autumn anemones are flowering profusely. It's the time of year to start thinking of warm and woolly knits. But first it's time to finish some summer projects.
My 'big' summer knitting project was an oversized T-shirt, from a pattern called Sideways Tee, designed by Churchmouse. I'm not much of a summer knitter – I prefer woolen yarns and cosy socks, sweaters and shawls. But after a very hot spell early in the season, I realized that I needed something cool and summery to knit or I wouldn't be able to knit at all on hot days.
Now I'd like to show you what I made and how I set about it. I like looking over other makers' shoulders and hope that what I'm doing will be interesting and useful to others too.
Before I start knitting a garment, I always swatch. I don't swatch for socks, and I don't always swatch for shawls and scarves. But for garments it makes all the difference between success and failure.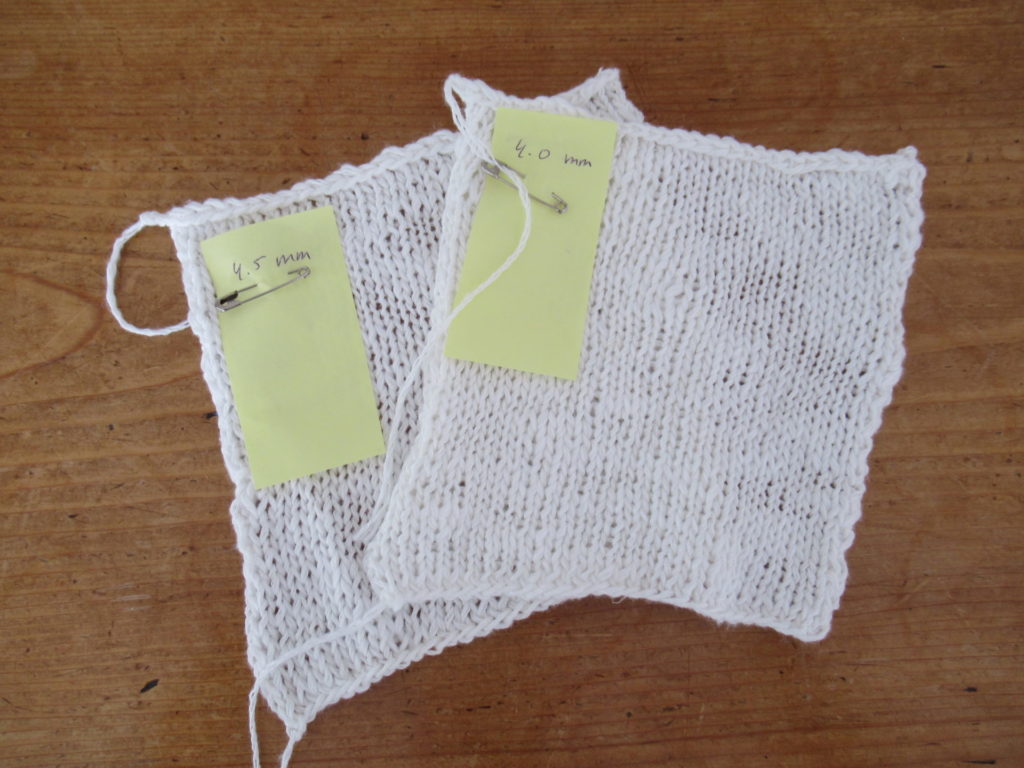 This time it was a good thing I did, too. For the first swatch, I used the recommended needle size (4.5 mm) but didn't get the right gauge. So I went down a size (to 4.0 mm), knit another swatch and, yay, the gauge was correct. I washed both swatches to make sure the knitting didn't shrink or grow, but it was fine, so I could start knitting.
The Sideways Tee has an interesting construction. Both front and back are started from a provisional cast-on in the middle, and are knit outward to the sides. It isn't called Sideways Tee for nothing.
In this case it isn't your usual 'crochet a chain and pick up stitches from the bumps.' It's a more sophisticated provisional cast-on, that is crocheted over the knitting needle.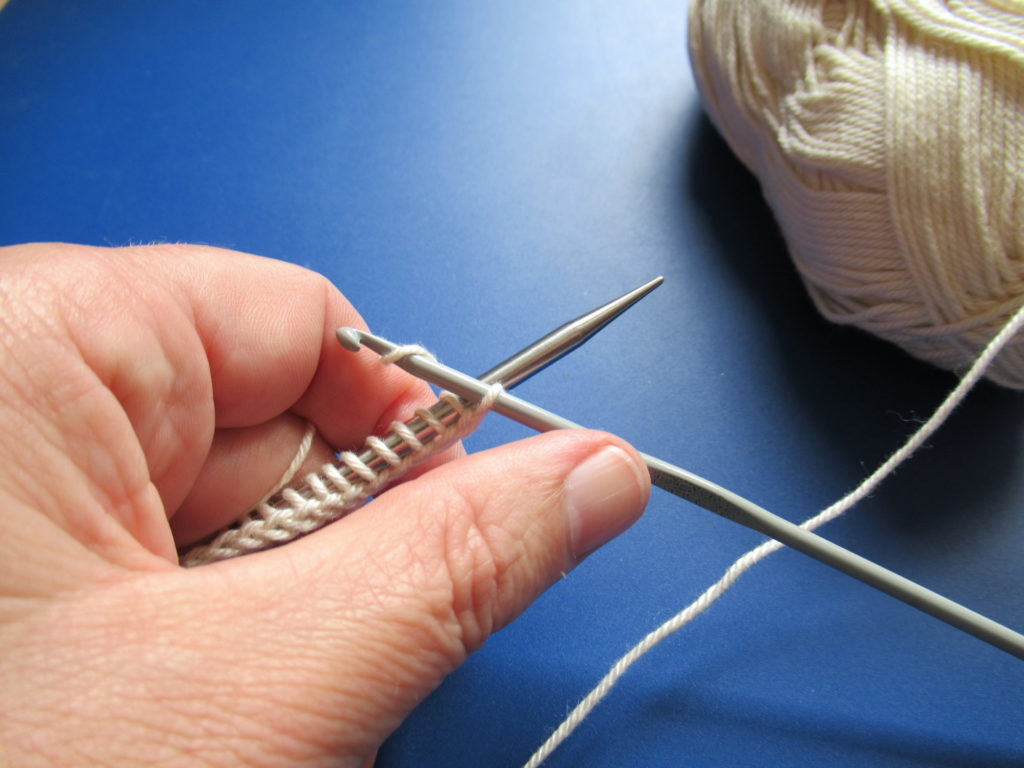 I've used this technique before, and think the result is much better than with the crocheted chain technique.
At first sight this Tee looks very simple. But the only thing that is simple about it, is the stitch pattern – a simple stocking stitch. Other than that it has many interesting features, like sloping shoulders, side shaping and short rows. The 8 pages of the pattern are packed with instructions, diagrams and special techniques.
I could easily lose my way leafing back and forth through all these pages, and took several measures to prevent confusion.
To start with I marked everything related to my size with a pink highlighter (I've discovered that yellow becomes invisible in lamp light). I used a row counter (the bright green thing) as well as sticky notes to keep track of where I was in the pattern.
The first half of the back ended with some short rows, done with a special technique called C&T (Clip and Turn) by the designer. It involves lots of locking markers, as you can see here:
I used some very fine metal locking markers for this. They were a gift from a friend and I really like them, because they don't distort the knitted fabric like the thicker plastic ones can do with this technique. (I did use plastic ones to indicate armholes, neckline etc.) In the final row, all the gaps caused by the short rows are closed and the stitches are placed onto a piece of waste yarn.
Then the stitches  from the provisional cast-on in the middle are picked up, while the waste yarn used for the cast-on is removed.
This technique works very well. I think it's rather daring to start like this, because you could easily get a wonky row right in the middle of the front and back that would spoil the entire garment. But I can't see where I picked up the stitches – can you?
After finishing back and front it was time to start seaming the shoulders. At this point my Tee looked like this:
For me, this was the absolute low point of this project. It looked terrible, like some kind of frumpy, strangely shaped, too short poncho. If it wasn't for this blog, I could easily have thrown it into a corner never to look at it again. But I'd planned to show the finished T-shirt here, so I persevered.
After closing all the seams and knitting on the edgings, I washed the shirt and threw it into the dryer until almost dry before blocking it.
When it was on my blocking mats I saw that it was going to be okay after all.
The size was exactly as it should be according to the pattern. I was really happy with that. I only pinned the shirt into place with a few T-pins. After drying, I steam pressed it for an extra neat finish.
And this is what my Sideways Tee looks like when worn:
It's a very different type of garment from what I usually choose. Usually I choose more fitted, A-line shaped garments. So this was a bit of a gamble, but all in all I'm happy with it.
The only thing I'm not too happy about, is the neck edging. There is a row of rather loose stitches along the front neck.
I don't know what I could have done differently. Maybe it's because the yarn has no bounce and doesn't fill up the holes, or maybe it's because the sideways knit stitches stretch too much. I don't know. It's just a small detail, however – the rest is fine.
I like the drape and feel of the knitted fabric. I think it's a flattering shape. And I like the sloping shoulders and fit of the 'sleeves' (which are, basically, just armholes with an edging).
Finally, here's a shot of the back. It's definitely oversized, but far from shapeless.
Well, I finished that nicely in time for summer, didn't I? (Summer 2020, that is.)
Oh, and then there's the yarn, of course. I almost forgot to mention it, but it's one of the most important elements. It can make or break a knitting project.
I chose Juniper Moon Farm 'Zooey' for my Sideways Tee because it felt cool and crisp, and because it happened to be available from a local yarn shop. And I chose white because it's a nice and summery colour that goes well with jeans.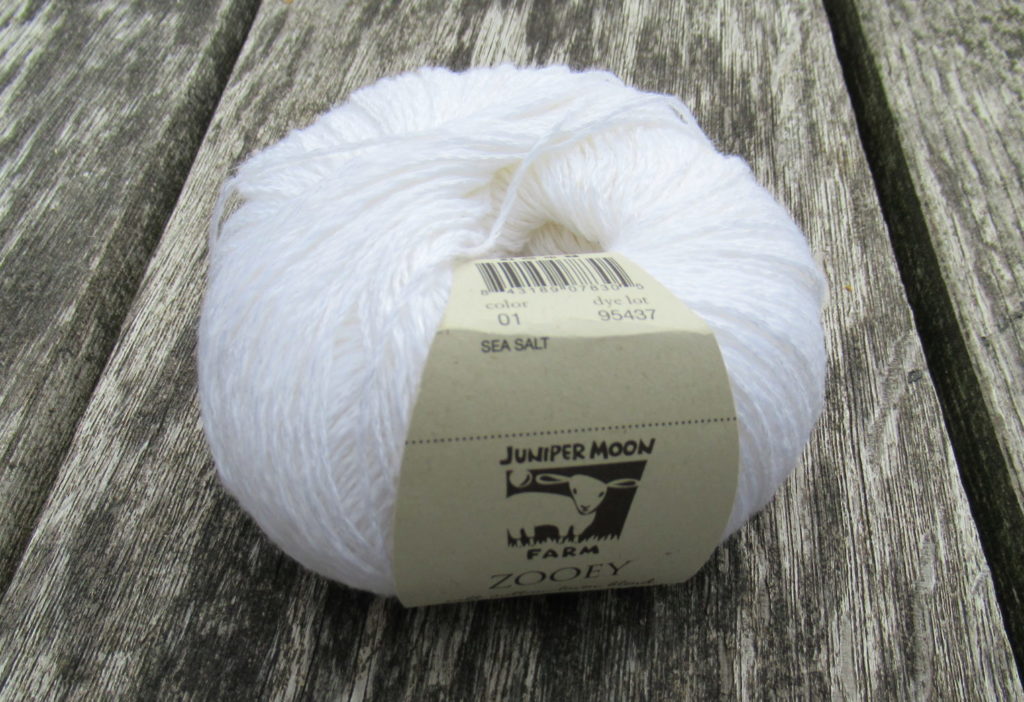 Zooey is a 60% cotton, 40% linen blend with thicker and thinner parts. It is loosely twined and, because of that, very splitty. It is easy to miss one of the strands, resulting in a thin spot in the knitted fabric, or to mistake one stitch for two and accidentally increase a stitch. I'm speaking from experience. Both have happened to me and I've had to frog quite a bit to fix it.
After a while I got used to the yarn, and developed a knitting technique that prevented me from sticking the needle into stitches by pushing the strands together with my index finger. This is definitely not a yarn for mindless knitting. Having said that, it gives a very nice fabric – drapey with a lovely irregular structure.
Well, that's the story about my Sideways Tee. If you'd like to make one too, I can recommend it. It's a really enjoyable and interesting knit. Looking ahead to autumn, I think it will work very well in a cosy woolen yarn, too.
To end today's blog post, in style with the focus on white, here's a picture of our beautiful autumn-flowering Japanese anemones 'Honorine Jobert'.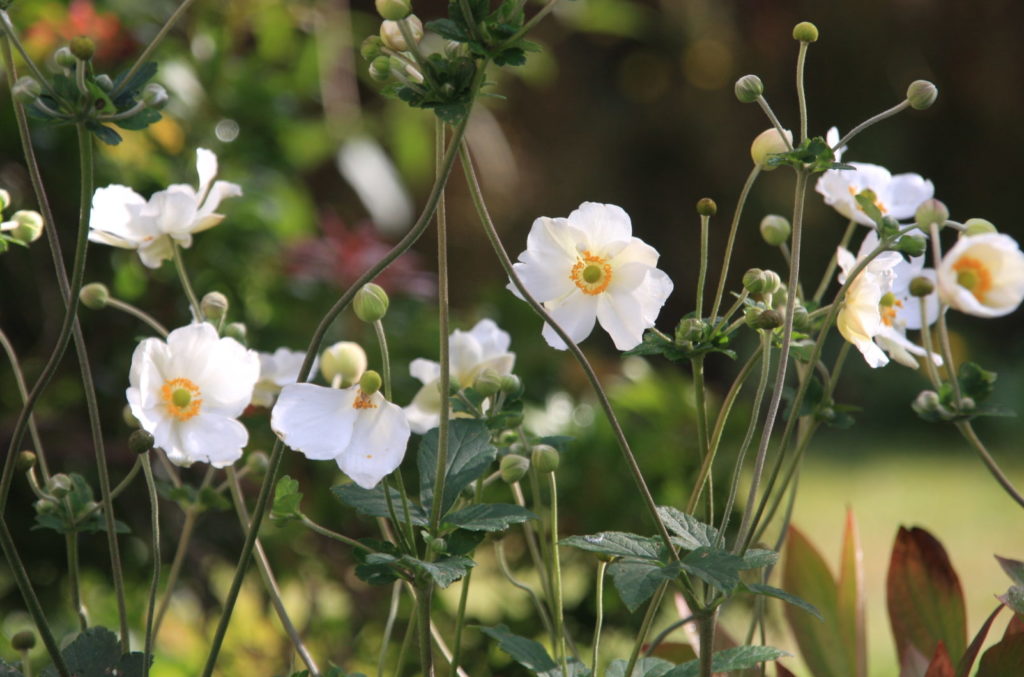 Note: This post isn't sponsored in any way. I only mentioned the pattern store and yarn brand because I think it's essential information.