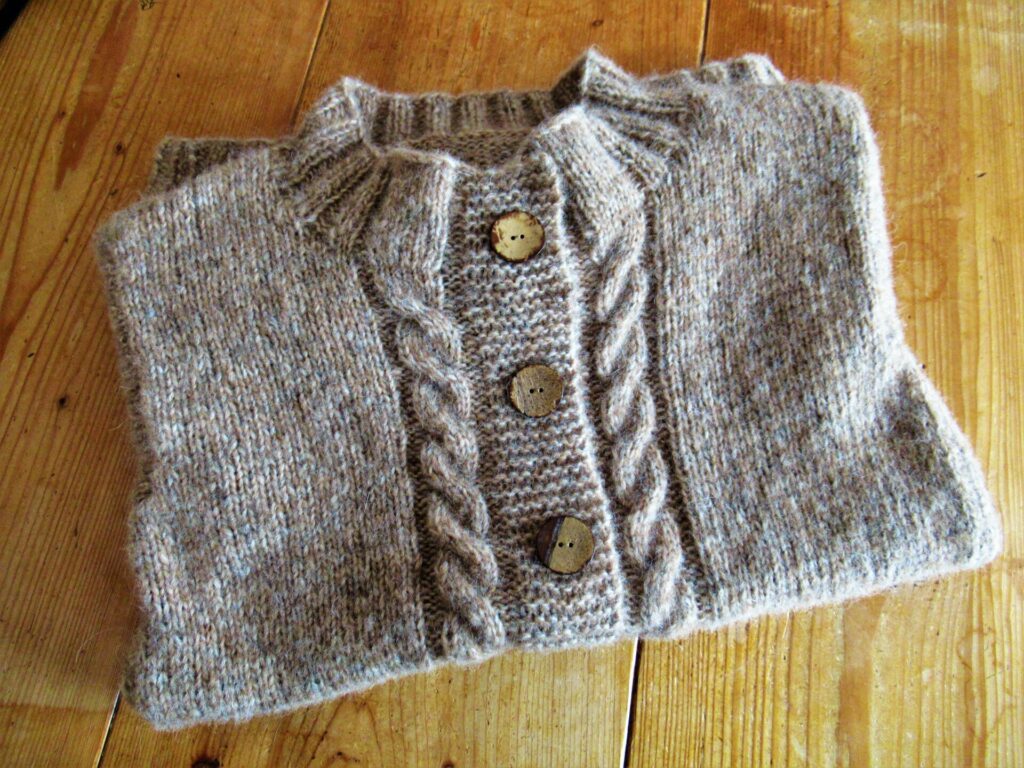 Hello!
Instead of just showing you the cardigan I've designed and knit for our daughter, I thought it might be more interesting to tell you how I did it.
There are many approaches to designing things, of course. This is merely my simple, practical way for designing a sweater knit from the bottom-up in pieces sewn together later. I've developed this method over the years and have tried to summarize it in 10 (hopefully easy to follow) steps. So, here we go.
How to Design Your Own Sweater in 10 Steps:
1 – Decide what you're going to make
For whom would you like to knit a sweater: For yourself? A loved one?
What type of sweater would you like to make: A pullover? A cardigan? A summer top?
2 – Take measurements and draw a diagram
Find a garment with approximately the fit you're looking for and measure:
Chest width
Length
Armhole
Neck width and depth
Width at shoulders
Sleeve length
Sleeve circumference at wrist
Any other things you think may be useful
The chest/shoulder/armhole part is the most important. The rest is easy to adapt. Draw a diagram incorporating these measurements. It doesn't need to be to scale, it's just for your own reference. This is mine: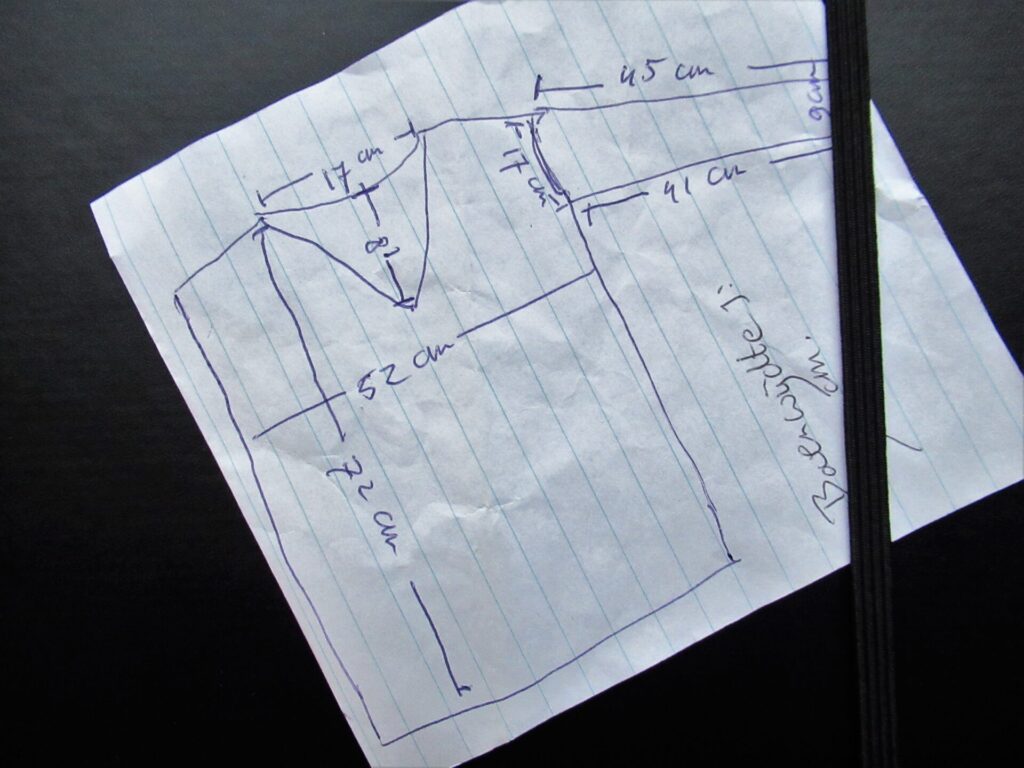 3 – Think about what you want and draw another diagram
Things to consider are:
Silhouette: straight, A-line, waist-shaping, tapered etc
Body length: cropped, hip-length, tunic
Sleeve length and shape
Neckline: V-neck, round neck, boat neck, turtle neck, shawl collar etc
Details: buttons, pockets, stitch pattern, ribbing or no ribbing…
Add any relevant measurements to your new diagram.
Tip: If you have never designed anything before, keep it simple. If you have a little experience, you could set yourself a challenge. I used a very simple armhole and sleeve cap:
And gave myself the challenge of adding a cable, flowing from the ribbing at the bottom and into the neckband.
Another challenge I set myself was matching the ribbing of front and back so that the seam would be near invisible.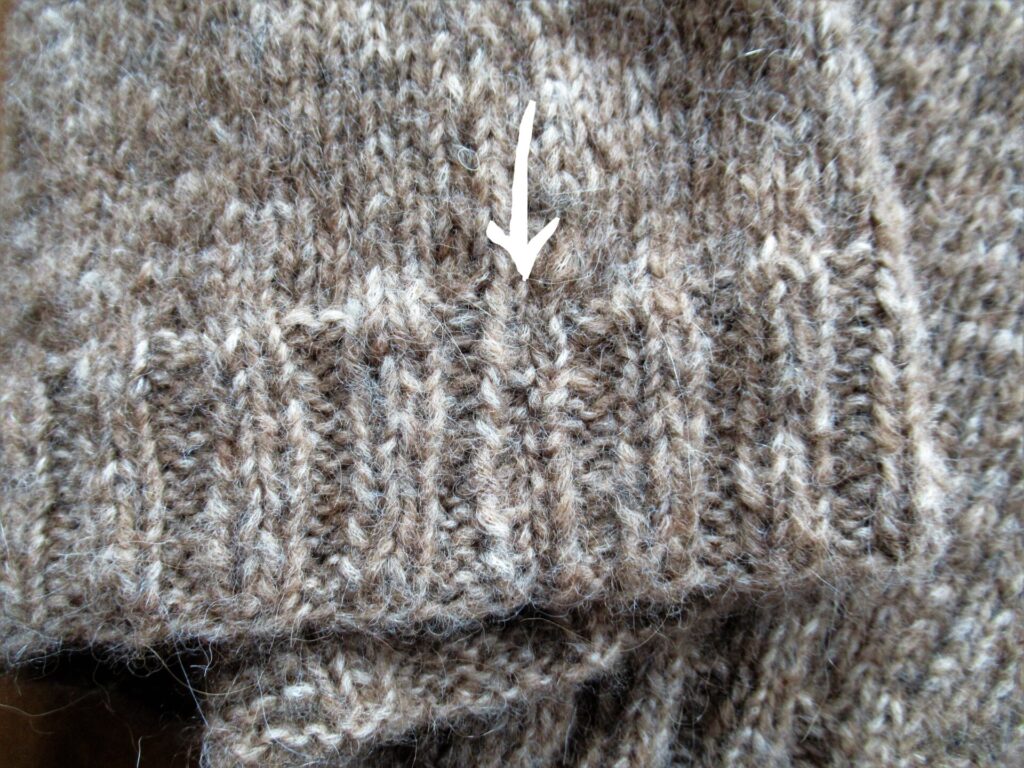 4 – Choose your yarn and work out approximately how much you'll need
If you're an experienced knitter you'll probably have some idea. It also helps to look at other people's projects from the same yarn on Ravelry. Find a few similar garments in a similar size and check how much they took. Then add some extra for swatches and to be on the safe side.
Note: I did it the other way around: Fell in love with the yarn first and bought a generous quantity. Far too generous as it turns out. Never mind – it only means that I have enough left for a hat and a scarf.
5 – Swatch
a – First swatch to decide what needle size you're going to use: how open, drapey or dense do you prefer your knitted fabric for this project? Knit generous swatches – aim for at least 12 x 12 cm/5 x 5". Wash your swatches and leave them to dry flat, or block and/or press them, just like you intend to treat your finished sweater.
b – Then knit more swatches. This time in different stitch patterns and ribbings you might want to use. Again wash/block/press them.
6 – Decision time
Decide what needle size(s) and pattern stitch(es) you're going to use, how wide your ribbings and button bands (if any) will be, exactly what your neckline is going to look like, where any pockets will be placed etc. Add details to your diagram if you think that will be helpful.
7 – Start knitting the back
Using your swatches, calculate how many stitches you need to cast on. Do you need to increase or decrease for, say, an A-line or waist shaping? Write down everything you do and keep your notes together. It isn't necessary to work everything out beforehand. You can think about the armhole, neck and shoulders while knitting.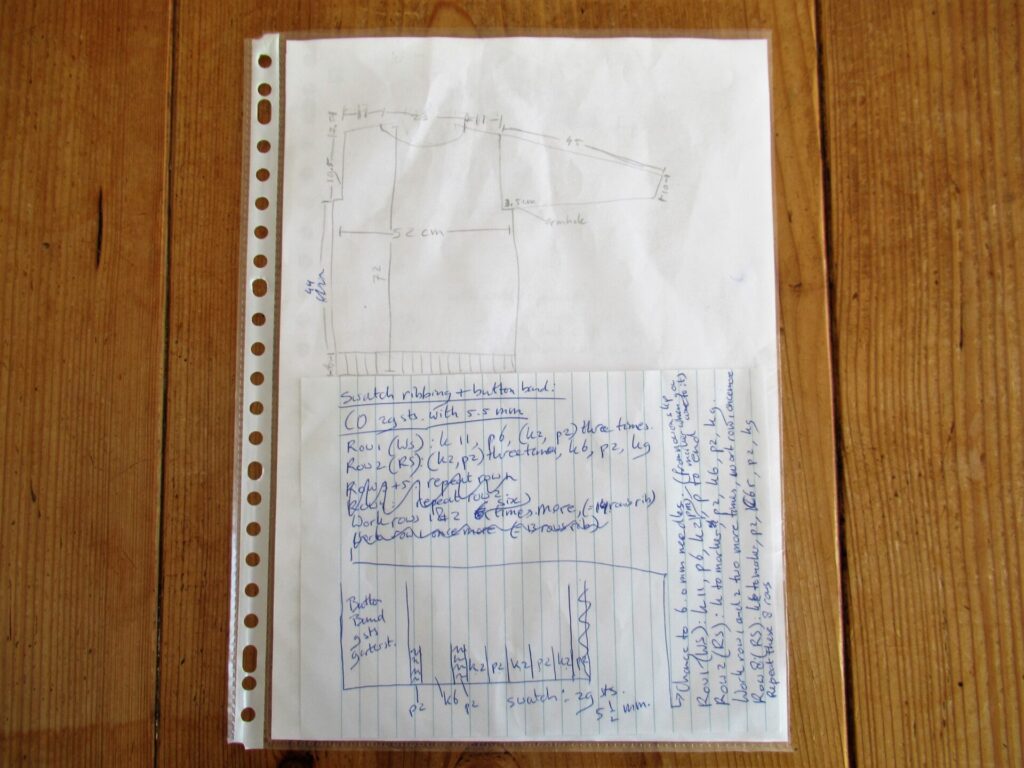 8 – Do the maths for the front(s)
If you're designing a cardigan with button bands, make sure they overlap. Work any buttonholes in the second front. Think deep about your neckline, and work out how to get what you want.
9 – Work out the sleeves
How long? How many rows to armhole? How many stitches do you start with? How many do you need at the armhole? Spread the increases out over the length.
10 – Work out and knit the final details
Now all you need to do is wash, block and/or press your pieces and seam everything together. Add button bands (if not incorporated), patch pockets, neckband etc.
There, all done!
Starting from a deep green, finely knit, shop-bought V-neck pullover, I arrived at a fawn, chunky, hand-knit cardigan with a round neck and cables along the fronts.
It does not fit over our daughter's already impressive bump, but will keep her back and shoulders warm.
With quite a few weeks to go, how much more will that belly grow?
Well, I hope this all makes sense. Do you sometimes design your own sweaters, too? Is your method very different from mine? If you've never designed anything yet, why not give it a try? Your sweater may not turn out perfect or exactly how you envisioned it, but it will be uniquely yours.