I've been knitting for over fifty years and I knit almost every single day, so I think I can safely say that I'm an experienced knitter. I can't say that everything always goes swimmingly, though. After all those years, I still run into obstacles, and I still often have to frog things.
For a long time, I was baffled by the verb 'to frog' for unravelling knitting. It wasn't in any of my dictionaries in this sense of the word. I just didn't get why people called it frogging. Until Adrienne Martini explained it to me, on page 50 of her hilarious book Sweater Quest: My year of knitting dangerously:
'Frogging, which doesn't involve amphibians, means pulling out large swaths of knitting at one go. You rip it. If you don't get the association, say it out loud.'
Rip it, rip it. Ah, I finally got it! Well, I'm a frequent frogger. Take a seemingly simple shawl like Stay Soft.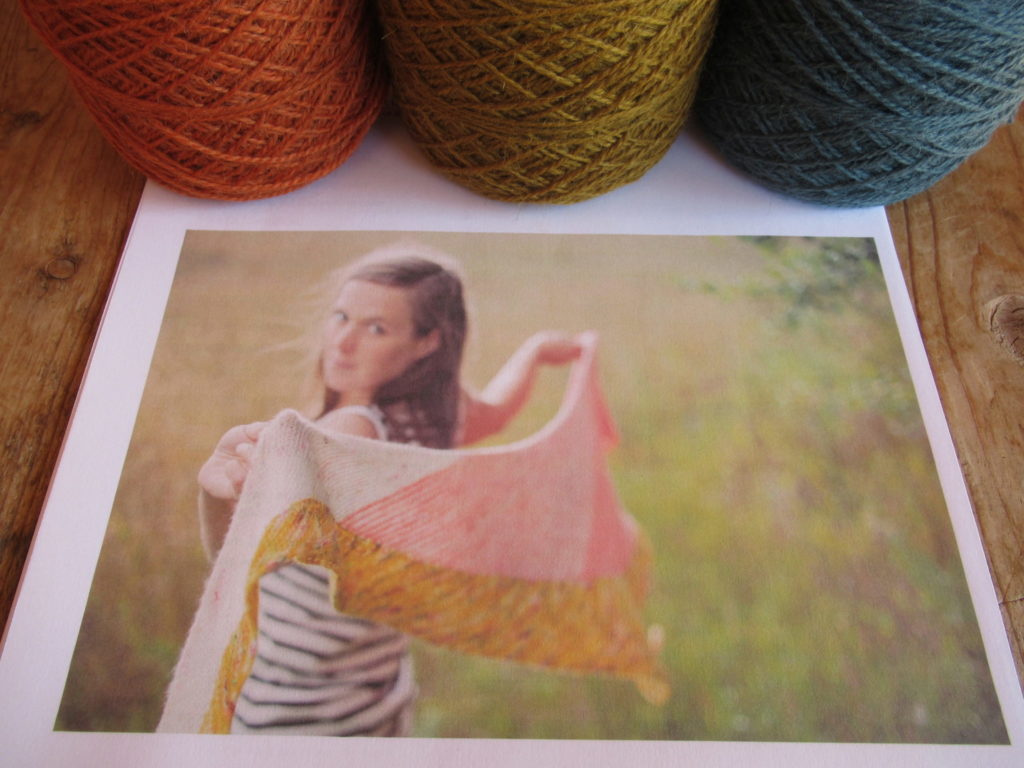 I started out cheerfully, casting on a small number of stitches, gradually increasing along one edge of the garter stitch rows. Everything was plain and clear in the pattern. No need to frog anything this time, right? Wrong.
Because I had a finer yarn and less yardage than the amount specified in the pattern, I'd decided to use a smaller needle size to be on the safe side. But when I'd finished both the yellow and the striped section (i.e. after knitting about one third of the entire shawl)…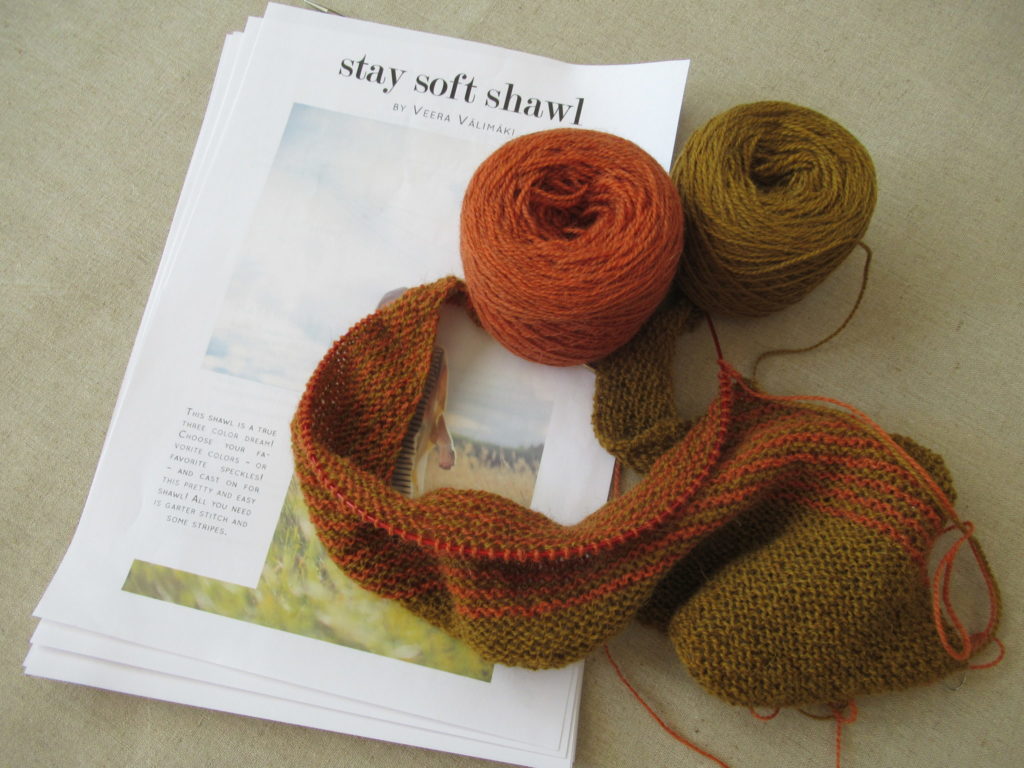 … I had an awful lot of the first yarn colour left over – almost two-thirds of the total amount. It would be a shame to waste all that yarn. Besides, the fabric didn't feel quite right, and it looked as if the final shawl would end up rather small if I went on like this.
So, I frogged everything I'd knit so far and started afresh with the needle size specified in the pattern.
The second time around the fabric looked and felt better. I quickly re-knit the yellow and the striped sections. On the orange section I ran out of yarn after I'd knit 16 rows less than the pattern indicated, but I wasn't really worried by that.
By that time the shawl already had quite a good size (but rather a strange shape):
Now it was time to pick up stitches for the third colour. I read through the instructions: 'pick up and knit 5 stitches starting from the cast-on corner of the shawl.' Hmmm, where exactly? And how?
This pattern has been knit by many people before, so I thought I'd take a look at other projects on Ravelry, to see how they had done it. I read that others had scratched their heads, too, at this point. Many of them somehow found the solution, and some people even made notes of what they'd done, but I was still a bit confused.
So I tried something, frogged it, tried again, frogged again, until I was happy with the result:
And then I thought: why don't I write a blog post showing exactly what I'm doing, so that others won't have to frog as much as did? So that's what I'm working on now: knitting the rest of the shawl while taking photographs and making notes. If it works out, I'll show you the results soon.
Note: The frog in the photo at the top of this post is a moor frog that hopped across our path during one of our recent walks. During the mating season the males turn blue for a few days. The frog may look quite big in the photograph, but it was only 5 centimeters (2 inches) long at most.