My knitting is out of sync with the seasons – again. The garden is bursting into flower and the blackbirds' eggs have hatched.
Don't those naked little chicks look vulnerable? I hope they're going to make it. Their nest isn't very well hidden and there are magpies about.
With spring well on its way and warmer weather around the corner, I'm finishing some warm and woolly knits. It has happened before, my knitting being out of sync with the seasons, but this time I have a very good excuse: Several months ago I dropped everything else to knit baby things. Now our grandson has more than enough to keep him warm for the time being, and there's finally time to finish other projects.
The first one I'm tackling is a red tweedy cardigan. All parts are knit separately, including the button bands. That means a LOT of seaming, and I've done it in stages. Before I started the actual seaming, I pressed the individual parts, covered by a damp tea towel.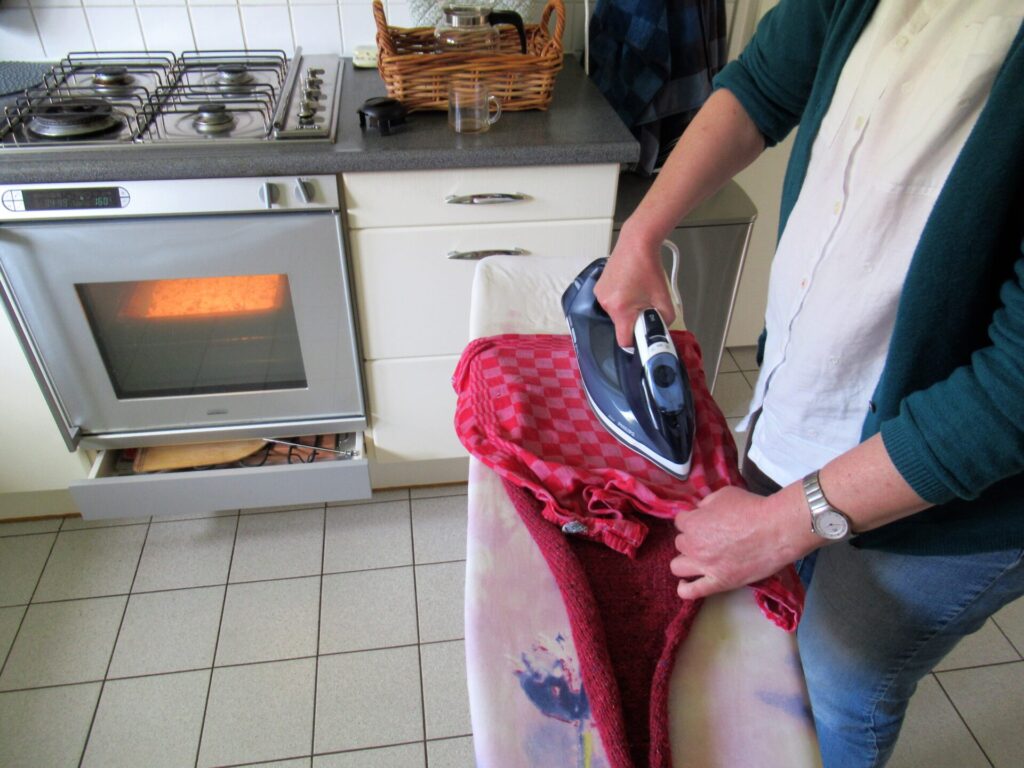 As I hope you can see in this picture the edges of the stocking stitch fabric roll inwards terribly. Pressing them flattens them out and makes seaming easier and neater.
As you can probably also see in this picture, there is something in the oven. It's a batch of my Very Healthy Oat Squares (recipe in this older post; please scroll down).
Over the course of several days, I meticulously sewed on the button bands using mattress stitch. It's a time-consuming job and I did a little every day.
Then I realized that it was going to take ages this way. So on a day when I had a to-do-list from here to Tokyo, I decided to take a different approach and alternate my chores with bursts of seaming. It looked something like this:
Clean bathroom and sink, sew right sleeve cap.
Replace light bulb, empty wastepaper baskets, water plants, fold laundry, sew left sleeve cap.
For a knitting connoisseur, the sleeve caps are lovely, by the way. Due to a special way of binding off using slipped stitches, the slope isn't stepped as usual, but nice and smooth.
Dust and hoover downstairs, sew right underarm seam.
Catch up with e-mails and admin, sew right side seam, etc.
Granted, it wasn't the most exciting day of my life, but at the end of it I had tackled many items on my list and finished the seaming of the entire cardigan. Time for a bubble bath…
… for the cardigan. (Should have taken one myself, too, instead of a quick shower.) And then, after drying flat, the final touch: buttons. And here it is, my simple but sophisticated tweedy cardi:
Entirely in stocking stitch, it looks very simple. What makes it sophisticated is the attention to detail: A-line shaping, sloping shoulder seams moved a little forward, smooth sleeve cap, customized sleeve length, side vents, a few short rows above the hem so that the cardigan 'hangs' better, and the careful finishing, of course. The cardigan is also knit at a looser gauge than normal for the yarn, which gives it a nice drape.
I'm particularly happy with the neatly sewn on button bands.
And also with the perfect sleeve length and the way the cardi fits around the shoulders.
The pattern's name Go-To Cardigan is well chosen – it really is a cardigan to wear every day. Because of the A-line shaping, it is particularly flattering for pear-shaped people like me. The pattern can be found here on Ravelry and here on the designer's website. The yarn I've used is Rowan Felted Tweed, shade 150 Rage. The pattern range goes from XS to XL. I've made size S, while my usual clothes size is M/L, EU 40/42 (UK 12/14).
To close off, I'd like to show you our 'orchard',  where these pictures were taken. It hardly deserves to be called an orchard, with just one apple and one pear tree, but it sounds nice. The pear blossomed early in spring and we're now enjoying the apple blossoms.
Under the fruit trees in our tiny orchard, we've created a wildflower meadow with native plant species. Our meadow is also tiny (just a few square metres), but from spring into autumn there is always something flowering. This is what it looks like at the moment (click on images to enlarge):
Enjoy your weekend and hope to see you again next week! I don't know if I'll have another project finished by then, but we'll see.