Hello!
Autumn has well and truly arrived here, and with it the need for warm and woolly sweaters, scarves, socks etcetera. And I've just finished a light and airy summer cardi! I don't know how other people do it. I mean, summer is the time for knitting with cool and summery yarns, but that means that summer knits are always finished after the season you'd want to wear them.
The summer cardi I'm talking about is the famous Featherweight Cardigan, designed by Hannah Fettig. It is knit from the top down.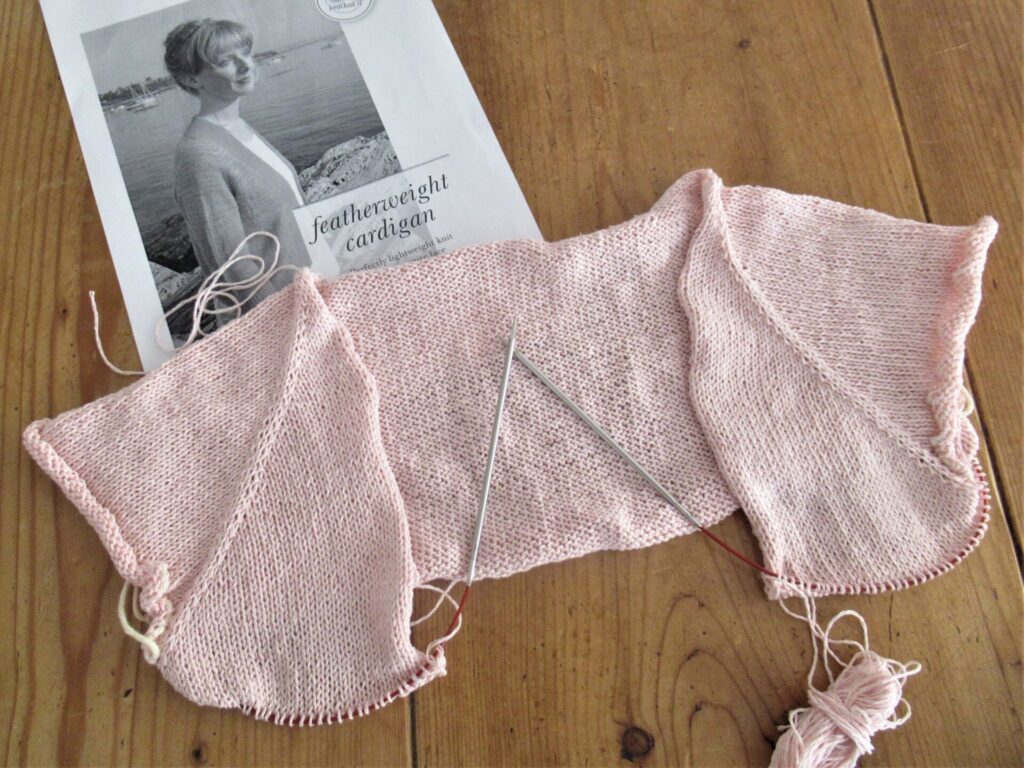 I am the ten-thousand-two-hundred-and-fifty-first knitter to post her Featherweight on Ravelry. And there probably are thousands more who knit it. That's mind-boggling. Why is it so popular? I can't speak for others, but for me it's the elegant silhouette and the use of fine yarn. And most of all the utter simplicity, which makes knitting it into a wonderfully meditative experience.
The only slightly tricky part of Featherweight is picking up the underarm stitches. To prevent large holes, I used the technique explained clearly by The Chilly Dog in this YouTube video. Here is a close-up of the end result – pretty neat, isn't it?
After I'd finished knitting it, my Featherweight looked terribly frumpy. I was especially worried about the bottom edges of the front bands. So, I soaked it in a non-rinse detergent, laid it out flat on blocking mats, pinned the front bands into place using multi-pronged KnitBlockers, and left it to dry.
That did the trick as you can see on these before-and-after pictures (click on them to enlarge), although the edges are not quite as neat as I would have liked them:
How could I make them neater next time?
The original is very short, almost like a bolero. I lengthened the body by 11.5 cm/4.5" and made the sleeves a little longer, too. Knit in a fine fingering-weight yarn on 3.5 mm/US 4 needles, the knitted fabric is slightly transparent. Here is my Featherweight all finished:
The yarn I used is Knitting for Olive 'Pure Silk' in a shade called Ballerina. It is a 100% Bourette Silk (raw silk) yarn with a meterage/yardage of 250 m/273 yds to a 50 gram skein. A big plus is that it's a butterfly-friendly yarn – the fibres are collected after the silk moths have left the cocoons.
It isn't the sleek and slithery kind of silk, but matte with a cottony feel. The thread is composed of three very loosely plied strands and is rather splitty. I love the look and feel of this yarn, but its splitty-ness makes it a little harder to knit with.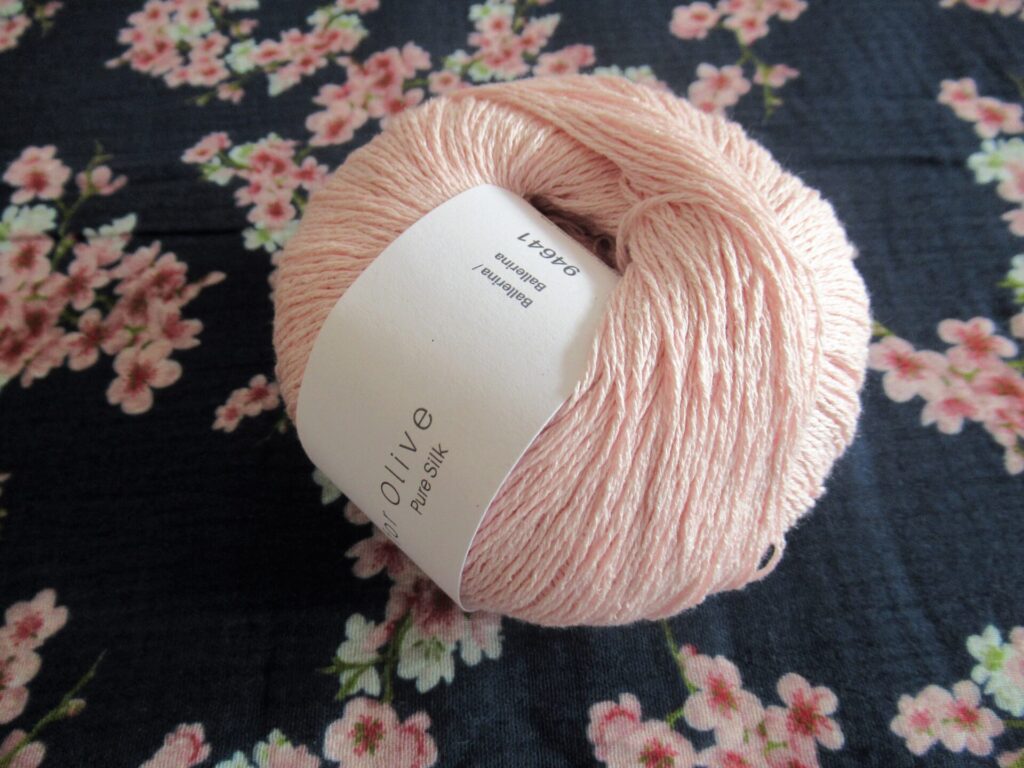 My cardi isn't exactly featherweight, but at 203 g it is pretty lightweight. All in all, I'm very happy with it. Only if I were to knit this again, I'd make the armholes slightly larger and try to do something about the edges of the ribbing. Or I'd use a different stitch pattern instead of the ribbing. Perhaps a pretty lace pattern?
I was also going to sew a summer dress to go with it, from the cherry blossom fabric I photographed the skein of yarn on, but, alas, I didn't get round to it. A sensible person might sew it now, so that it would be finished in time for next summer, but I don't know if I'm sensible enough for that.
I do know that I feel a sudden urge to knit lots of warm and woolly sweaters, scarves, socks etcetera, etcetera, etcetera. I'll keep you posted about those. Bye for now! xxx