Hello! I hope you don't mind going on another little outing today. This time I'm taking you to the first outdoor fair of the year in this part of the world. It's a lovely small-scale event organized around three themes: Lifestyle (bags, soaps, home accessories etc.), regional food and wool.
We're mainly here for the woolly theme, of course, but let's pay my knitting-group friend Simone (aka Mevrouw Polska) a visit first. Long ago, she dreamed of owning one of those beautiful blue-and-white Polish teapots one day, when she could afford it. Well, she has one now and didn't stop at that. She grew a small business importing and selling earthenware from the Boleslawiec region in Poland. There's always something new to see.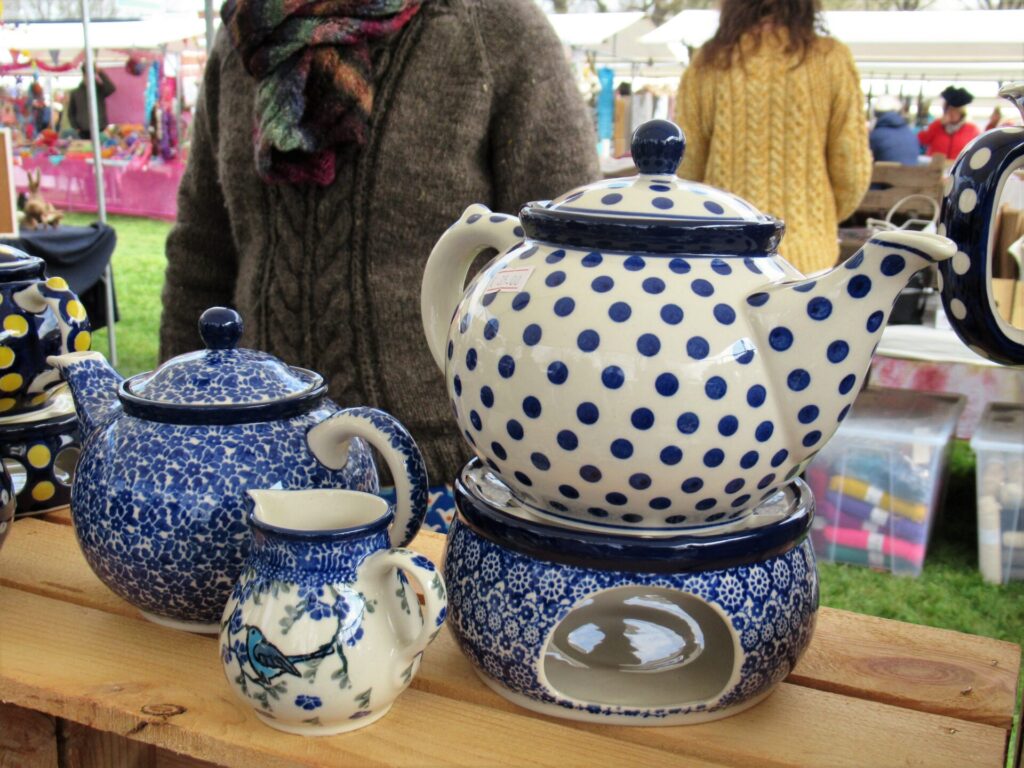 It was only afterwards, looking at the photo at home, that I noticed the lovely knitwear. Simone is wearing her cosy Herringbone Hill sweater and one of the many Clapotis scarves she's knit. With 23.600 projects on Ravelry, Clapotis is a hugely popular pattern. Several people in our knitting group, including me, knit at least one. Have you knit one, too? And behind her, one of the other stall holders is wearing a beautiful yellow cable sweater.
What I love about this fair is that many of the businesses are tiny. Here is Frog Mouse Studio, for instance, with her cheerful hand-dyed yarns. Besides the usual 100 gram skeins, she also has a basket filled with mini-skeins. Very tempting.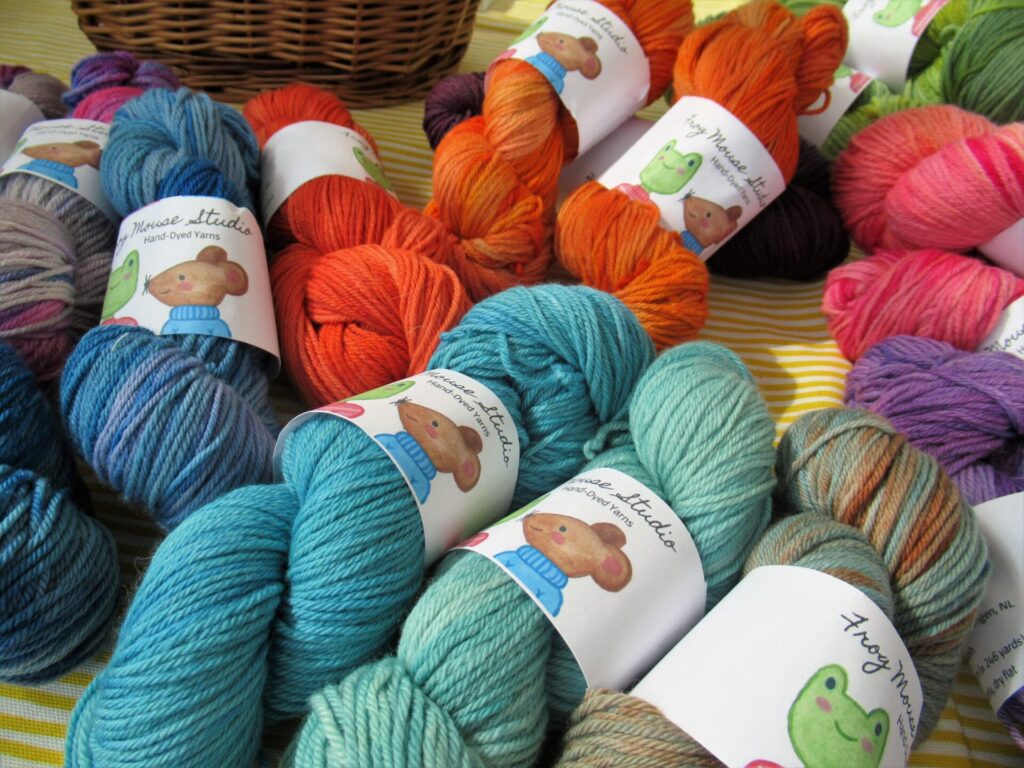 The young stallholder tells me that this is her first ever fair, and also that she has designed the sweet yarn labels herself.
Websiteless Wolvrouwtje, owner of a herd of 8 Shetland sheep is taking part for the first time, too. She has some of their yarn spun at a mill, hand spins and dyes some of it and also sells raw fleeces. Everything on a really, really small scale.
Wat Wollie has been in business a little longer – I've already knit a pair of socks with some of her hand-dyed sock yarn. New on her stall is local wool from Noordhollander sheep, first dyed and carded by her, then spun at a small spinning mill. The colours on those skeins are so pretty, and its interesting to see how they play out on a hat.
Although I would have liked to support these small-scale businesses by purchasing some of their lovely products, my current yarn-buying policy* didn't allow me to do so. I'm supporting them in a small way by writing about them instead.
Over the past week, my knitting has also been small-scale. Our grandson urgently needed a new pair of bootees, as you can see.
His mum had already given the wool-felt bootees new soles, but they are now beyond mending. So, I got out some yarn left over from a sweater I'd knit for this thrifty mum, got onto Ravelry and found these Baby Hausschuhe (free pattern from a German blogger available in German, English and Portuguese). It starts with the sole and stitches are picked up from that for the top of the bootees.
The pattern only describes one baby size far too small for our now 1-year-old grandson, but after a few false starts, I've been able to adapt it for larger feet (my Ravelry notes on how to do this can be found here).
This was a quick, satisfying and useful little project, even nicer because I already had the perfect yarn for it.
* My current yarn-buying policy is to only buy yarn with a specific project in mind, but before buying anything first look in my stash if there is something I can use. Besides knitting the bootees, I've started something else with leftover bits of (sock) yarn from my stash. I hope to tell you about that over the coming weeks. Bye for now!