Hello!
While I'm writing this, I'm sipping lemon-and-ginger tea with honey. I've just made a jug using the recipe in this post. It's said to help with all kinds of ailments, and it also tastes good, too.
Today, I'd like to tell you about a cardigan for our grandson I've just finished, from a Danish pattern translated into German. The design is called Lykketræf, Danish for 'A Stroke of Luck'. 'A Bit of a Puzzle' would be a more fitting name, if you ask me. My German is reasonably good, but looking at the pattern I felt panic rising.
Very dense print with lots and lots of abbreviations – without a list explaining the abbreviations! To make things more manageable, I highlighted the instructions for the size I was making and used a sticky note to keep track of where I was.
The cardigan is knit from the top down with a decorative pattern along the raglans. Working slowly, step by step, I was able to work things out in the end.
It took a while and quite a bit of ripping back to get there, though. To be honest, at first I had no idea what I was doing. What on earth did zun mean??? Ah, it must be zunehmen (increase). So, 1 M li zun must be 'make 1 left leaning increase', and 1 M re zun must be 'make 1 right leaning increase', right? But it didn't look right.
So I got out some undyed DK-weight yarn and tried out the raglan decorations separately.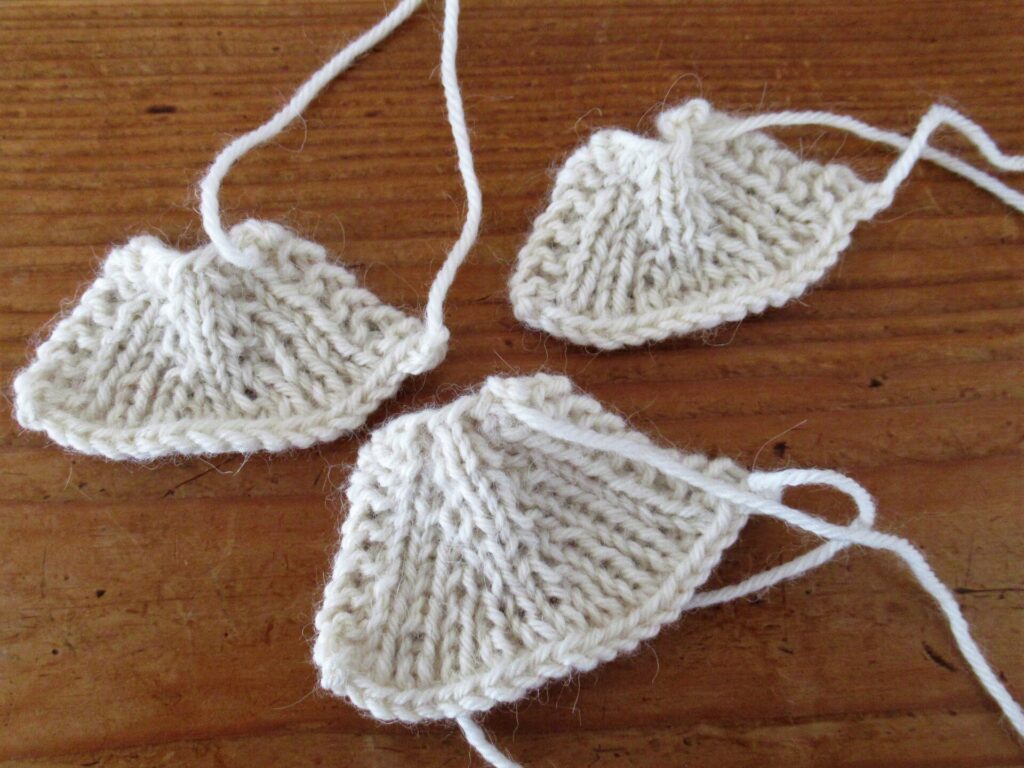 This showed me what the problem was. German links can mean both 'left' and 'purl'. And rechts can mean both 'right' and 'knit'. What I needed were purl and knit increases, instead of left and right leaning increases.
Okay, time to start anew. Was it plain sailing from there on? Uhm, not exactly. I won't bore you with all my struggles, but there was quite a bit of ripping out and re-knitting (on 2.5 mm/US 1.5 needles) until I was happy with the buttonholes, the I-cord along the front edges and the bind-off. Fortunately the yarn stood up to it.
Fronts and back are knit in one piece from the armholes down. The sleeves are knit flat. I used mattress stitch for seaming them, joining a few rows at a time loosely before tightening the thread.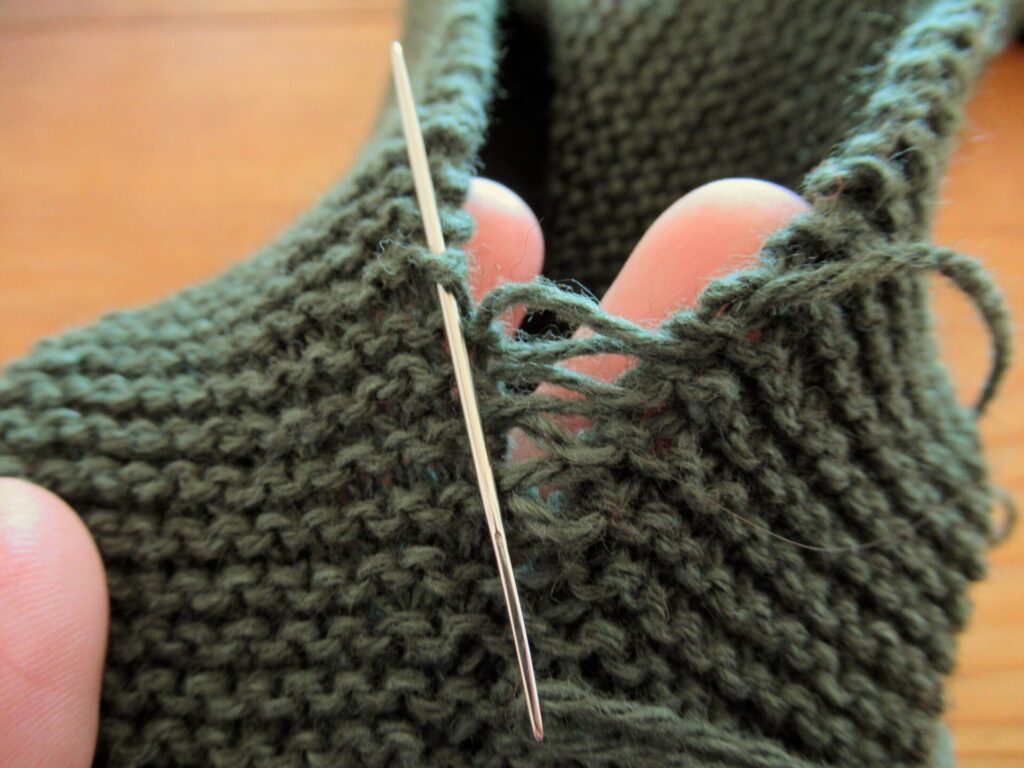 There is a great video explaining mattress stitch in garter here. Once you get into the rhythm, joining 'smiles' to 'frowns' (as the tutorial calls the different garter bumps) is a nice and contemplative thing to do, really.
And here is my finished Lykketræf cardi – the tiny olive wooden buttons are just what it needed.
I'm taking it with me on Monday, my regular day for looking after our grandson. Hope it fits. The wool-and-cotton blend feels like just the right kind of yarn for this in-between season. Although the weather forecast for next week promises us colder weather with wintry showers, there are many signs that spring is around the corner.