Hello!
After the red tweedy stocking stitch cardigan I wrote about two weeks ago, I've finished another cardigan, again in stocking stitch (stockinette stitch in the US). The design is called Modern Wrapper Fine. According to Barbara G. Walker it is all wrong.
In the introduction to A Second Treasury of Knitting Patterns she writes:
"All-over plain stockinette stitch is dull to look at and boring to work, even for the beginner. Though it may be done entirely by hand, it lacks the inimitable flavor of hand-knitting. A machine can make it very nicely, but the hand-knitter is not a machine and should not try to imitate one."
"This being so, there is no reason to spend the time and care of hand-knitting on a garment of stockinette stitch. It is a waste of both. The finished garment, which ought to display the knitter's taste and skill, displays nothing but poverty of invention." (p. xx)
Oh dear! Was my cardigan a waste of time? Does it display a lack of taste and skill? Let's take a closer look.
The Modern Wrapper Fine is worked completely in stocking/stockinette stitch, apart from the wide front bands in garter stitch. Back and fronts are knit from the bottom up. It does not have buttons and can be worn open or closed with a nice pin.
It is oversized, with sloping shoulders that are joined with a 3-needle bind-off. Instead of armholes that curve inwards, the fronts and back taper outwards at the top. This means that the sleeves hang very low. In my case they start halfway on the upper arm.
The sleeves are knit from the top to the cuff, from stitches picked up at the 'armholes'. Sleeve and side seams are closed with mattress stitch. The hems and the sleeve cuff have a small band of reverse stocking stitch.
The best feature of the Modern Wrapper Fine, in my opinion, is hidden at the back of the neck. There are a few clever short rows there that make the neck band sit perfectly. It doesn't show very well in the fuzzy yarn I've used this time, so here is a picture of the MWF I knit years ago in a different yarn combo.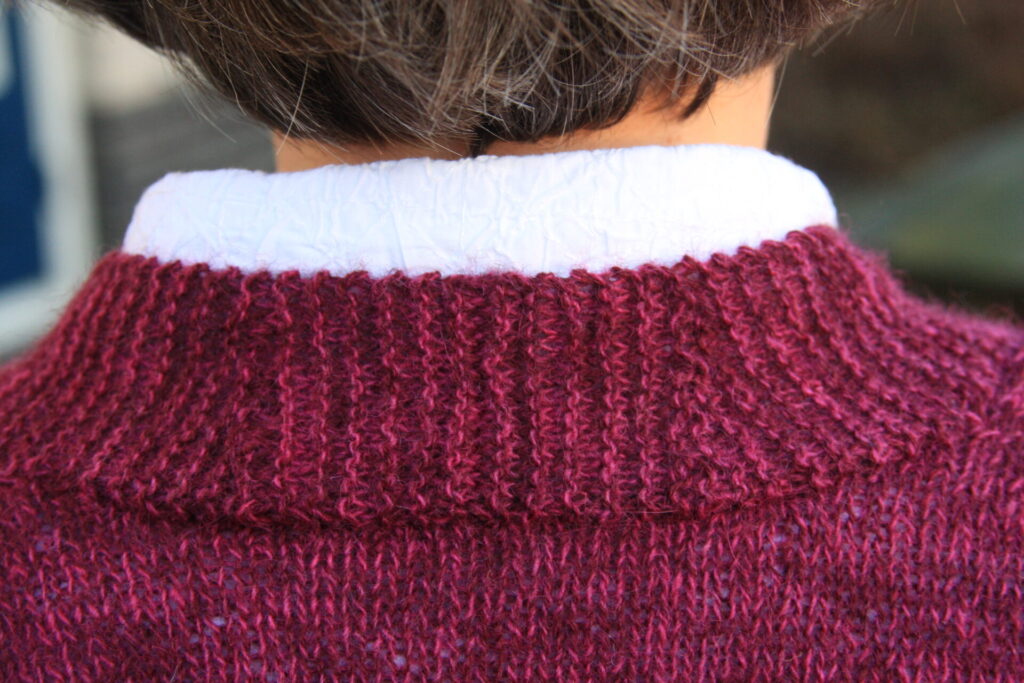 The details:
Pattern: Modern Wrapper Fine (here on Ravelry). It is a finer variation on the original Modern Wrapper, which is even more oversized (here on Ravelry).
Size made: XS/S. I usually wear size M or L. This garment is really, really oversized. The finished bust in this size is 137 cm/64". For me that means it has 46 cm/18" of positive ease.
Yarn: 7 balls of Rowan Kidsilk Haze (shade 582 'Trance') and 4 balls of Rowan Fine Lace (shade 933 'Aged') held together. There was quite a bit of yarn left over; my MWF weighs approx. 300 grams.
Needles: 3.25 mm (US 3) and 3.75 mm (US 5)
This project took me over a year from start to finish. Not because it was so time-consuming, but for the silly reason that I made a mistake in the front band and didn't notice it until I'd finished the entire front.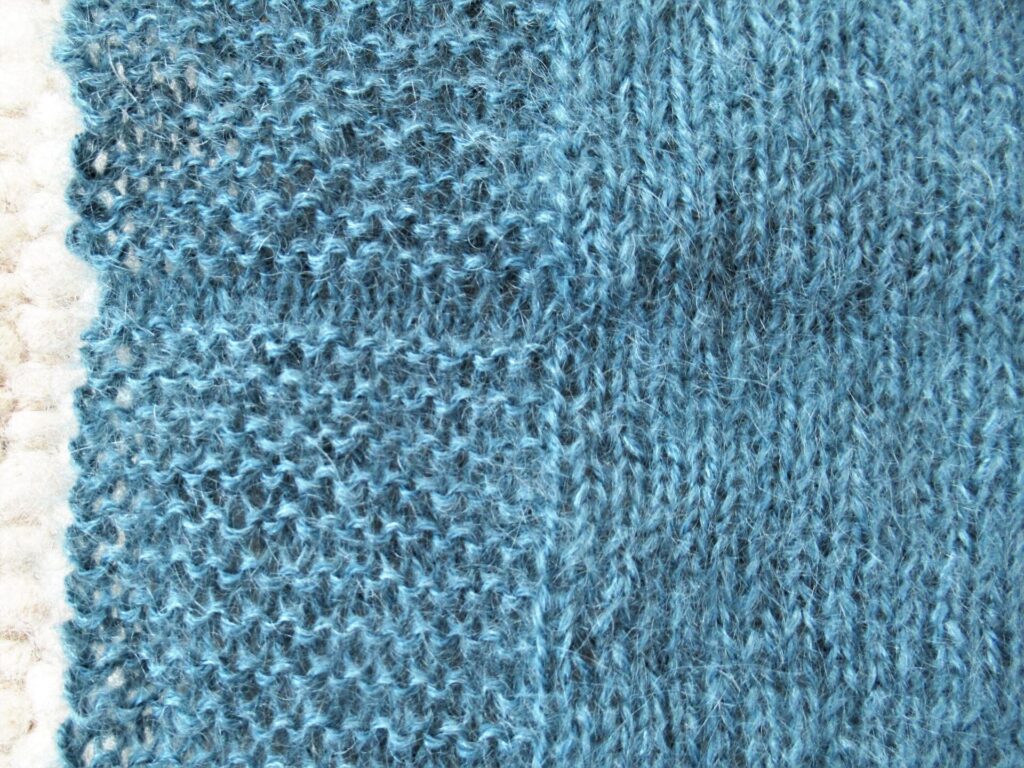 Kidsilk Haze is notoriously difficult to unravel, and it took me a long time to pluck up the courage to fix the mistake. In the end, the combo of these two yarns wasn't hard to unravel at all.
So, was this project a waste of time? All I'll say is that for me, knitting big panels of stocking stitch in these two lightweight yarns was like meditating. For the rest I'll let the pictures speak.
Now that I'm taking up sewing again and am looking for suitable projects to make, I find descriptions on other maker's blogs very helpful. And also pictures of the finished items worn by ordinary people (not photo models.) I hope my descriptions and pictures will be helpful in the same way.
The yellow-flowering plant in the background is woad, the dye plant I grew as part of a community project. I was going to write about it, too, today, but on second thoughts I've wittered on long enough already and it really deserves a post of its own. I hope to come back to it soon.
Bye for now! Xxx