Hello! And how are you all doing? It's always slightly frustrating to me that a blog is mainly one-way traffic. I hear a little about some of you from your own blogs, through comments, or via other channels, but on the whole it's well-nigh impossible to have a real two-way conversation here. I just want to let you know that it isn't because I'm not interested.
Over here, in the Netherlands, there are more and more signs of spring. The scillas in our garden are flowering profusely, and we only ever planted 1 single scilla bulb about two decades ago. The trees are still bare, but a few branches blown from our pear tree in a storm and brought indoors are delighting us with their delicate flowers.
And the daffodils on a roundabout I often pass are a cheering sight.
On a different note, we've just had another press conference from our (outgoing) Prime Minister and our Minister of Health about the Covid situation, and the national elections are behind us. Both have left me worried. But I refuse to despair and, as always, am living by Elizabeth Zimmermann's motto:
"Knit on, with confidence and hope, through all crises."
(Wool Gathering #10, 1974)
I am making good progress on the fingerless mittens I'm designing myself…
… and am hoping they'll turn out the way they look in my mind's eye. Designing something is exciting and fun, but for me also surrounded with doubt and uncertainty.
It's different with sock knitting. After knitting innumerable pairs, I'm entirely confident that they'll turn out right. I've just finished a pair in a stripe sequence designed by Arne and Carlos, and am now knitting a pair in a subtly striped yarn with cashmere in shades of red, pink and orange.
I'm keeping the Arne & Carlos socks. The luxurious red ones are for a friend.
Speaking of socks and friends, I've been to see our daughter's dear friend Silver. She has just moved to a new stables and was having a manicure while I visited.
Silver has magnificent (if slightly dirty) socks.
You may have met her in a blog post long ago, but if you haven't, here she is:
Silver is whitish, has one blue and one brown eye, and hails from Ireland. She shares her new stables with black, brown and beige horses, with Norwegian, Arab, and I-don't-know-what-kind-of roots. After a few initial bickerings, they have settled down peacefully together. Watching them makes me hum,
"Imagine all the people
Livin' life in peace
Yoo, hoo, ooh-ooh
You may say I'm a dreamer…"
Well, back to knitting. It's also time to start a few new projects. First of all, I dug out the yarn I bought at a crafts fair in February 2020.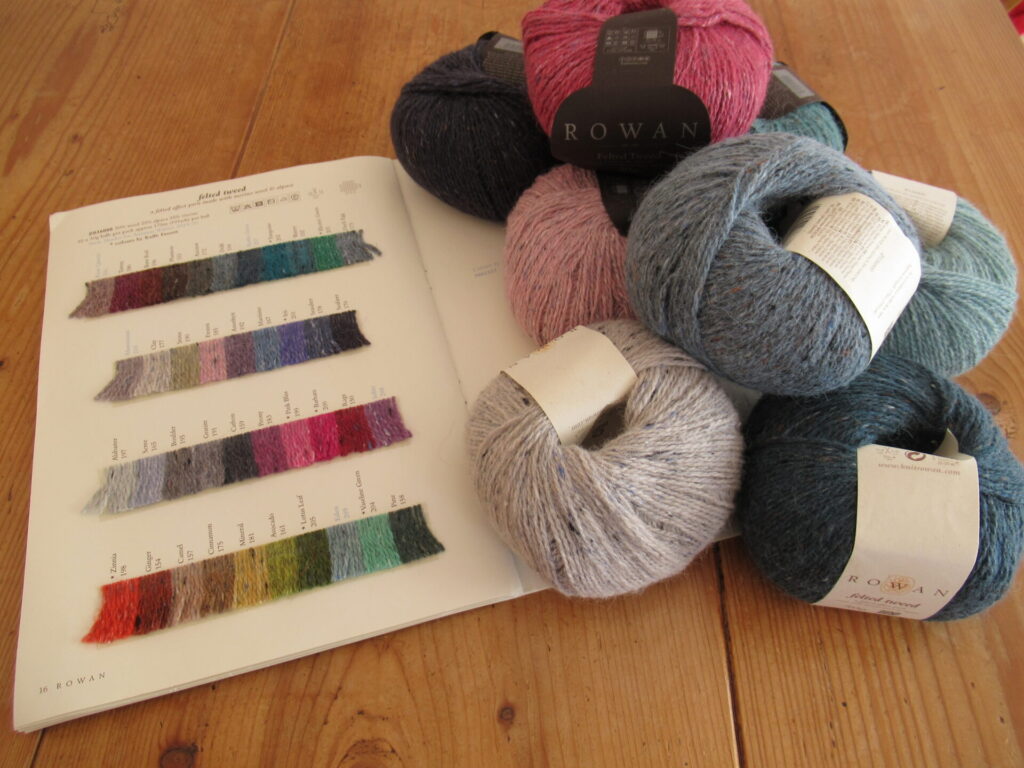 This is going to be a new in-between-projects project – a huge wrap in linen stitch. I expect it'll take me about two years to knit, and that's exactly the idea. A project I can always pick up when I've finished something and am about to start something else, or just feel like knitting long rows of soothing simple stitches.
I've also ordered yarn for an oversized cardigan. Two different lace-weights in a tealy colour that will be held together, one a blend of alpaca and merino, the other mohair and silk.
I'm soooo looking forward to collecting the yarn from the shop and starting this.
That's all about my knitting for now. I hope you have something on your needles to lift your spirits too, and I'd love to hear about it.