Hello! It's so good to 'see' you here again. I really hope that you're all doing okay. Life here is very much as usual, strangely enough, apart from the almost constant feeling of unease and worry in the background. I'm still working (from home), cooking, cleaning, and doing everything else I need to do. And I'm still always knitting. I really, really miss seeing people in real life, but am grateful for all the other ways we have for keeping in touch, including this blog, although this is a bit of a one-way thing.
After a cold spell with night frosts and a raw wind, spring really and truly arrived here about two weeks ago. All of a sudden it was warm and sunny, leaves were unfurling and trees were starting to blossom.
Only my knitting was out of sync.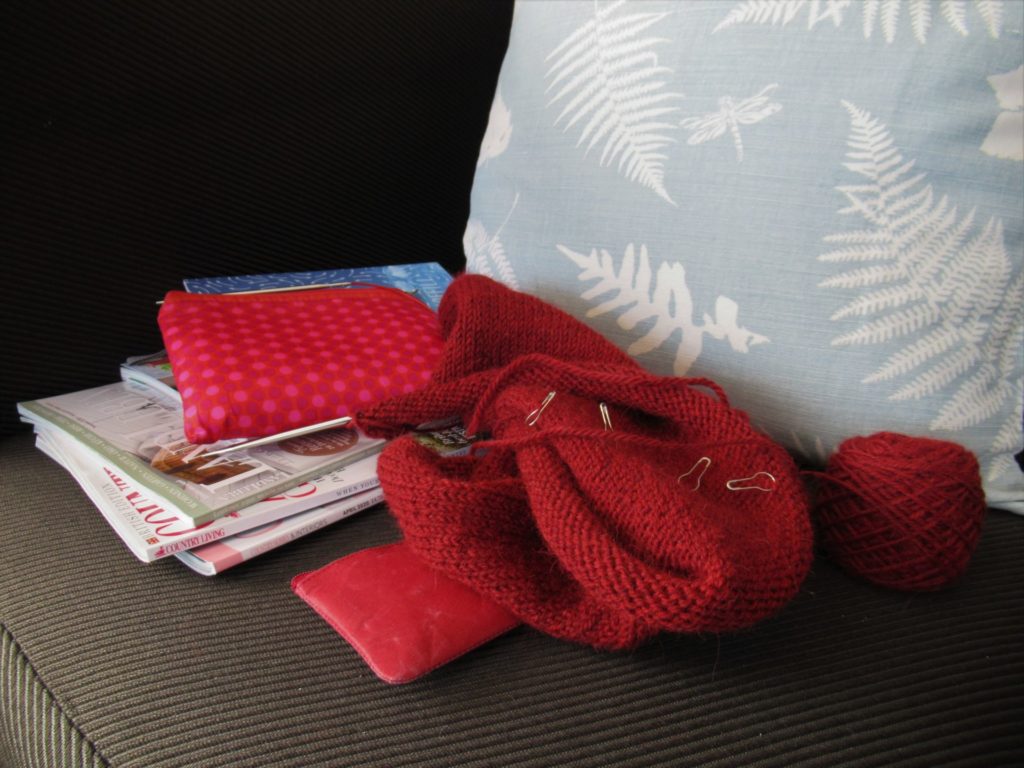 I was knitting a warm wool-and-alpaca sweater for our daughter. Not exactly something she would need in spring. And even the colour was unspringlike!
When I think of spring colours, I think of yellow, fresh green and pink. I associate the (hard to capture) deep burgundy-meets-terracotta of my knitting yarn more with autumn. Warm yarn, wrong colour – uh-oh, another knitting project in danger of becoming a UFO!
But then my eye fell on the newly unfurled leaves of the Japanese maple in our back garden…
… and on the fresh young leaves of the skimmia.
Through the lens of my camera, I started seeing more and more of these so-called autumn colours. Enchanted by the frothy pink blossoms of Japanese ornamental cherries, I had never really noticed their leaves before. Now I saw that they were actually orange:
And the flowers of the elephant's ears in our front garden are a really springlike pink, but look at the stalk!
Walking around with a camera in hand can be like a treasure hunt. I often see things that I would otherwise not have noticed. Besides, it helps me to focus outward and keeps me from ruminating too much. You could give it a try, too, if you like (or perhaps you already do?). Any old point-and-shoot camera will work.
Here's just one more treasure I found – pear blossoms on the big old pear tree in our back garden. The general impression is white, but there are lovely red 'things' inside. I'm no expert, but I think they are the anthers (correct me if I'm wrong).
Phew! UFO attack avoided. Having seen all these springtime reds and oranges, the colour didn't feel wrong anymore. I felt like finishing my knitting project, and that's what I did.
The pattern I used is the Better-than-Basic pullover designed by Churchmouse.
And here is the finished sweater (it would have been nice to photograph my daughter wearing it, but unfortunately I didn't have the opportunity for that):
It looks pretty basic at first glance, so why is it called Better-than-Basic?
To start with, the pattern has options for several different versions: tunic or hip length (mine is in between), wide or narrow ribbed edgings (I've chosen wide), and a funnel or a turtle neck (I've done neither of these).
Then there are the special techniques, like the 'clip & turn' short rows for a gradual shoulder slope:
The same short-row technique is also used at the hems, so that the sweater hangs more evenly.
Other features are an invisible cast-on, two special bind-off methods, and tips for customizing sleeve and body length – all explained very clearly.
The shoulder seams are placed slightly forward and the special sloping armhole results in a relaxed dropped shoulder without too much bulk under the arm.
On special request, I made the sleeves extra long, so that they can be used as hand warmers during bicycle rides. Or they can be worn folded up, like here:
Okay, maybe this is not an ideal springtime knit, but it is definitely a pattern to keep in mind for next autumn.